Published 11-14-23
Submitted by Edison International
The Port of Long Beach is working closely with Southern California Edison to solidify its leadership in the transportation industry's effort to improve air quality and overall sustainability through electrification. 

On display at the annual Green Port Fair last month were medium- and heavy-duty electric vehicles that are gradually replacing diesel-fueled transports to move cargo around the 3,200-acre port, which aims to have a fleet of zero-emission, cargo-handling equipment by 2030 and zero-emission trucks by 2035. 

"Successful electrification of medium- and heavy-duty vehicle fleets is crucial to Southern California's economy and air quality," said Bonnie Lowenthal, a Port of Long Beach commissioner. 

SCE is a longtime partner in the port's mission to become the nation's first zero-emissions port for cargo handling and drayage or transporting freight from an ocean port to a destination.
Electrifying 90% of light- and medium-duty vehicles and more than 50% of heavy-duty vehicles in California is a key recommendation in Countdown to 2045: Realizing California's Pathway to Net Zero, recently published by Edison International, SCE's parent company. 

The paper forecasts an 80% increase in customer demand for electricity by 2045, driven by vehicle and building electrification. A massive expansion of clean energy infrastructure, built at an unprecedented pace, is needed to support this historic increase in demand. 

The electric grid must be ready for this extraordinary growth well before 2045. In its most recent General Rate Case proposal, SCE detailed the targeted infrastructure investments planned for 2025-2028 to strengthen and secure the electric grid, laying a foundation for future grid reliability, resilience and readiness investments.
The General Rate Case is a request made every four years to the California Public Utilities Commission to fund SCE's day-to-day operations, including grid maintenance and upgrades.
"SCE's 2025 General Rate Case requests necessary funding to continue readying the grid, which is fundamental to achieving widespread vehicle electrification," Lowenthal said.
On a different scale, the port's zero-emissions goals drive its growing demand for clean energy. SCE is interwoven in the port's infrastructure evaluation and planning for several proposed projects to meet these rising needs. 

The expansive scope of SCE's proposed work includes building one new, very large transmission-level substation and upgrading another, building two large distribution-level substations and upgrading several existing distribution substations and circuits associated with major ground shipping routes heading into and out of the port. 

"The port has set goals and a direction that aligns with Countdown to 2045," said Brian Bustamante, SCE's Port of Long Beach account manager. "When it comes to clean energy and electrification, it is the North Star of where we want our customers to be."
This year, SCE contributed engineering expertise and a letter of support that helped the port land a $383 million grant from the California State Transportation Agency, with $224 million specifically allocated to support future zero-emissions projects. 

One of these projects intends to replace diesel equipment with 44 zero-emission, electric human-operated yard tractors, forklifts and other vehicles at the Long Beach Container Terminal, supported by 62 new charging units. Other projects will demonstrate and deploy a plug-in hybrid tugboat and up to 12 zero-emission locomotives. 

Celina Luna, SCE Government Relations manager, said the port has long been forward-looking "about the infrastructure investments they need to make over the next five, 10 and 15 years to be ready for the clean energy future. They're ready to embrace that change to meet the moment." 

For more about SCE's clean energy efforts, visit edison.com/cleanenergy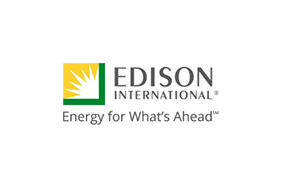 Edison International
Edison International
Edison International (NYSE:EIX), through its subsidiaries, is a generator and distributor of electric power and an investor in energy services and technologies, including renewable energy. Headquartered in Rosemead, Calif., Edison International is the parent company of Southern California Edison, one of the nation's largest electric utilities.
More from Edison International