Published 11-14-23
Submitted by The Consumer Goods Forum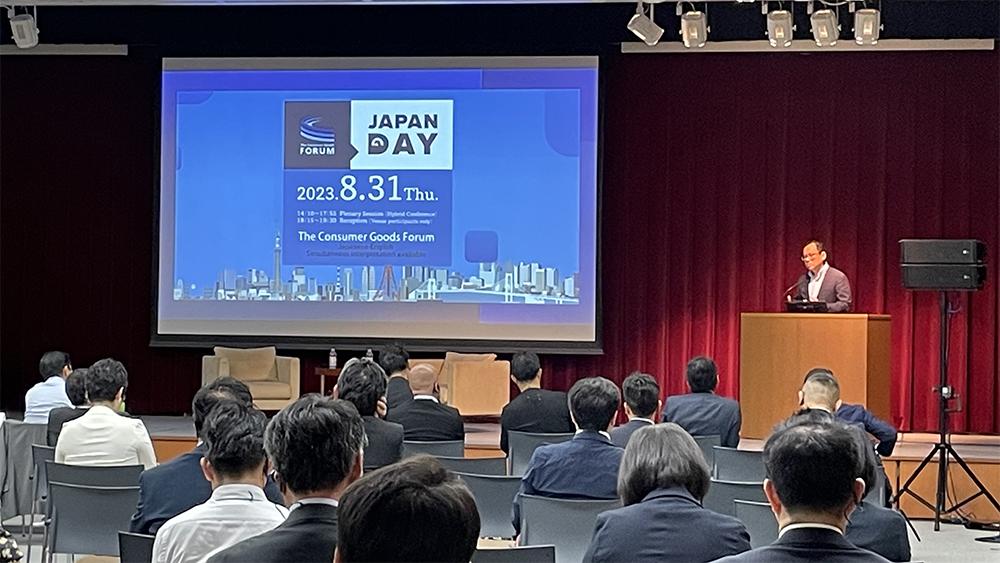 Japan Day, which took place on August 31, 2023, at the Ajinomoto Takanawa Training Center, marked another successful edition. More than 200 delegates convened both in person and online to gain insights into the accomplishments across the CGF Coalitions of Action and the forthcoming progress.
"Accelerating Positive Impact and Foster Positive Actions Faster Together"
Takeshi MATSUKAWA, the CGF Japan & Asia-Pacific General Manager, extended a warm welcome to the APAC membership audience. He then handed over to Frans MULLER, CEO of Ahold Delhaize and Retail Co-Chair. MULLER shed the spotlight on the renewed ambitions outlined during the Kyoto Global Summit in June and expressed the Co-Chairs' determination to accelerate impact in crucial areas such as employee health and wellbeing, tackling deforestation, protecting human rights, and transitioning to a circular economy for plastics. He introduced the 9th CGF Coalition of Action, dedicated to accelerating decarbonisation efforts. MULLER underscored the importance of a multi-stakeholder approach and encouraged the audience to actively participate in the Coalitions, stressing that collaboration is essential for the systemic change needed in our landscape.
Wai-Chan CHAN, CGF Managing Director, then delved into the unique aspects of Japan and stressed the need for a regionalised approach in achieving progress. He highlighted, "Applying a global lens on everything can be difficult and so what we do has to come up with a joint approach to create impact globally (…) We need to create way to make sure that local aspects are considered and can create value"
The event also featured presentations from co-chairs of various Japan local groups, who actively contribute to progress in the region:
Toshihiko NABE, GFSI Japan Local Group Steering Committee Co-chair, Manager, Quality Management Group and Acting General Manager, Merchandising Strategy Department at AEON, talked about thed about the commitment of local GFSI members in addressing supply chain issues, the importance of capability-building and spreading awareness about the food safety imperative, supporting GFSI's vision of 'Safe Food for People Everywhere'.
Yukiko TAKATORI Japan CHL Local Group Steering Committee Co-chair, Corporate Executive, General Manager, Sustainability Development Dept. Corporate Division at Ajinomoto, discussed the work achieved by CHL local groups in promoting employee health, sodium reduction, and healthier food consumption.
On the sustainability side, Nobuyasu KITAMURA, Japan Sustainability Local Group Steering Committee Co-chair and Senior General Manager, Corporate Sustainability Department, Sustainability Management Division at Suntory highlighted progress made by local groups in areas such as circular economy, palm oil, plastics, and human rights.
Then CGF HQs Directors, Sharon BLIGH (Health & Sustainability) and Didier BERGERET (Social Sustainability) shared the role of CGF in building ambition for the future and its impact on the industry and outlined the successes and achievements in health and sustainability workstreams, including initiatives like the Winning Behaviour Playbook, the Decarbonisation Masterclass, the Workforce Nutrition Alliance, but also the Carbon Solutions Hub, the Net Zero Playbook and the Climate X natureX AG ecosystem map.
The second part focused on Japanese companies' ambitions for the future as regards to SDGs.
Future Prospects of Retail Industry
Kiyoe MIZOHASHI and Masahiko NAKASHIMA, Managing Directors at Sigmaxyz, delved into the enduring effects of the pandemic on consumer behavior, psychology, and lifestyle, the rapid pace of change and the challenges posed by the ever-evolving e-commerce landscape, continuously disrupting the status quo, and concluded by examining illustrative business models that consider Japan Originality and Uniqueness. 
Well-being and the Ideal Form of a Company
A philosophical panel discussion about People, and how well-being and its relationship with the ideal corporate culture explored the shift from mere "health management" to a holistic "well-being management" approach. Daiko MATSUYAMA, Deputy Priest of Taizo-in Temple at Myoshin-ji Temple within the Rinzai sect of Buddhism, and Daisuke KAN, President of Cheerio, engaged in a vibrant dialogue. Their conversation delved into critical topics such as well-being, employee and mental health, diversity and inclusiveness, as well as family dynamics, Japan's demographics, and the current societal divisions. They also examined how mindfulness is impacted by stress.
Philosophy Management 2.0
In the context of shifting values and evolving dynamics in the relationship between individuals and organisations, Kunitake SASO, CEO of BIOTOPE, provided an enlightening perspective on the concept of "Purpose Management", an approach centers around a company's Mission, Vision, and Values, which encapsulate the essence of corporate culture. He underscored the imperative of embracing an appropriate top-management philosophy that aligns with employee well-being and the integrity of consumers, stressing that this philosophy serves as the driving force behind the construction of the organisational pyramid.
How Japanese Companies Should Address Human Rights Issues as Seen in Government Guidelines
From the industry to the consumer perspective, there is a growing consensus that human rights should become the norm, with regulations increasingly pushing for Human Rights Due Diligence to become a reality worldwide. In this panel bringing together representatives from both government and industry, Sunao ORII, Director for Business and Human Rights Policy at the Ministry of Economy, Trade, and Industry, and Tetsuichiro AKASHI, General Manager of the Corporate Sustainability Department at Suntory Holdings Limited, engaged in a productive dialogue facilitated by CGF Social Sustainability Director Didier BERGERET. They discussed the efforts made by Japanese companies to enhance their value and international competitiveness through the lens of human rights, and raising awareness of the concept of Due Diligence, the progress achieved, and the imperative for industry and government collaboration to expedite progress.
In his closing remarks, Takeshi MATSUKAWA thanked the speakers and panelists and conveyed hope for an enlightening experience. He encouraged delegates to take away and implement the learnings gained in their work: "it's not about competition, but about leveraging each other's strengths to collectively become better businesses".
More About Japan Day and CGF in the APAC Region
Japan Day is the one-day event designed specifically for our Japanese members. The goal of the event is to encourage participation in our activities within the Japanese membership and to network, share knowledge and best practices and to drive even greater collaborative efforts amongst Japanese members. The event has now become cemented in the calendars of our Japanese members and typically brings together over 250 delegates. Visit the CGF Japan website if you want to learn more About CGF JAPAN & APAC activities.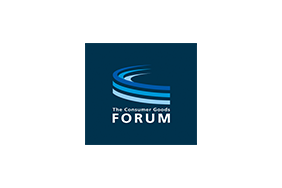 The Consumer Goods Forum
The Consumer Goods Forum
The Consumer Goods Forum ("CGF") is a global, parity-based industry network that is driven by its members to encourage the global adoption of practices and standards that serves the consumer goods industry worldwide. It brings together the CEOs and senior management of some 400 retailers, manufacturers, service providers, and other stakeholders across 70 countries, and it reflects the diversity of the industry in geography, size, product category and format. Its member companies have combined sales of EUR 3.5 trillion and directly employ nearly 10 million people, with a further 90 million related jobs estimated along the value chain. It is governed by its Board of Directors, which comprises more than 50 manufacturer and retailer CEOs. For more, please visit: www.theconsumergoodsforum.com.
Join our global community to stay abreast of the latest news on how the consumer goods industry is working together efficiently for positive change and building better lives through better business: Twitter, LinkedIn, YouTube.
Contact:
Lee Green
Director, Communications
+33 1 82 00 95 70
Louise Chester
Communications Officer
+33 1 82 00 95 91
More from The Consumer Goods Forum