Published 11-10-23
Submitted by Yum! Brands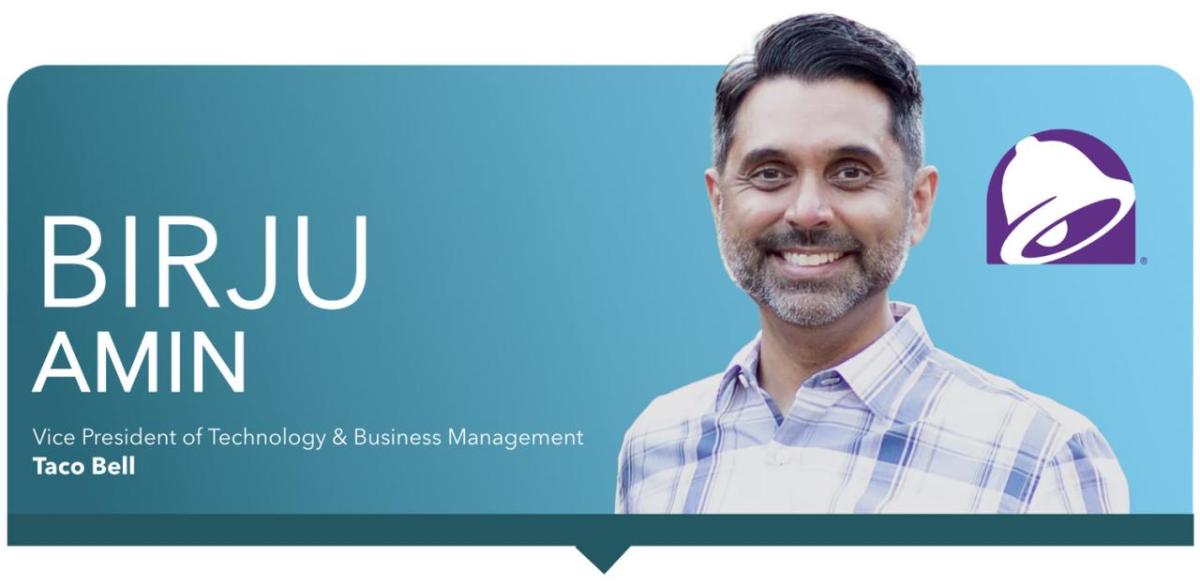 In the #HowIGotHere series, you'll read about the career paths of some of the world-renowned leaders at Yum! Brands. Learn more about Birju Amin, Vice President of Technology and Business Managment at Taco Bell in this installment.
EDUCATION
Cerritos High School
Cerritos, California, United States  (1991 –1995)
University of California, Irvine
B.S., Information & Computer Science
Irvine, California, United States  (1995 – 1999)
University of California, Irvine
Master of Business Administration
Irvine, California, United States  (2003 – 2005)
If we were to interview your teachers, what would they say about you?
"Birju was a sponge when it came to learning, hardworking and always there for his classmates."
What did you want to be when you grew up?
I was fascinated by space as a kid, but I dreamt beyond being an astronaut. I wanted to be the captain of a starship like the Enterprise from Star Trek!
WORK
First Job: In high school, I was a tele-surveyor. I cold-called households to take all kinds of surveys (and yes, we usually targeted calls during dinner time). I learned a lot about staying calm and having patience!
Cap Gemini Ernst & Young 1999 - 2003: Senior Consultant, Telecommunications, Media & Entertainment; Irvine, California, United States
Valeant Pharmaceuticals 2005 - 2006: Project Manager, IT; Costa Mesa, California, United States
2006 - 2008: Senior Manager, R&D IT; Costa Mesa, California, United States
Patheon Pharmaceuticals 2008 - 2010: Senior Manager, IT PMO; Raleigh, North Carolina, United States
Allergan 2010 - 2013: Senior Manager, Regulatory Affairs Information Services; Irvine, California, United States
2013 - 2015: Director, I.S. Project & Portfolio Management; Irvine, California, United States
2015 - 2016: Director, Commercial Information Services; Irvine, California, United States
Taco Bell 2016 - 2018: Director, Back-of-House Technology; Irvine, California, United States
2019 - 2020: Senior Director, Restaurant Technology; Irvine, California, United States
2021 - present: Vice President, Technology Platforms & Business Management, Irvine, California, United States
What moments, or who, in your life influenced the way you work?
My Parents
I learned the value of hard work, family and sacrifice from my parents who emigrated to the United States when I was very young. I saw both do what it took to provide for our family, my father having to reestablish his career from the bottom and my mother having to sacrifice her career to focus on the family. They were both selfless individuals, and it's certainly a core value of who I am.
My High School Calculus Teacher
Math was always my favorite subject, but Mr. Murray demonstrated the importance of empowering students to learn. With a casual approach to life, he'd remind us that our math problems were miniscule in comparison to those of the world we lived in. He was certainly an influence in my calm and steady approach to high pressure situations.
My First "Real" Job as a Consultant
I joined a big management consulting firm after graduating college. A few months in, I was nearly part of a layoff, and it was an early wakeup call to reality. My time in consulting is when I learned to adapt quickly to environments, take on non-technology roles and build those critical "soft skills" required for career growth. It's been the foundation for the rest of my career.
Do you believe in work/life balance?
I believe in integrating family, work and personal interests into life to adapt to the fast-paced, global and dynamic nature of our world. Add to it the different phases of our lives (single, married, kids, etc.), and integration makes more sense to me than simply balance. Where I allocate my time flexes depending on the need, and I am intentional to stay in the moment. That's really the key to successfully integrating work and life.
What do people think you do versus what you actually do?
My family and friends still believe I singlehandedly took away the Mexican Pizza. Doesn't seem like any of us at Taco Bell will shake that one anytime soon! Luckily, it's back and here to stay.
Aside from moonlighting as tech support for family, in reality, I spend my time aligning the Taco Bell technology strategy to enable the overall brand strategy, developing a roadmap and executing against it. Much of my time is spent collaborating within Taco Bell and Yum!, as well as with our franchisees.
What is the best piece of advice that you've been given?
Speak your mind; people want to know.
HOW DO YOU DO IT?
I do my best to keep perspective and have a learning mindset in any situation or interaction I'm in. Since having kids, I've been amazed how much they've taught me about myself and how much more there is to learn. As long as I stay curious, I feel I'll be able to adapt and get through any day.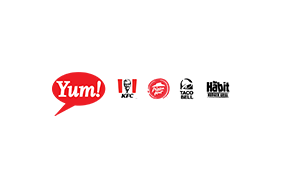 Yum! Brands
Yum! Brands
Yum! Brands, Inc., based in Louisville, Kentucky, has over 54,000 restaurants in more than 155 countries and territories, operating the Company's brands – KFC, Pizza Hut and Taco Bell – global leaders of the chicken, pizza and Mexican-style food categories. The Company's family of brands also includes The Habit Burger Grill, a fast-casual restaurant concept specializing in made-to-order chargrilled burgers, sandwiches and more. Yum! Brands was named to the 2021 Dow Jones Sustainability Index North America and was ranked on Newsweek's list of 2021 America's Most Responsible Companies. In 2022, Yum! Brands was named to 3BL Media's 100 Best Corporate Citizens.
More from Yum! Brands