Published 11-10-23
Submitted by U.S. Bank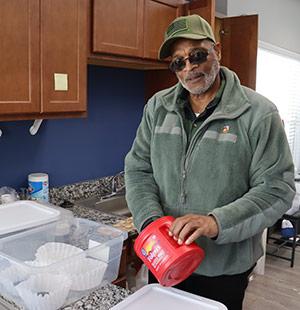 Originally published on U.S. Bank company blog
Ozy McDaniel hails from Kansas City but the United States Marine Corps took him a lot of places from 1977 to1985. He joined the Marines because his dad and uncles served in the military, but McDaniel didn't realize the impact or meaning it would have on his life until later.
"The longer I stayed in and saw what it had to offer, I realized it served a bigger purpose than what I could've imagined," he said. "It meant a lot to serve this country, and I would do it again if I had to."
McDaniel is one of about 125 formerly homeless and/or disabled vets and their families who call St. Michael's Veterans Center home. He moved five years ago into the Kansas City, Missouri, affordable housing development that features 117 apartments.
McDaniel is one of several residents who work in the onsite coffee shop where residents gather every morning.
"The stories people share here are my favorite," he said. "I've found out most people here are like me. It's good for me to be around them and it's a nice play to stay."
U.S. Bancorp Impact Finance has been involved with St. Michael's from the start. For phases one and two, Impact Finance contributed more than $20 million in equity. Phase three construction will start in early 2024 and consist of 62 more units that will include one- and two-bedroom apartments.
"St. Michael's is a special place," said Lynn Craghead, who is the affordable housing project management team lead for Impact Finance and lives in Kansas City. "It provides the right mix of activity and tranquility needed for the veterans who live there. We've been an equity investor in the campus dating back to 2013 and it's been a privilege to be a part of the impact the center makes on our local veterans and their families."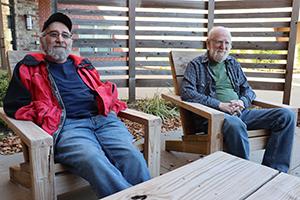 Since 2013, Impact Finance has supported a range of housing for veterans nationwide, totaling over 3,600 units, and $575 million in equity and $588 million in debt commitments in investments.
According to Susan Engel, the center's executive director, there are usually 50 to 100 people on the waiting list. She is one of many who are excited about the next phase so their reach can expand.
On a warm but windy November day, Engel walked around the campus and visited with McDaniel and several other residents who help in the coffee shop or with a monthly mobile food pantry.
Resident Frank Locknar, who served with the United States Navy from 1972 to1976, said he looks forward to giving back through the pantry. Produce and other goods are delivered by a regional food bank, and for those who can't pick up the produce themselves, Locknar delivers it to their rooms.
"It forces me to be around people and help some of the residents who need it," he said.
Locknar emphasized how much he loves St. Michael's.
"I think this is the luckiest I've ever been," he said. "This is a lifesaver. I am blessed to be here."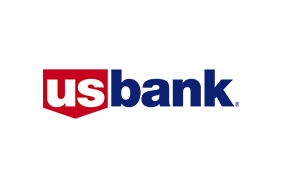 U.S. Bank
U.S. Bank
About U.S. Bank
U.S. Bancorp, with approximately 70,000 employees and $601 billion in assets as of September 30, 2022, is the parent company of U.S. Bank National Association. The Minneapolis-based company serves millions of customers locally, nationally and globally through a diversified mix of businesses: Consumer and Business Banking; Payment Services; Corporate & Commercial Banking; and Wealth Management and Investment Services. The company has been recognized for its approach to digital innovation, social responsibility, and customer service, including being named one of the 2022 World's Most Ethical Companies and Fortune's most admired superregional bank. Learn more at usbank.com/about.
More from U.S. Bank