Published 11-10-23
Submitted by Expedia Group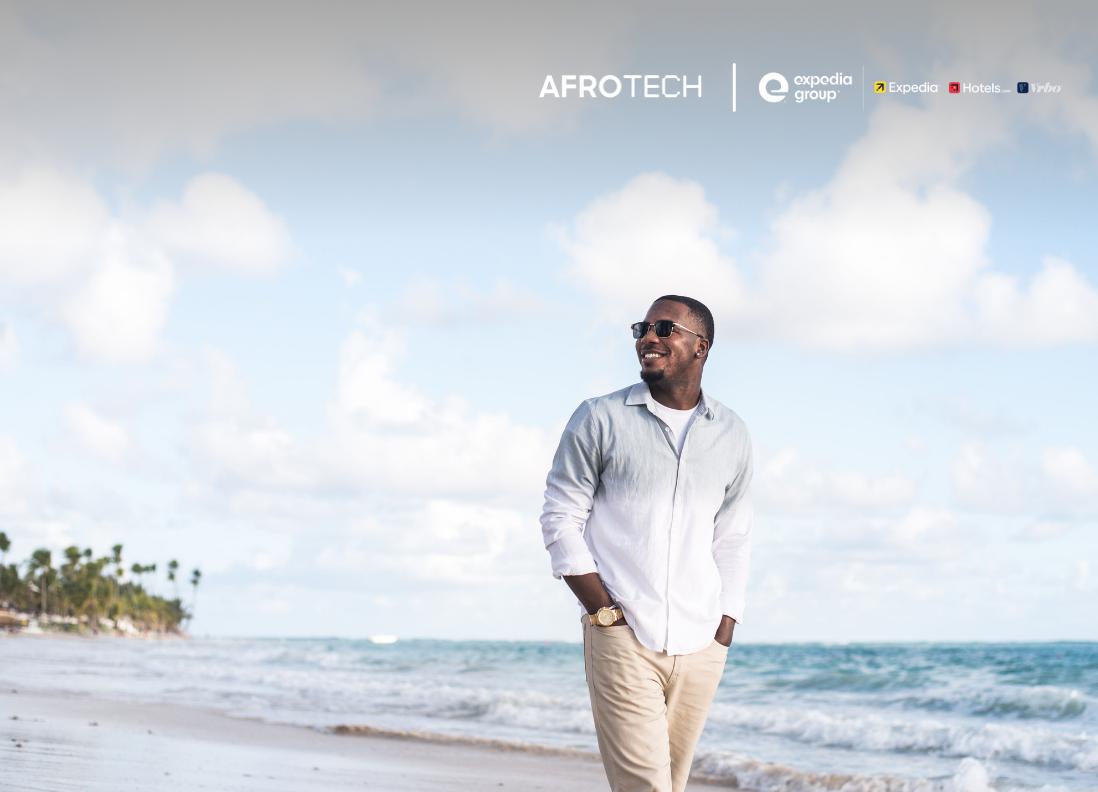 Finding Opportunity at AfroTech 
Will Cleveland has always had a thing for analytics. Throughout his career, he's been charged with figuring out strategies via content curation that give customers the data they need to make the best decisions possible. He's always tried to make sure that people who look like him are empowered with information and opportunity. It's his mission in life. As president of his former job's Black employee resource group, he was able to present advancement opportunities for others while also helping the company advance in its diversity efforts.
It was during his attendance at AfroTech 2022 in Austin that he discovered he was destined to do even more on a greater scale.
"I love attending AfroTech. It feels like a safe space where I can see people who look like me and what they're doing in tech to help us advance," Cleveland says. "I attended the Expedia Group panels and got to see the innovative things they're doing to give their customers the power when it comes to travel. I wanted to be a part of that. I knew I wanted to join their team."
Little did he know he would get that opportunity right away.
Expedia Group was looking for a social media manager who could focus on global insights and analytics. It felt like a perfect fit.
"It really felt like destiny. I saw that the job had just been posted the day before the conference and thought it was too good to be true," Cleveland says with a smile. He immediately expressed his interest in the position and landed an interview. While going through the process, he discovered that not only was it a perfect fit, but Expedia Group would provide room for his vision.
Landing His Dream Job
"I came in with a plan," Cleveland remembers. "They told me, 'Here's the bigger picture. Here's our strategy. Here's what we're looking for.' So my goal was to craft the role in a way that would help me shine, of course, help my team shine, but also make an impact for people globally while still driving from the strategy of the company."
Today, as a manager of social media global insights and analytics, he wants to be clear that the company's social media presence isn't arbitrary. In his role, Cleveland gathers and analyzes insights from Expedia, Hotels.com and Vrbo's social media channels to measure success and to help construct social strategies that resonate with all of the brands' audiences.
"Powering global travel for everyone, everywhere isn't just a slogan here," Cleveland shares. "It's important because different demographics need different attention. What might be working in some places or for some travelers might not work somewhere else. We are always strategic and forward thinking when it comes to how we plan and how our brands show up to ensure different regions and travelers are given the right attention. I come from a background where we didn't always have the means or resources to take vacations, so being able to help drive strategies for inclusive travel resonates closely with me.
What Does the Day-to-Day Look Like for a Social Media Insights Manager?
Cleveland shares that a lot of people think that all he does is look at numbers and data all day. He loves doing that, but that's definitely not all he does. He empowers those who might not have thought travel was a possibility, and sees himself as an example to those that might not see the need to be well-traveled.
Cleveland praises Expedia Group for providing professional development that helps him grow in his role. He says after being there for a little over a year, he hasn't felt stagnant.
"We have check-ins with our managers and with HR to track our growth and talk about the good things that we are accomplishing," Cleveland states. "I think that's so important."
What's also important is his ability to travel. Being able to negotiate time away from the daily work helps create an important work life balance that allows him to remain energized to help others.
A Company Focused on Powering Travel for Everyone, Everywhere
"I talk about travel a lot, and I want people to know how important it is. Black people, especially," Cleveland asserts. "There's a stigma for Black people that we don't travel that often. That we don't go on luxury vacations. We have to change that, and hopefully I'm showing them that we can do it. And that we have to stay open to it."
Cleveland cites how demonstrative Expedia Group is when it comes to advocacy as one of the best things about working there, saying he wasn't used to companies showing up for people that looked like him. He remembers being drawn to the Black and Well-Traveled mission during Afrotech and the conversations around building a more inclusive travel industry and company for everyone. Since joining, he has seen how Expedia Group consistently raises awareness, invests in solutions, and supports marginalized communities, as evidenced by its Inclusion and Diversity report and Open World Accelerator program.
"We have different employee resource groups like The Black Expedia Allied Movement (BEAM) which I'm proud to be a member of. Through BEAM, I've been able to build meaningful connections with Black Expedians, volunteer in our community, and participate in events that facilitate professional development and advancement, and support the wellbeing of our community."
Cleveland is excited to return to Afrotech and meet with others who are searching for their next big career move. He still sees it as a safe space to engage with people that look like him and share ideas that will help the tech world advance. "It's a full circle moment. Now I'm able to help people who were in my shoes last year learn more about Expedia Group."
Visit Expedia Group's careers page to learn more about how you can join Expedia Group's diverse workforce.

Expedia Group
Expedia Group
Expedia Group, Inc. companies power travel for everyone, everywhere through our global platform. Driven by the core belief that travel is a force for good, we help people experience the world in new ways and build lasting connections. We provide industry-leading technology solutions to fuel partner growth and success, while facilitating memorable experiences for travelers. The Expedia Group family of brands includes: Expedia®, Hotels.com®, Expedia® Partner Solutions, Vrbo®, Egencia®, trivago®, Orbitz®, Travelocity®, Hotwire®, Wotif®, ebookers®, CheapTickets®, Expedia Group™ Media Solutions, Expedia Local Expert®, CarRentals.com™, and Expedia Cruises™.
More from Expedia Group