Published 11-10-23
Submitted by Whole Foods Market Foundations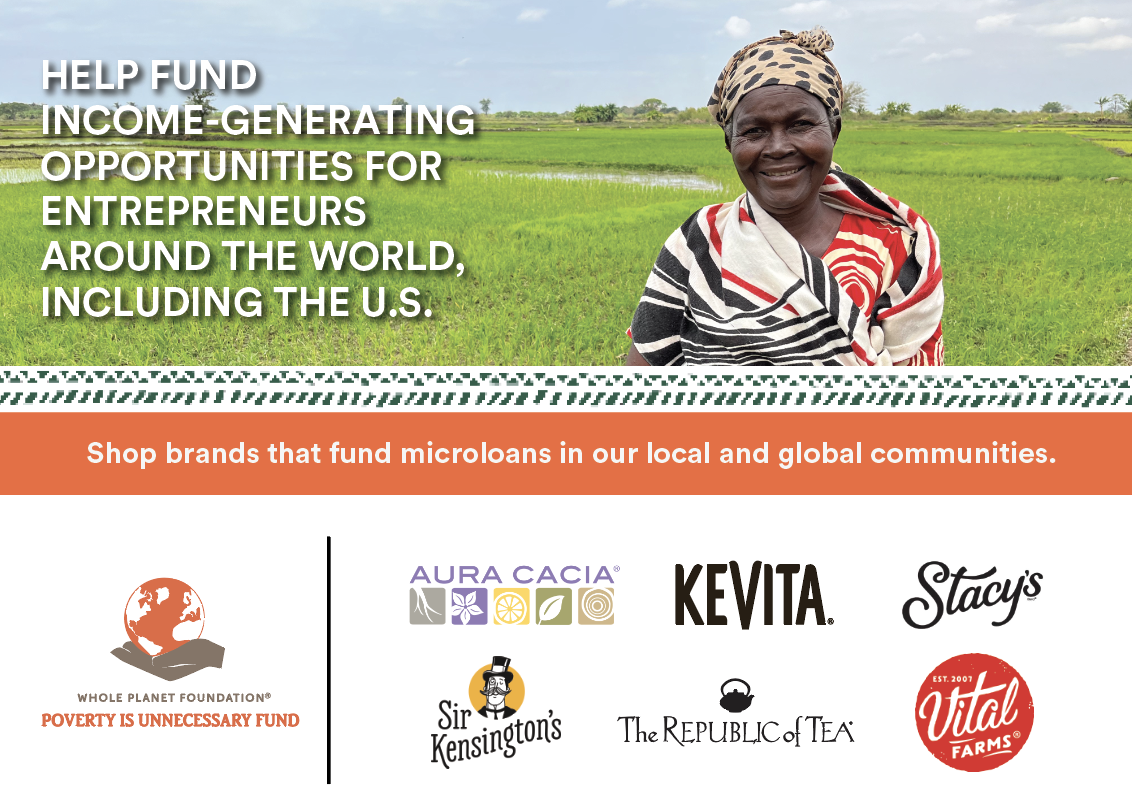 Like-minded companies, whose products can be found on select Whole Foods Market shelves, are donating funds to empower entrepreneurs that lack access to capital. These generous brands fund microloans for entrepreneurs living in poverty so they can start or expand a small business, often home-based. With a small loan typically under $500, an entrepreneur can purchase essential needs for their small ventures, such as products for a food stand, equipment for a sewing business, or tools for a small-scale farm. Profits from their microbusinesses provide these entrepreneurs the opportunity to lift themselves and their families out of poverty, one loan at a time. 
Supporting brands are invited to help further our mission by funding additional microloans. Brands that donate $25,000 in October to fund microcredit are recognized as members of Whole Planet Foundation's Poverty Is Unnecessary Fund. This month's generous donors include Aura Cacia, KeVita, Stacy's, Sir Kensington's, The Republic of Tea, and Vital Farms.
Aura Cacia
We welcome Aura Cacia, a Frontier Co-op brand, to the $25,000 Poverty is Unnecessary Fund this year. Frontier Co-op has long been supporting Whole Planet Foundation's mission to alleviate global poverty. Aura Cacia is committed to delivering essential oils from all over the globe with integrity and botanical authority. Additionally, through its support of Whole Planet Foundation microlending programs, they are funding much needed business capital for people living in poverty. Frontier Co-op began as a two-person operation in 1976 in a river cabin in Eastern Iowa. Today, they source herbs, spices, and essential oils from all over the world with a business commitment to giving back through a variety of initiatives. In addition to building schools in Madagascar where they source vanilla, the Simply Organic Giving Fund, and the Aura Cacia Positive Change Project, Frontier Co-op has also donated over $560,000 to fund microcredit through Whole Planet Foundation.
KeVita
KeVita joins us as a multi-program donor this year contributing $100,000 this year to support Whole Planet Foundation programs. To date, they have funded more than 4,000 microloans creating more than 21,000 opportunities for microentrepreneur families to prosper. When microloans are repaid, those funds are reloaned repeatedly to other microentrepreneurs helping create additional opportunities in the community.
"KeVita is delighted to continue our sponsorship and partnership with Whole Planet Foundation in 2023! Founded by an innovative woman entrepreneur passionate about health and wellness, KeVita believes in the power of inspiring and supporting women entrepreneurs globally through Whole Planet Foundation's outstanding microlending programs to support the health and wellness of their communities!" says Monica Hardy, KeVita's Whole Foods Market National Sales Manager.
Sir Kensington's
Sir Kensington's is a leading provider of premium condiments and dressings. Since its founding in 2010, Sir Kensington's has been on a mission to reimagine the most ordinary and overlooked foods with fearless integrity and charm. In 2018, the company became a Certified B Corporation, using business as a force for good, meeting the highest standards of verified social and environmental performance, public transparency, and legal accountability. Through their support of Whole Planet Foundation, they can spread that force of good to 80 countries around the globe as they help provide access to microcredit for the world's poorest people.
Stacy's
In addition to supporting Whole Planet Foundation, Stacy's® has a history of empowering women business owners. As a woman-founded business that grew from a humble sandwich cart to a household snack brand, Stacy's Pita Chips has invested over $1 million in over 60 women-owned businesses since 2017 through the Stacy's Rise Project™. Applications for the 2024 Stacy's Rise Project are officially open through December 1.
"The goal of the Stacy's Rise Project is not only to spread awareness of the funding gap women-owned businesses face, but to ensure these founders have access to resources, mentorship and community to help them overcome the statistics," said Rhasheda Boyd, vice president of marketing, Frito-Lay North America. "Because at Stacy's, we believe that when one woman rises, we all rise." To learn more about the Stacy's Rise Project or share the application with your favorite woman founder, visit www.stacysrise.com.
The Republic of Tea
Longtime $25,000 Poverty is Unnecessary Fund member, The Republic of Tea is celebrating the 10Th Anniversary of its beloved Organic Holiday Chai Tea that has long supported Whole Planet Foundation's mission through the sale of this product in Whole Foods Market stores. From November 12 – December 31, 2023, a portion of the proceeds from each tin will empower innovative microentrepreneurs.
"At The Republic of Tea, we embody the ancient Chinese philosophy of Tashun — the Great Harmony — when people naturally care about the world and depend on each other for the well-being of the whole. We proudly support Whole Planet Foundation to alleviate poverty through microcredit partners worldwide, especially in the communities where we source teas and herbs," says Kristina Tucker, Minister of Commerce and Enlightenment for The Republic of Tea.
Vital Farms
Vital Farms is dedicated to a stakeholder model that prioritizes the long-term benefits of all stakeholders, including over 300 small family farms. Through their supply chain, they provide economic opportunity to farmers and continue this work through their support of microentrepreneurs through Whole Planet Foundation.
"Our long relationship with Whole Planet Foundation is rooted in our shared purpose to improve the lives of people. We are honored to continue to support their incredible efforts to help alleviate global poverty through our donation this year", says the Vital Farms Team.
Whole Planet Foundation's $25,000 donors believe Poverty is Unnecessary.
That's why they support our mission to empower microentrepreneurs with economic opportunities, like Biti a microcredit client from Malawi. Biti participates in GGEM Farming's program, through which she gets a loan in the form seeds and fertilizer for cultivating rice. GGEM also guarantees that they will purchase harvest at the end of the season at a price that is above what smallholder farmers will typically get from other local buyers. We thank supporting brands and all stakeholders that join us in our mission to alleviate global poverty where Whole Foods Market sources products.
Learn more at wholeplanetfoundation.org.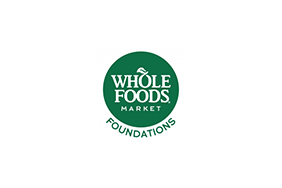 Whole Foods Market Foundations