Published 11-09-23
Submitted by Avantor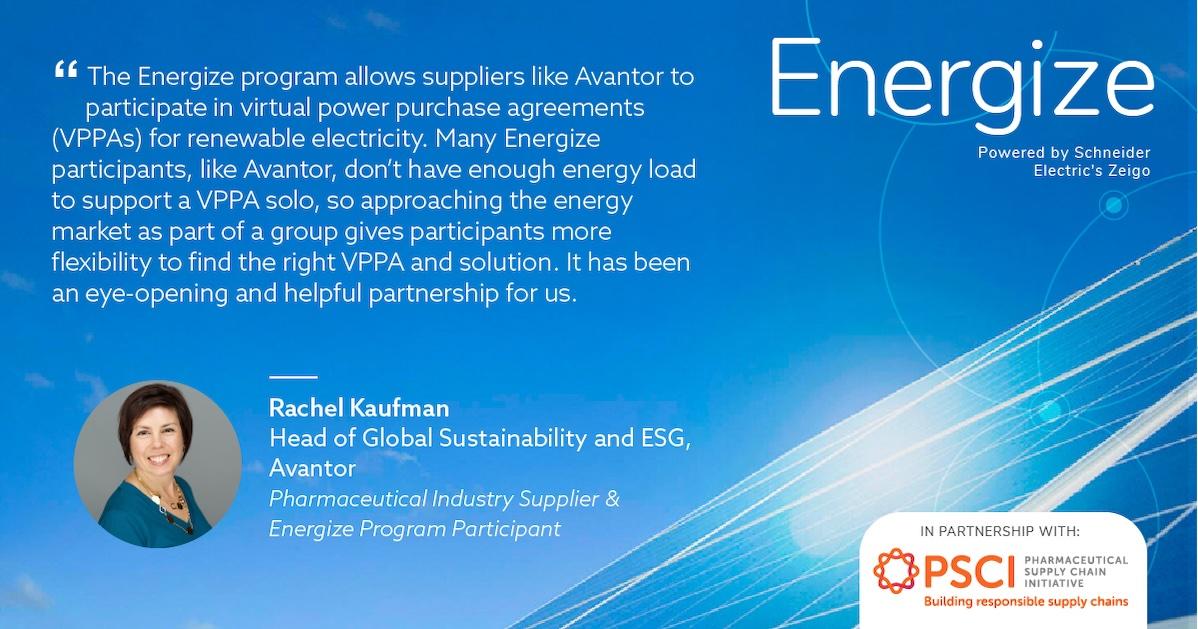 Originally published on Schneider Electric
The health of the planet and human health are inextricably linked. In 2021, the World Health Organization stated that climate change is the single biggest health threat facing humanity. The healthcare industry is responsible for nearly 5% of global emissions. Transitioning to renewable electricity is a fast and impactful way for a company to reduce its emissions. Therefore, supporting renewable electricity procurement has become paramount. The Energize program, managed by Schneider Electric with support from PSCI, brings together 19 global pharmaceutical companies to collaborate on increasing access to renewable electricity for the industry supply chain.
This article is the second in a series of interviews with suppliers participating in the Energize program. We interviewed Rachel Kaufman, Head of Global Sustainability and ESG at Avantor, to learn more about sustainability at Avantor and how Schneider Electric's Energize program aligns with the company's emission reduction goals.
Science for Goodness | Sustainability at Avantor
When looking inside Science for Goodness, the sustainability program at Avantor, it was clear there was a strong commitment from leadership that helped establish the company's strategy and drive its execution to where it is today, within just a few short years.
Q: The Science for Goodness program was introduced in 2020, and Avantor's 2023 Sustainability report shows tremendous progress, but let's start with a background on what the Science for Goodness Program is.
A: Avantor's sustainability program is based on four pillars that provide the framework for driving positive impact while creating long-term value for stakeholders. These pillars align with the environmental, social, and governance expectations of our customers, investors, and employees: DEI, talent development, and associate well-being (People & Culture); our product innovation and operational environmental footprint (Innovation & Environment); philanthropy through our giving and volunteering programs (Community Engagement); and responsible business processes and compliance across the organization (Governance & Integrity).
Q: Talk about how you stood up Avantor's sustainability program so quickly, and walk me through the strategy behind its implementation.
A: To begin with, we had strong leadership support and sponsorship. I cannot underscore the importance of gaining that commitment early in the process. Leadership support gave us the freedom to implement a thoughtful sustainability program instead of a box-checking exercise.
Once the Science for Goodness framework was established, Avantor identified and brought in the resources and subject matter experts needed to bring the strategy to fruition, which paid off quickly in terms of what we have accomplished in the last few years. Examples of subject matter experts whom we brought into Avantor include my position; a global sustainable sourcing director (who leads our Responsible Supplier Program); an Environmental Health and Safety (EHS) Manager who has responsibility for tracking our emissions, wastewater, and other elements of our operational environmental footprint; and a sustainable products expert.
Additionally, as part of our emissions reduction strategy, we created a cross-functional task force comprised of representatives from EHS, finance, and procurement teams, as well as team members in the three geographic regions where we have our most significant footprint. This task force is crucial in driving progress against our environmental sustainability goals throughout the business and across the globe.
Q: What are some major milestones Avantor has reached?
A. Our first benchmark report came out in 2020 and outlined our focus areas and key data points; in 2021, we added goals to our first Corporate Sustainability Report. This included our first climate goal - a 15% reduction in Scope 1 and 2 emissions by 2025, based on a 2019 baseline. We quickly started implementing efficiency projects and delivered some impressive gains. For example, by the end of 2022, we had already achieved more than 80% of our targeted 2025 emissions reduction.
Since that first report, we have learned a lot, like how to work cross-functionally, how to form the right teams, and what wasn't working. We also noticed how the mindset worldwide shifted as our customers, peers, investors, and associates increased expectations of climate action, including establishing science-based climate targets.
So, we brought in Schneider Electric's sustainability consulting services to help us map our entire value chain emissions. The environmental task force I mentioned before was a vital part of this process, and one of our learnings was that we had a good handle on efficiency projects to reduce electricity demands and cut energy needs at our sites. Still, we didn't have a dedicated focus on renewables.
Q: And how did the Energize program align with your climate goals?
A: Our initial approach of grabbing the "low-hanging fruit" of energy-efficiency projects – like installing LED lighting, replacing old and inefficient HVAC units and other equipment, and installing fans in our large warehouse facilities – helped us quickly reduce emissions by decreasing our electricity demand. In addition to these energy efficiency projects, we've initiated a series of on-site solar roof projects.
The missing piece of the puzzle was off-site renewables – the greening of our electricity supply. And that is where the Energize program came in. It contextualized what off-site and renewable procurement could look like. It provided tools and function-specific information sessions that educated the stakeholders at Avantor that were crucial to moving us forward on our renewables journey. As a result, our tax, accounting, and legal teams, for example, have a better understanding of renewable electricity procurement. That is where the Energize program has impacted our emissions reduction journey most.
Q: What is one challenge or common misconception you still see in the renewable electricity market?
A: For many companies and suppliers, the low-hanging fruit of energy efficiency projects is an easy 'yes.' It's hard to say no to something that is better for the environment and better for your bottom line. You can see a return on investment of two years or less by upgrading to energy-efficient equipment or installing insulation to prevent heat or steam from escaping from facilities.
The more significant challenge is renewable electricity. The energy market is complicated, and many pathways to renewables are finance instruments, such as tax incentives that vary by country or state. These nuances play a role in the economic and financial viability of renewable electricity. The common misconception is that switching to renewable electricity is always expensive. The market is dynamic, and some incentives can make renewables affordable. Unfortunately, companies don't always have this expertise in-house, so programs like Energize help navigate this space.
The Energize program allows suppliers like Avantor to participate in virtual power purchase agreements (VPPAs) for renewable electricity development projects. Many Energize participants, like Avantor, don't have enough electricity load to pursue a VPPA as a solo buyer, so approaching the electricity market as part of a group gives participants more flexibility to find the right VPPA and solution. It has been an eye-opening and helpful partnership for us.
Updates from Energize
Every year CPHI celebrates innovation at the heart of pharma with their pharma awards. The award categories highlight outstanding individuals and companies that have demonstrated exceptional leadership and impact in the pharmaceutical industry. The Energize program was among the 2023 CPHI Sustainability awards nominations along with 8 companies from around the world championing high impact sustainability initiatives.
We're excited to announce that Schneider Electric received the winning nomination and accepted the 2023 CPHI Sustainability award on behalf of the Energize program on October 24, 2023. The Energize program helps pharmaceutical suppliers address their own operational scope 1 and 2 greenhouse gas emissions through renewable electricity procurement, which in turn reduces the participating sponsor companies' scope 3 emissions. You can read the latest news on Energize and this award here.
To learn more about Energize and how companies can get involved with our network, visit https://hub.zeigo.com/energize.
Checkout the first article in this series: 
Part 1: Thermo Fisher sheds Light on Their Renewable Energy Transition 
Rachel Kaufman, Head of Global Sustainability and ESG, Avantor
Rachel Kaufman is the Head of Global Sustainability at Avantor, a leading global provider of mission-critical products and services to customers in the life sciences and technology industries. In this role, Rachel is responsible for establishing the company's environmental sustainability strategies and targets related to operations and products. She also oversees Avantor's broader Science for Goodness Sustainability Program and leads ESG reporting and customer and investor ESG engagement.
Rachel's sustainability industry experience spans over 20 years. Before joining Avantor, she served as the Global Director of Environmental Sustainability for Johnson & Johnson's Consumer Health and Vision Care segments and managed communications and environmental policy for non-profit and government agencies in Washington, DC. Rachel holds a B.S. in Natural Resources from Cornell University and an MBA from the University of North Carolina, Chapel Hill.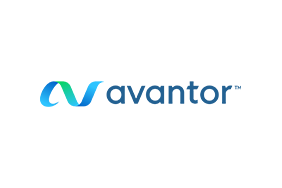 Avantor
Avantor
Avantor®, a Fortune 500 company, is a leading global provider of mission-critical products and services to customers in the biopharma, healthcare, education & government, and advanced technologies & applied materials industries. Our portfolio is used in virtually every stage of the most important research, development and production activities in the industries we serve. Our global footprint enables us to serve more than 300,000 customer locations and gives us extensive access to research laboratories and scientists in more than 180 countries. We set science in motion to create a better world. For more information, please visit www.avantorsciences.com.
More from Avantor