Published 11-08-23
Submitted by Yum! Brands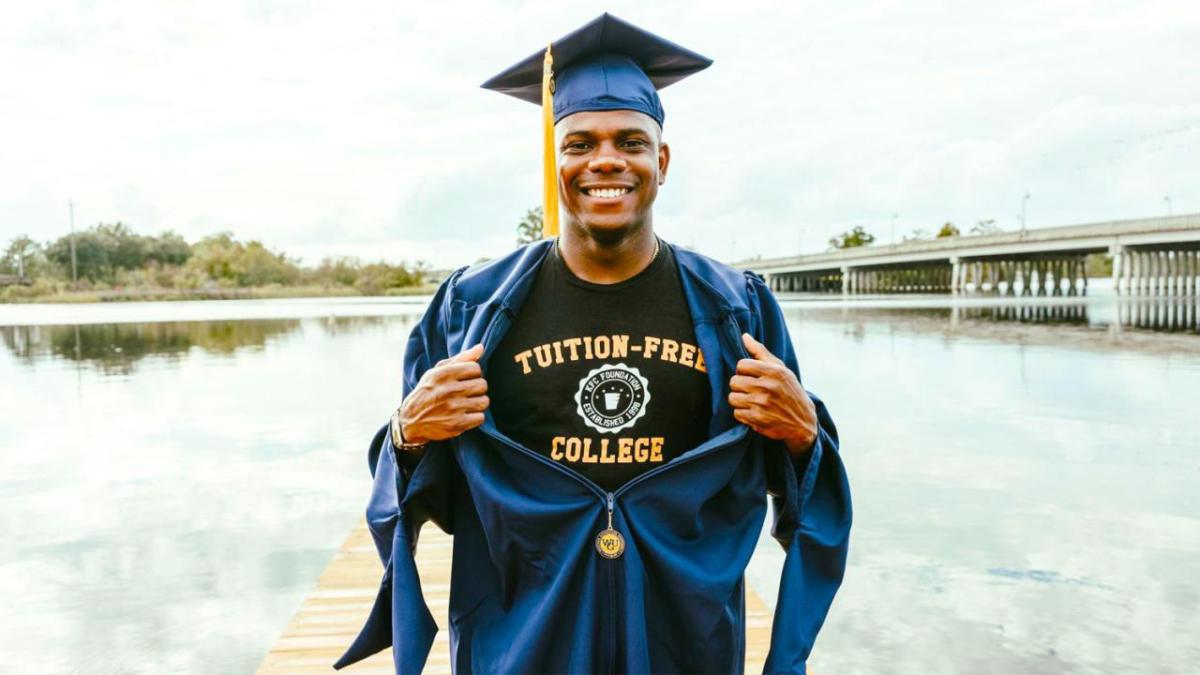 The KFC Foundation is celebrating a groundbreaking achievement as it honors the first graduate from its tuition-free college program. Kevon Pascoe, who started working part-time at his local KFC restaurant while serving as an active-duty logistics officer in the Marine Corps, has earned his master's degree in business administration from Western Governors University through the program.
The KFC Foundation's tuition-free college program, in partnership with Western Governors University (WGU), provides KFC restaurant employees* with 100 percent paid tuition when attending WGU to earn their degree. The program is available to every eligible KFC employee who applies and enrolls, with access available beginning day one on the job. WGU offers rolling admissions, so KFC restaurant employees have the flexibility to enroll at any time and begin online courses as soon as they're ready.
Pascoe, who grew up in Kingston, Jamaica, migrated to the United States with his family in 2010 for more opportunities. He was the first in his family to attain a bachelor's degree, graduating from Norwich University, the Military College of Vermont, with honors before completing leadership coursework through the United States Marine Corps to become a certified logistics officer.
In February 2023, Pascoe began working part-time at a Jacksonville, North Carolina KFC after hearing news of the tuition-free college program. "It all stemmed from a friend whose mom is a general manager at the KFC near base," Pascoe said. "I was interested in earning a master's degree and she informed me that by working at KFC, I could earn my degree for free. She offered me a night position and I enrolled in courses almost immediately."
Eight months later, Pascoe walked the stage to receive his diploma at WGU's commencement ceremony in Las Vegas, Nevada on Friday, October 27 but his educational journey doesn't stop there. Pascoe is starting another master's in management and leadership and hopes to earn a doctorate next. "Growing up, we lived in poverty. When I got my undergraduate degree, that sparked a lot of interest in my siblings to earn a degree," Pascoe said. "I want to show them and those in a similar position that we were, that our upbringings don't define who we are and show them the heights of how far they can go."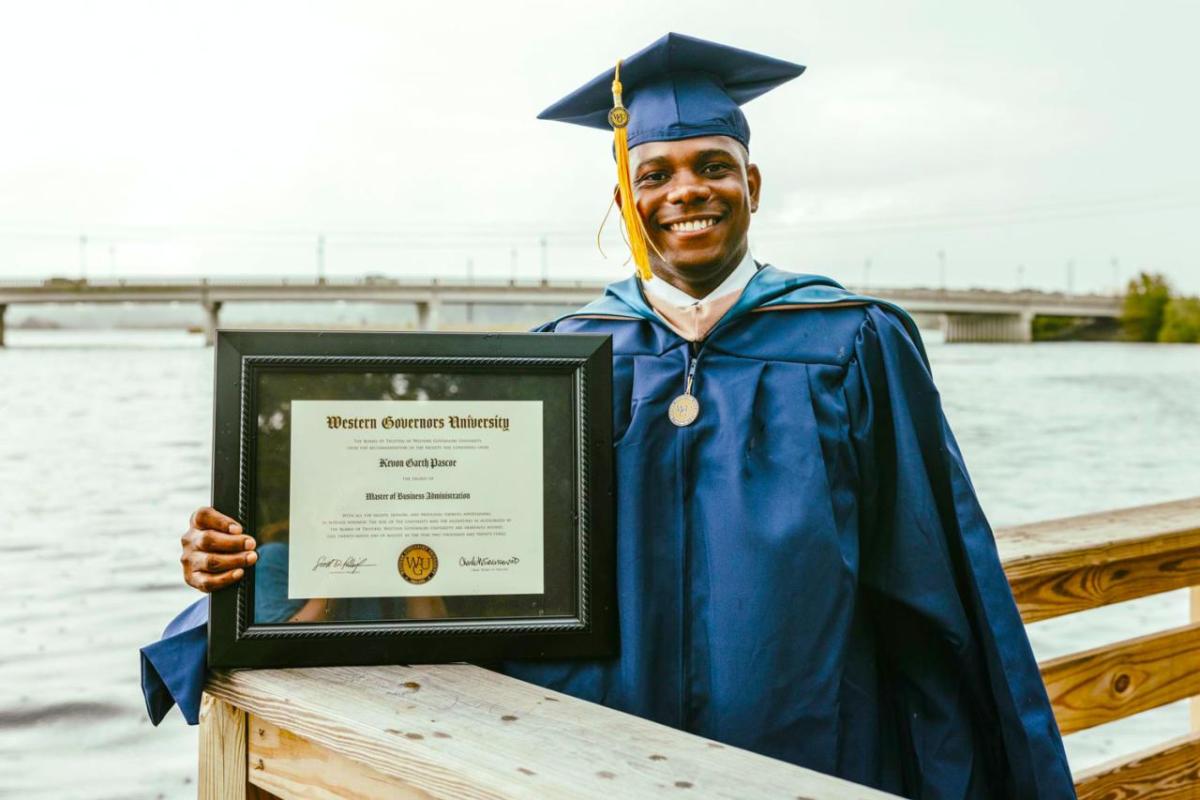 "We are immensely proud of the transformative impact our tuition-free college program is having on the lives of KFC restaurant employees. This program is not just about education; it's about empowerment and opportunity," said Emma Horn, Executive Director of the KFC Foundation. "Kevon embodies this so strongly and we can't wait to see the further impact he makes in the world."
Providing tuition-free college is just one way the KFC Foundation supports, empowers and serves joy to KFC restaurant employees and their communities. The KFC Foundation's other charitable programs help restaurant employees earn their GED, get up to $20,000 in scholarships to attend the two- or four-year college, trade school or graduate school of their choice, develop personal and professional skills, receive support during a crisis, build an emergency savings fund and give back to non-profits in their community.
Western Governors University is an accredited online university dedicated to making higher education accessible for as many people as possible. It is the leading academic institution where students learn and advance through competency-based education, giving them control over the pace of how and when they learn and may save them time progressing through the degree program.
KFC restaurant employees interested in the WGU program can go to Kfcfoundation.org/wgu to learn more, and those interested in working at a KFC restaurant can visit kfc.com/careers for more information about available job opportunities in their area.
About the KFC Foundation
The KFC Foundation, an independent 501c3 organization, has provided over $31 million to support, empower and serve joy to more than 9,300 students, KFC restaurant employees and non-profits. The KFC Foundation's charitable programs include GED achievement, college scholarships, tuition coverage, community giving, savings matching and financial hardship assistance, all made possible by Round Up donations, purchases of KFC's Secret Recipe Fries and other donations. For more information, visit kfcfoundation.org.
About Western Governors University
Established in 1997 by 19 U.S. governors with a mission to expand access to high-quality, affordable higher education, online, nonprofit WGU now serves more than 135,000 students nationwide and has more than 300,000 graduates in all 50 states. Driving innovation as the nation's leading competency-based university, WGU has been recognized by the White House, state leaders, employers, and students as a model that works in postsecondary education. In just 25 years, the university has become a leading influence in changing the lives of individuals and families, and preparing the workforce needed in today's rapidly evolving economy. WGU is accredited by the Northwest Commission on Colleges and Universities, has been named one of Fast Company's Most Innovative Companies, and has been featured on NPR, NBC Nightly News, CNN, and in The New York Times. Learn more at wgu.edu.
###

*To be eligible for the KFC Foundation's programs, one must be employed at a KFC restaurant participating in the KFC Foundation's Annual Franchise Donation Program and in good standing. Must maintain employment while taking advantage of these programs. Some restrictions may apply. See KFCFoundation.org for details.
References to "KFC" refer to corporate and independently owned KFC restaurants. KFC Corporation has no involvement in hiring decisions, orientation, staffing or the setting of wage rates and benefits for employees of independently owned and operated franchised locations. Benefits vary by location.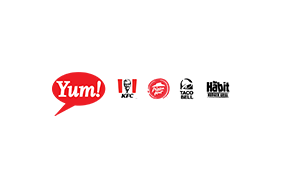 Yum! Brands
Yum! Brands
Yum! Brands, Inc., based in Louisville, Kentucky, has over 54,000 restaurants in more than 155 countries and territories, operating the Company's brands – KFC, Pizza Hut and Taco Bell – global leaders of the chicken, pizza and Mexican-style food categories. The Company's family of brands also includes The Habit Burger Grill, a fast-casual restaurant concept specializing in made-to-order chargrilled burgers, sandwiches and more. Yum! Brands was named to the 2021 Dow Jones Sustainability Index North America and was ranked on Newsweek's list of 2021 America's Most Responsible Companies. In 2022, Yum! Brands was named to 3BL Media's 100 Best Corporate Citizens.
More from Yum! Brands