Published 11-08-23
Submitted by Black & Veatch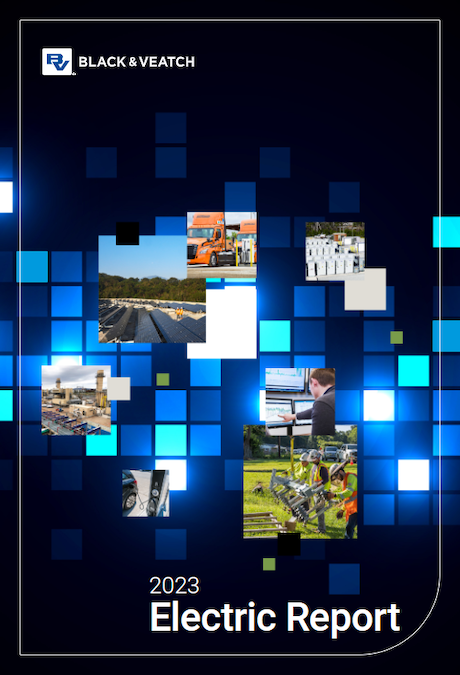 By The Black & Veatch Insights Group
With an influx of federal funding, U.S. energy sector stakeholders are seeing pathways to achieve their decarbonization targets through mature solutions: energy efficiency, battery energy storage and renewable power generation. Throw emerging low-carbon fuels and technologies into the mix as well.
Yet as they accelerate toward the United States' ambition of 100 percent clean electricity by 2035, they remain curious about the technical and economic viability of hydrogen, carbon capture and small modular (nuclear) reactors (SMRs). Many seem to be taking a wait-and-see approach as the distribution of $369 billion in "Inflation Reduction Act" (IRA) funding circulates and best practices emerge in the battle for the most cost-effective decarbonization solutions.
Black & Veatch's 2023 Electric Report — expert analyses of more than 650 responses to a survey of U.S. power sector stakeholders — offers valuable context about it all.
Given captivating headlines in recent years about the carbon-cutting potential of SMRs and long-duration energy storage in the form of hydrogen, it wasn't surprising in Black & Veatch's survey to see those technologies take two of the top three spots among trends in which stakeholders were most interested. Sandwiched between those technologies were increasingly economical renewables and complementary battery energy storage.
Because financial trends made the next three spots on the list —likely due to uncertainty about when and where government dollars would be released — respondents seemed most in search of answers about the IRA's climate- and energy-related incentives that would help them further decarbonization efforts.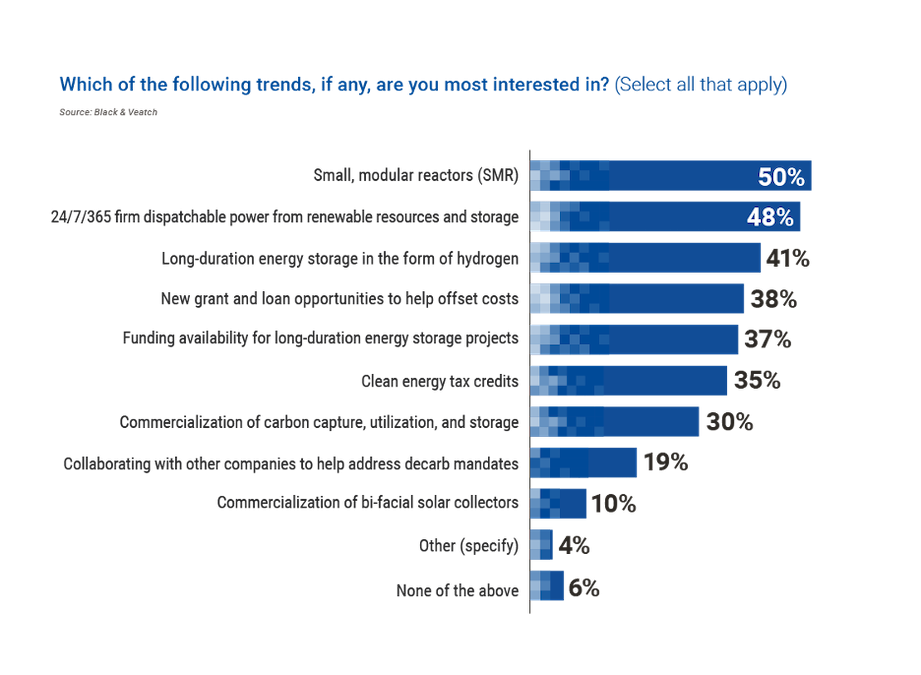 Offsetting Investment Costs with Federal Funding
Although the IRA has encouraged carbon capture and "green" hydrogen production – electrolysis with renewable energy resources – some utilities are realizing just how expensive and long-horizon (mid-2030s or later) those projects might be before coming online.
Forty-four percent of respondents consider hydrogen very or somewhat viable as a long-duration energy storage option, indicating cautious optimism surrounding use of the technology, even as utilities compare it to other more economical generation and energy storage options, all similarly IRA-backed. The less expensive technologies certainly are appealing to utilities facing imminent clean-energy mandates as well as pressure from stakeholders to make investments that achieve decarbonization goals now and beyond.
There also are regional considerations in terms of the feasibility of hydrogen and carbon capture. The hydrogen viability response simply might come down to geography, including whether a U.S. power producer has nearby access to and can store hydrogen in geologic formations. So too with carbon capture, as power producers in regions with fewer hours of daylight might be more likely to invest in the technology; for those in regions with more sun such as the Southeast, investments in solar power likely will continue to accelerate. State and local politics also will continue to play a role when it comes to regional investments in carbon sequestration, for the inescapable reason that taxpayers and policymakers must decide under whose backyard the carbon dioxide gets buried.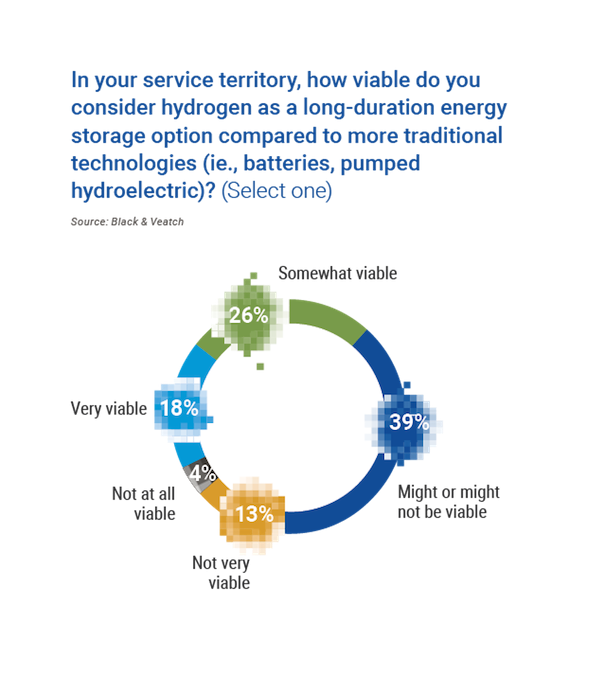 Hydrogen Poised to Provide Tomorrow's Green Energy
In 2022, Black & Veatch announced it had been chosen by Mitsubishi Power Americas and Magnum Development — co-developers of what will be among the world's largest industrial "green" hydrogen production and storage facilities — to provide engineering, procurement, and construction (EPC) services for the Advanced Clean Energy Storage (ACES) Delta Hydrogen Hub in Delta, Utah. The project will be adjacent to the Intermountain Power Agency's IPP Renewed Project and support an 840-megwatt, hydrogen-capable gas turbine combined cycle power plant. That plant initially will operate on a blend of hydrogen with natural gas starting in 2025, then incrementally expand to use 100 percent hydrogen by 2045.
Hydrogen as a long-duration energy storage solution allows renewable energy to be deployed in times of highest demand, and indeed, demand should be high given the plant will first serve the Intermountain Power Agency's electricity customers in Utah and Los Angeles. But that additional renewable energy presents another grand challenge associated with decarbonization: the increasing pressures placed on the country's aging electrical transmission and distribution systems.
Meeting Heightened Electrification Demands
With the Biden administration's goal of net-zero emissions by 2050, paired with increasing calls to electrify the grid more rapidly to power electric vehicle fleets and passenger cars, electricity demand by 2035 is expected to increase 38 percent from 2022 levels, according to CNBC. Transmitting high-voltage electricity to major cities across the nation will require costly transmission infrastructure upgrades, replacements and new buildouts. To address that concern, the bipartisan, $1.2-trillion Bipartisan Infrastructure Law signed by Biden in late 2021 included a $73 billion commitment to grid improvements, including thousands of miles of new, resilient transmission lines to help expand access to power generated by renewable technologies.
Along with the anticipated acceleration of electrification and associated expansion of grid infrastructure comes a worthwhile reexamination of the importance of distributed energy resources (DERs) to a decarbonized future — for example, using excess power from rooftop solar panels, household battery storage systems and wind generation units owned by utilities' customers. Most respondents to this year's survey said DERs would play a role in helping them achieve decarbonization targets.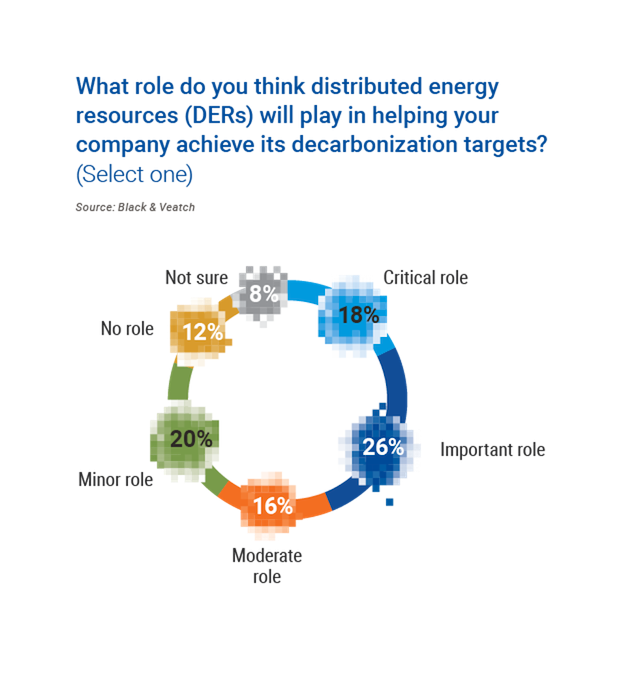 The increased deployment of DERs is being accelerated by three dynamics. First, full decarbonization cannot only be met by retiring old fossil-based supply-side (wholesale) generation assets and adding renewable generation assets to the mix; DERs will be key to unlocking carbon reductions on the demand-side (retail) as well. Moreover, the interconnection queue for wholesale projects is becoming longer; diversification of assets to achieve targets is important. The typical duration from connection request to commercial operation increased from less than two years for projects built between 2000 and 2007 to nearly four years for those built from 2018 to 2022, with a median of five years for projects built in 2022, according to the Lawrence Berkeley National Laboratory in April 2023. Finally, DERs are being incentivized through wholesale market design (FERC Order 2222) and targeted tax credits, grants and loans.
Perhaps a more compelling case for the future importance of DERs, though, was a significant increase from 2022 to 2023 in the percentage of respondents that said they were providing DERs and related services to customers. The percentage went up to 51 percent in 2023, more than doubling the 2022 figure. Still, that additional power must go somewhere, making regional power grid upgrades even more important.
No matter the technology, source of funding or infrastructure challenge, most power sector stakeholders likely agree on one thing: they need economical solutions to decarbonize the U.S. power system, and they need them now. Companies such as Black & Veatch will help them find pathways toward the most viable investments that will perform profitably – and most sustainably – for decades to come.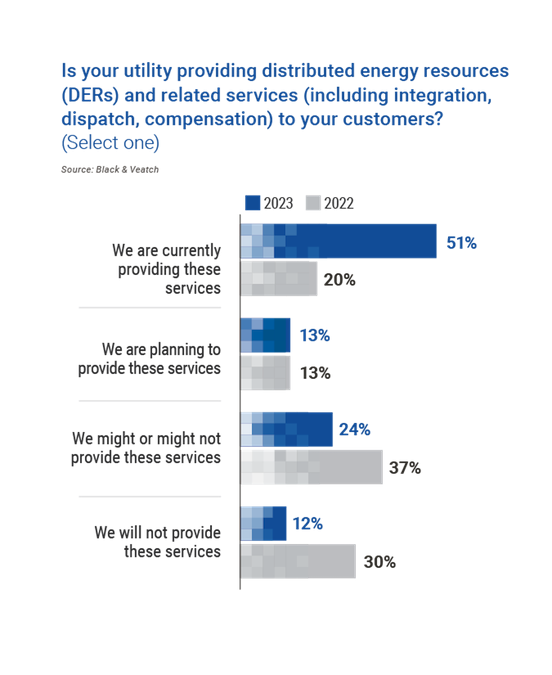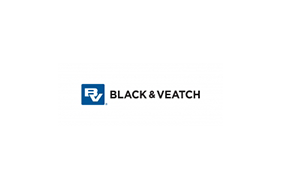 Black & Veatch
Black & Veatch
Black & Veatch is an employee-owned engineering, procurement, consulting and construction company with a more than 100-year track record of innovation in sustainable infrastructure. Since 1915, we have helped our clients improve the lives of people in over 100 countries through consulting, engineering, construction, operations and program management. Our revenues in 2018 were US$3.5 billion. Follow us on www.bv.com and in social media.
More from Black & Veatch