Published 11-07-23
Submitted by Frito-Lay North America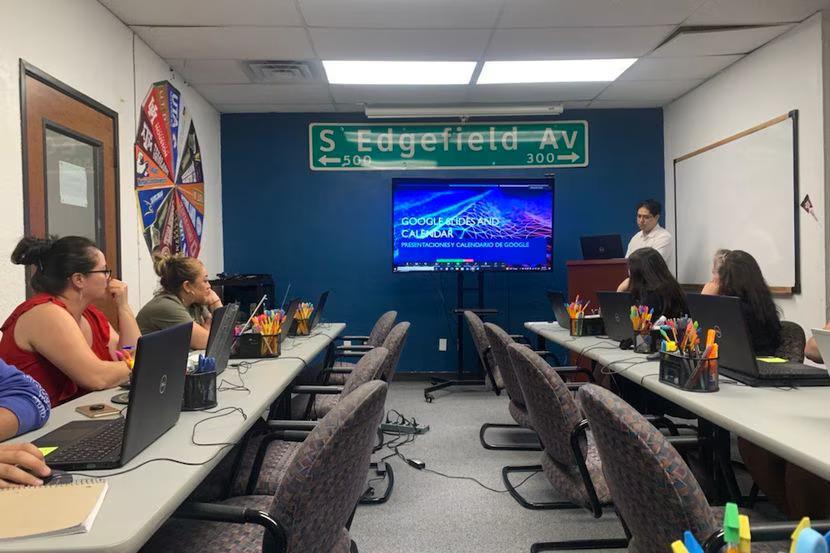 Originally published by FWD>DFW in the Dallas Morning News
By Kiara Jones, Social Impact, Frito-Lay North America
Frito-Lay partnered with LULAC National Educational Service Centers (LNESC) to expand their innovative P.U.E.N.T.E.S. program to bring digital literacy training to Hispanic communities in key markets.
Pathways to Uplift and Empower through Novel Technology and Education Services (P.U.E.N.T.E.S.) is an expansion program of LNESC that now serves seven markets, including Dallas. The goal of the program is to cultivate a learning opportunity for families in newly immigrated and first-generation Hispanic communities to receive the necessary skills, resources and tools needed for digital literacy.
Throughout the P.U.E.N.T.E.S. program, families take part in cohorts where they learn valuable skills to thrive in today's digital age. A consistent barrier to digital literacy for the Hispanic community is access to bilingual education, which the P.U.E.N.T.E.S. program combats with Spanish-speaking instructors. The program also pairs a grade-school student with their adult family member(s) to display a safe space through trust. The students help their families by joining the instruction, which also translates to being able to continuously practice new skills at home.
As captured in pre- and post-cohort surveys, 51.5% of participants began the program not feeling fully confident with technology, while 100% of participants felt more confident with their usage of technology and navigating their digital device upon completion. Each LNESC location offering a P.U.E.N.T.E.S. program leads three different cohorts per year that have totaled 161 participants in the inaugural year. In Frito-Lay's second year of partnership, it is projected that 360 participants will complete the P.U.E.N.T.E.S. program with more testimonials of confidence and success.
Celebrating the proven success of the P.U.E.N.T.E.S. program, Joan Cetera, vice president of Communications and Community Engagement at PepsiCo Foods North America, stated, "Frito-Lay takes pride in the transformative impact of our partnership with LNESC in advancing digital literacy. This endeavor reinforces our commitment to deliver more smiles and a brighter future within the Hispanic community, including our neighbors right here in Dallas."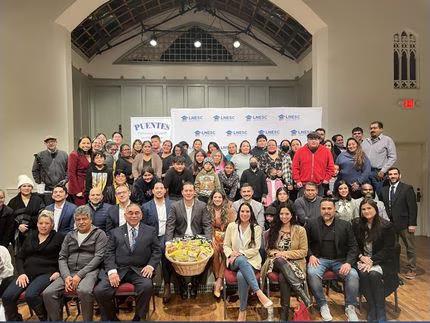 Ray de los Santos, director of the LNESC Dallas location, sheds light on the profound impact of LNESC's presence in the Dallas-Fort Worth (D-FW) area and the significant contributions made by the P.U.E.N.T.E.S. program. He says, "LNESC Dallas is currently celebrating 25 years of service in the D-FW metroplex. Overall, we serve [over] 185 students through our federal grants and many more through our partnerships with our corporate partners like Frito-Lay, which has generously funded our P.U.E.N.T.E.S. program." He emphasizes that this initiative, designed to enhance internet and computer literacy among parents, has been pivotal in ensuring that parents are active participants in their children's education. De los Santos underlines the importance of this partnership, saying, "Without this support, our mission of lifting up students and communities is made more difficult because a vital part of the team, our parents, are sidelined. We must do better to lift up the families, and through the P.U.E.N.T.E.S. initiative, we are able to do just that."
Speaking to the dynamic relationship between LNESC and Frito-Lay within Dallas, de los Santos shares, "We have a powerful and long-standing relationship with Frito-Lay. Our P.U.E.N.T.E.S. partnership has benefited the community by increasing the digital/computer literacy of our residents."
This newfound literacy opens doors to economic opportunities and enables parents to interact effectively with school officials and other community stakeholders. It empowers individuals by granting them access to the vast world of opportunity available through the internet, bridging the digital divide and enriching lives in ways that were previously unattainable. This partnership extends beyond mere financial support, as it includes in-kind donations, such as Frito-Lay North America donating printers to LNESC regional offices, equaling over $23,000. De los Santos highlights how this collaboration has helped shape and change lives, especially through the P.U.E.N.T.E.S. program, which brings individuals and families into the modern digital age. To learn more about LNESC and the P.U.E.N.T.E.S. program, go to www.lnesc.org/programs/puentes.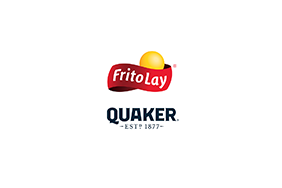 Frito-Lay North America
Frito-Lay North America
Frito-Lay North America is the $23 billion convenient foods division of PepsiCo, Inc. (NASDAQ: PEP), which is headquartered in Purchase, NY. Frito-Lay snacks include Lay's® and Ruffles® potato chips, Doritos® and Tostitos® tortilla chips and branded dips, Cheetos snacks, Stacy's® pita chips, PopCorners® popped-corn snack, SunChips® multigrain snacks and Fritos corn chips. The company operates 30+ manufacturing facilities across the U.S. and Canada, more than 200 distribution centers and services 315,000 retail customers per week through its direct-store-delivery model. Learn more about Frito-Lay at the corporate website, www.fritolay.com, on Twitter (@fritolay), on Instagram (@fritolay) and on Facebook (Frito-Lay). 
More from Frito-Lay North America