Published 11-03-23
Submitted by Georgia-Pacific
ATLANTA, November 3, 2023 /CSRwire/ - Georgia-Pacific is committed to supporting those who protect the communities where employees live and work. Since 2006, Georgia-Pacific's Bucket Brigade program has awarded more than $3 million in grants, educational materials, and other in-kind donations to fire departments across the country. This year, the company provided first responders and volunteer emergency response departments throughout the U.S. more than $640,000 in funding to ensure emergency personnel have essential equipment and infrastructure to respond when help is needed the most.
In Texas, 2023 ushered in a challenging summer with extremely hot and dry weather conditions that sparked wildfires and strained first responders and the equipment they use. Among the many communities that received funds in the state, Corrigan, Texas, received $100,000 as a contribution to a capital campaign to build a new fire station. The city's police department also received $16,000 that helped equip their police vehicles with defibrillators to assist in medical emergencies. Several other communities in Texas such as Lufkin, Diboll, Fuller Springs, and Hudson in Angelina County received a total of $77,000 from Georgia-Pacific to help with initiatives such as equipment repairs to gas detectors that can sense and identify chemicals in residential and industrial facilities during fire emergencies.
In Michigan, the Owosso Fire Department is the only full-time fire department serving the entire county. The department obtained a new thermal imaging camera, which allows firefighters to see through dense smoke-filled environments, visualize and execute search plans for potential victims, and locate hot spots and hidden fires inside floors, ceilings, and walls, enhancing firefighting capabilities.

Georgia-Pacific also reached out to help the Big Island Volunteer Fire Company in Big Island, Virginia. The city used a $163,000 donation to purchase and construct a new fire truck, which is expected to be delivered in two years.
And in Georgia, the Brunswick Fire Department in Glynn County received $15,000 to buy a dual-tote foam trailer that deploys firefighting foam to combat industrial blazes.
Georgia-Pacific's commitment to supporting first responders extend beyond monetary donations. The company works closely with these first responders to develop and implement safety protocols and best practices. Georgia-Pacific has also partnered with the National Fire Protection Association to develop a series of guidelines for the safe handling and storage of combustible materials, which have been adopted by many fire departments across the country.
Visit Supporting Our First Responders to learn more.  
View original content here.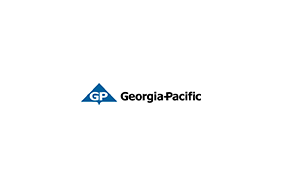 Georgia-Pacific
Georgia-Pacific
Based in Atlanta, Georgia-Pacific and its subsidiaries are among the world's leading manufacturers and marketers of bath tissue, paper towels and napkins, tableware, paper-based packaging, cellulose, specialty fibers, nonwoven fabrics, building products and related chemicals. Our familiar consumer brands include Quilted Northern®, Angel Soft®, Brawny®, Dixie®, enMotion®, Sparkle® and Vanity Fair®. Georgia-Pacific has long been a leading supplier of building products to lumber and building materials dealers and large do-it-yourself warehouse retailers. Its Georgia-Pacific Recycling subsidiary is among the world's largest traders of paper, metal and plastics. The company operates more than 150 facilities and employs more than 30,000 people directly and creates approximately 89,000 jobs indirectly. For more information, visit: gp.com/about-us . For news, visit: gp.com/news
More from Georgia-Pacific