Published 11-03-23
Submitted by Bloomberg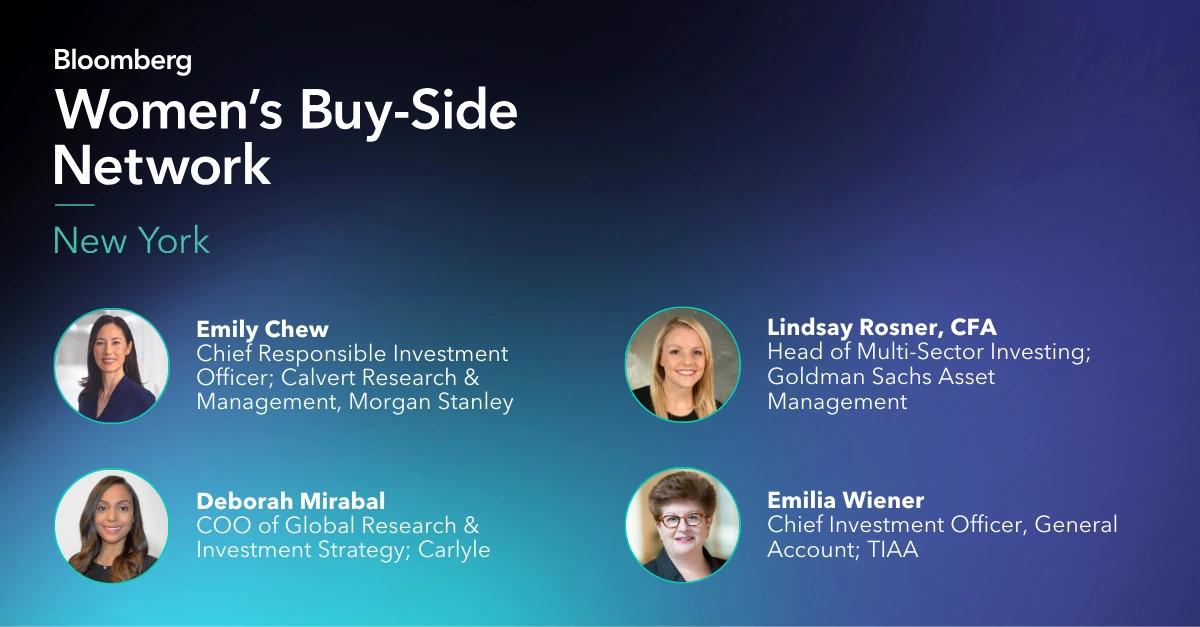 Originally published on bloomberg.com
Bloomberg announced the launch of a New York Chapter of the Bloomberg Women's Buy-Side Network (BWBN), a group focused on elevating and advancing women in the asset management industry. The New York chapter, which was launched in April 2023, is part of Bloomberg's growing Women's Buy-Side Networks, which now includes chapters in Brazil, Canada, California, South Africa, Hong Kong, India, Japan, Australia & New Zealand, and Singapore.
Led by senior-level buy-side executives, the chapter will focus on inclusivity, education and connectivity to help bring together women and senior industry leaders to engage in mentoring, sponsorship, and networking activities to help promote women up to management-level buy-side positions. BWBN New York celebrated its launch with a networking event and panel discussion reviewing how women are reshaping the economic landscape.
The BWBN chapters are led by women with senior roles in the asset management space who will advise on the community's opportunities to benefit women in the industry. The New York Chapter is founded by Emily Chew, Executive Vice President & Chief Responsible Investment Officer, Calvert Research and Management (Morgan Stanley); Deborah Mirabal Polites, Chief Operating Officer of Global Research & Investment Strategy, Carlyle; Lindsay Rosner, CFA, Head of Multi-Sector Investing, Goldman Sachs Asset Management; and Emilia F. Wiener, Chief Investment Officer, General Account, TIAA.
"BWBN is that special kind of group that results in more energy than comes from the sum of its parts," said Chew. "I'm confident that the enthusiasm and vision of our members, their support and encouragement of one another, will have a multiplying force in New York's asset management industry. I'm so humbled to be able to serve as a founding member, and to partner with other women and allies to build greater diversity and inclusion in finance."
"I am thrilled to be a founding member of the BWBN and help develop, elevate and promote female talent in the asset management space," said Polites. "Diverse perspectives are a critical element for firms to achieve strong performance in our constantly evolving industry and our network is committed to creating to more inclusive and equitable environments. I'm excited to see what our BWBN community will accomplish together."
"It is an absolute privilege to be a part of BWBN, a network of women who together will raise each other up in this industry where opportunity abounds," commented Rosner. "I look forward to building this community with my co-founders and peers."
"It's an honor to support the launch of BWBN's New York Chapter and I'm excited to connect with this community to push forward our goal of achieving gender equity in our industry and supporting the women who are navigating their career path within it," said Weiner.
Established in 2018, BWBN is a community of female senior leaders within the investment management industry, committed to creating a more inclusive and equitable industry. If you are interested in being part of the new chapter, please sign up here and join our LinkedIn group.
About Bloomberg
Bloomberg is a global leader in business and financial information, delivering trusted data, news, and insights that bring transparency, efficiency, and fairness to markets. The company helps connect influential communities across the global financial ecosystem via reliable technology solutions that enable our customers to make more informed decisions and foster better collaboration. For more information, visit Bloomberg.com/company or request a demo.

Bloomberg
Bloomberg
Bloomberg delivers business and markets news, data, analysis, and video to the world, featuring stories from Businessweek and Bloomberg News.
More from Bloomberg