Published 10-31-23
Submitted by Black & Veatch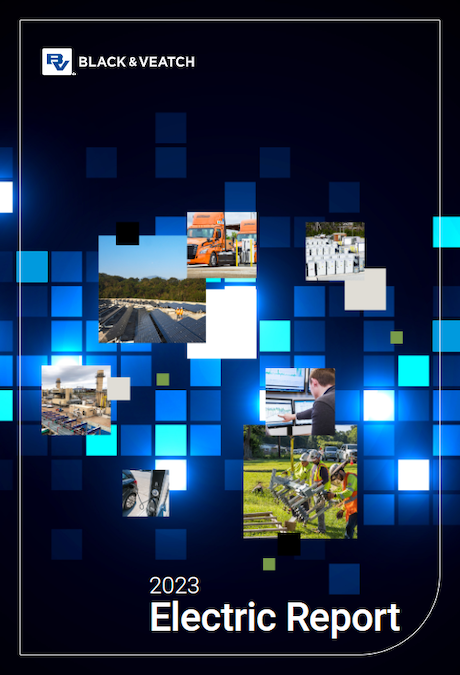 By The Black & Veatch Insights Group
Across the landscape of U.S. electric utilities, the words "grid modernization" encapsulate the frustration and promise in tackling the growing need to update and harden chronically aging grid infrastructure against an onslaught of threats while capitalizing on emerging opportunities.
Pressures come with better integrating distributed energy resources (DERs) and improving reliability of the grid while bolstering its resilience against severe weather. From cybersecurity to the outage-causing effects of a changing climate and the push to accommodate growing uses of renewable energy onto the grid in an evolving energy ecosystem, the demands for modernized grid infrastructure are real – and rising. Widening adoption of electric vehicles, distributed energy storage and solar photovoltaics will require more infrastructure to accommodate customer vehicle charging, decarbonization and reliability needs.
The sector has reached a tipping point. After more than a decade of especially intense concerns aboutcthe resiliency of infrastructure that, in many cases, is past its prime, the chorus of calls to modernize iscreaching a growing pitch. Federal lawmakers hear it and, with the stroke of President Joe Biden's pen, have greased the pipeline with billions of dollars of available funding to make change happen, though that infusion only now is beginning to flow.
At this moment, it's simply about fundamentals. Supply chain bottlenecks first manifested by the COVID-19 pandemic continue to frustrate efforts to get what's needed in any timely fashion. As older workers continue to retire – taking their intimate knowledge of the nuances of grid infrastructure with them – utilities are having a tough time recruiting skilled workers in a tight, competitive job market. And sadly, utilities still aren't making the most of their data that, in the absence of actual investment in new technologies, can help operators get the most out of infrastructure past its prime.
It's a complicated picture illustrated by other data, this time from Black & Veatch in a survey of more than 650 U.S. power sector stakeholders for the global critical infrastructure leader's 2023 Electric Report.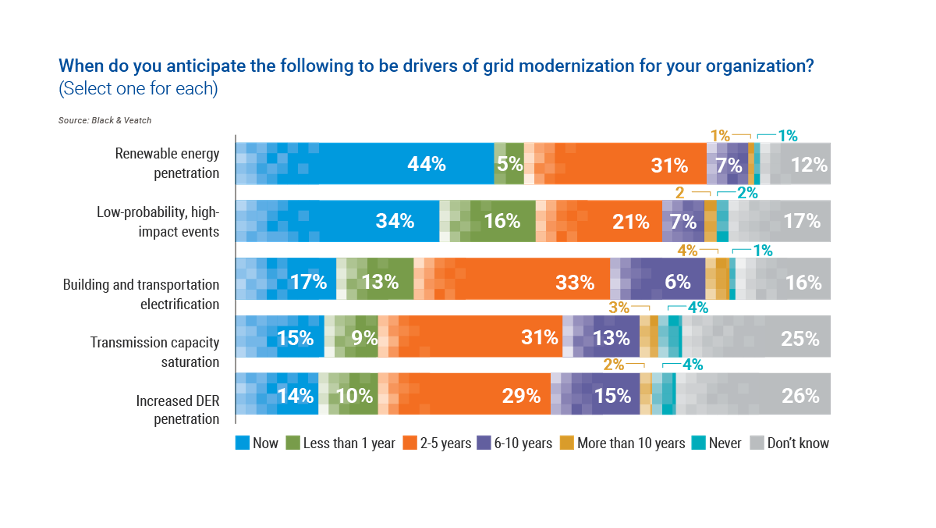 The Time to Modernize is Now
Without question, strategically modernizing the grid inherently carries great opportunity, including the potential of greater value from infrastructure investments, lower operating costs, improved resiliency and the enhanced reliability that comes with replacing aging assets.
So, what's the appetite for such investment, and what's the time horizon among U.S. electric utilities? Black & Veatch survey respondents cited as the top driver of grid modernization now and within the next year for their enterprises as low-probability, high-impact events that include increasingly frequent extreme events — droughts, hurricanes and wildfires — fueled by climate change (50 percent). That narrowly outranked renewable energy penetration (49 percent).
The takeaway: At least in the short-term, utilities worry most about their grid's resiliency against catastrophic events.
Supply Chain Issues a Big Headwind
Confounding the eagerness of U.S. electric utilities to proactively update their grid, supply chain issues persisting since the COVID-19 pandemic are stoking uncertainty and slowing needed progress. Availability of everything from transformers to other vital components has reached unprecedented delays, and their costs in many cases are higher and more volatile given the tight supply, slowing efforts to modernize and decarbonize the grid.
When asked when they anticipate their enterprise will face certain challenges to grid modernization, nearly two-thirds of respondents — 62 percent — cited supply chain constraints as their most-pressing issue. Three other challenges — competition for capital dollars, concerns about ongoing maintenance costs, and resource constraints — were tightly bunched at about 50 percent.
Plotting a Path
As the wait continues, Black & Veatch — a global leader in grid modernization solutions — has advised U.S. electric utility clients to remain engaged, among other things by ramping up dialogue with suppliers for a better understanding of what lead times look like in the pursuit of what's needed. Another suggestion is to widen their net of possible suppliers, understanding the varying state standards that apply to what equipment and components are approved.
In essence, it's about prioritizing and sequencing upgrade phases. That means having everything queued up to ideally coincide with the federal infusion of funds and tax credits through the Bipartisan Infrastructure Law (BIL) and the Inflation Reduction Act (IRA) fully flows, underwriting some of the cost of the upgrades for those willing to secure the funding. Having a guiding financial model lining out a roadmap for operational and maintenance priorities will be key, given the expected, intense competition for the federal financing incentives that could have a rush of recipients putting in their orders and launching upgrade projects all at the same time.
Central to grid modernization strategy is having a plan that brings maximum value to the consumers, considers all the constraints and is defensible to regulators and other constituents.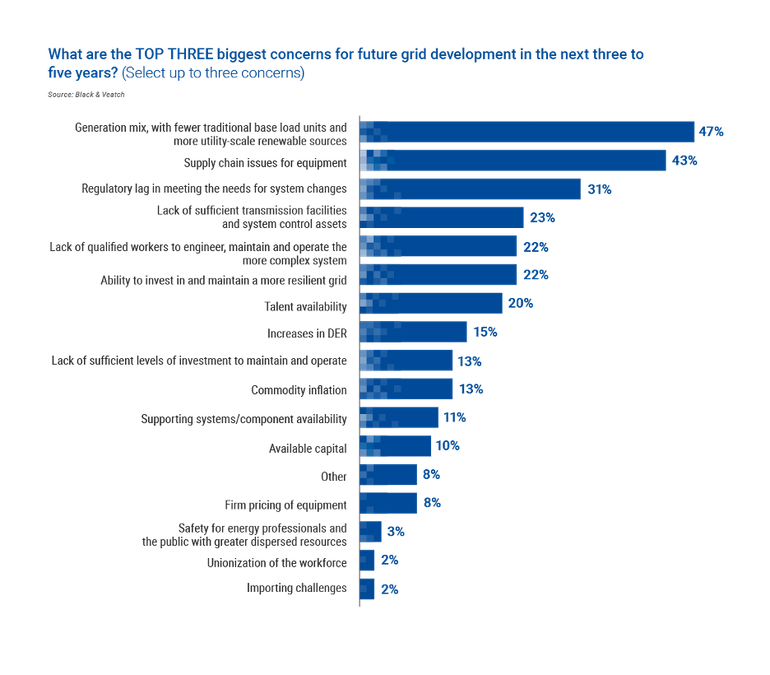 What to Expect: A Crystal Ball
When it comes to supply chain constraints, pessimism abounds that this challenge is not likely to abate any time soon.
Looking ahead over the next three to five years, the top concern among survey respondents about tomorrow's grid development is the generation mix with fewer traditional baseload units and more utility-scale renewable sources (47 percent), localizing a utility's grid constraints. That's followed closely by – you guessed it – supply chain issues for equipment (43 percent), with the lag in getting regulatory approvals for system changes drawing 31 percent.
Workforce worries also are in the mix, with more than one in five respondents citing the lack of qualified workers to engineer, maintain and operate the more complex system as something that's keeping them up at night.
For U.S. electric utilities, it's a world of growing complexities that demands collaboration, both with suppliers and outside experts who can offer clarity that cuts through the clutter and offer the smart path forward.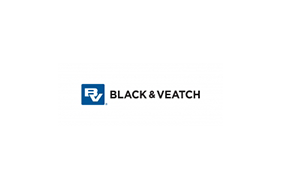 Black & Veatch
Black & Veatch
Black & Veatch is an employee-owned engineering, procurement, consulting and construction company with a more than 100-year track record of innovation in sustainable infrastructure. Since 1915, we have helped our clients improve the lives of people in over 100 countries through consulting, engineering, construction, operations and program management. Our revenues in 2018 were US$3.5 billion. Follow us on www.bv.com and in social media.
More from Black & Veatch