Published 10-26-23
Submitted by U.S. Bank
Originally published on U.S. Bank company blog
Jean Clement Nsombo is excited for his new home, one that he and hundreds of volunteers constructed during the 2023 Habitat for Humanity Jimmy & Rosalynn Carter Work Project hosted by Garth Brooks and Trisha Yearwood in Charlotte.
"I am very happy," said Nsombo, who is from the Congo. "I feel good and am very happy to see volunteers come and work on my house."
Nsombo is one of 27 homeowners whose home is under construction in the new West Charlotte neighborhood, The Meadows at Plato Price. Once home to the historic African American Plato Price School, the area was affected by desegregation and the land lay vacant until 2019 when the city of Charlotte donated it to Habitat Charlotte Region. Country singers Brooks and Yearwood started volunteering with Habitat more than a decade ago and are considered "Habitat humanitarians." The two volunteered throughout the week in Charlotte.
"Our vision is a world where everyone has a decent place to live, but we cannot reach that goal alone," said Tolli Love, chief development officer at Habitat for Humanity International. "U.S. Bank is a committed partner in this work and that support of Habitat for Humanity's 37th Jimmy & Rosalynn Carter Work Project helped us build 27 new homes during the week. This partnership is an example of what is possible when we come together to build affordable, sustainable and resilient communities."
U.S. Bank proudly served as a platinum sponsor of the massive five-day event with support from both the U.S. Bank Foundation and U.S. Bancorp Impact Finance. Impact Finance has now completed four investments through the federal New Markets Tax Credit (NMTC) Program since 2017, investing more than $3.5 million in Habitat for Humanity of the Charlotte Region. Impact Finance has provided more than $120 million to Habitat affiliates coast-to-coast for affordable homeownership projects with a total value of over $470 million and creating over 1,250 units. 
Impact Finance Business Development Officer Bill Carson leads NMTC housing investments and participated in the Carter Work Project along with some 80 other U.S. Bank volunteers from across the country. "It was amazing to be a part of this week and to see our financing and support come full circle, especially through the eyes and smile of homeowner Jean," said Carson, who explained that NMTCs are a federal tax credit program that encourages job creation and economic development in distressed and underserved communities. Typical projects involve real estate construction and rehabilitation; capital and equipment investments; and operating funds for both and for-profit businesses and nonprofit organizations like Habitat.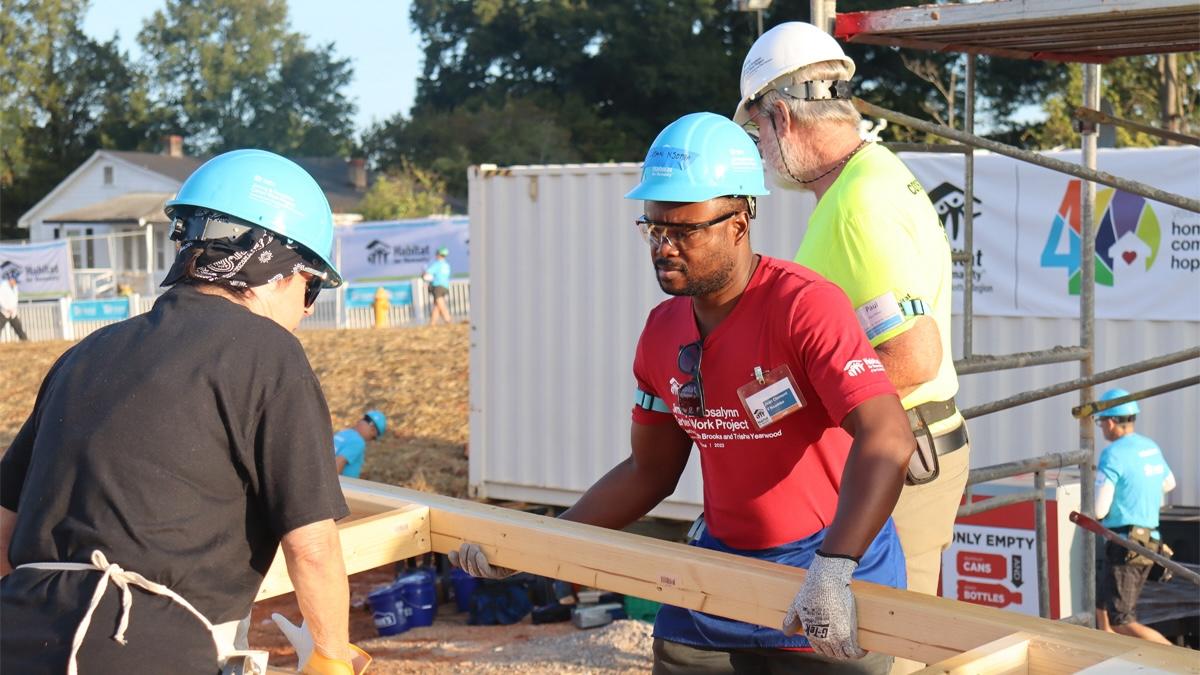 "Impact Finance co-originated for Habitat a NMTC homeownership model more than 15 years ago with the consulting firm Smith NMTC Associates," said Carson. "It's been a pleasure working with Habitat affiliates across the country to make homeownership possible for thousands of families." The model is also used by other nonprofit developers of for-sale housing.
Liz Blake volunteered at the build site alongside U.S. Bank employees. Blake in 2015 retired from Habitat for Humanity International, where she once served as the senior vice president for advocacy, government affairs and general counsel. Blake and her team played an instrumental role in pitching to the U.S. Treasury the use of NMTCs for housing. "NMTCs enable Habitat to serve more families and make a big difference. And we couldn't have done it without financial institutions like U.S. Bank coming alongside us. It was a game changer." From 2020-2022, U.S. Bank has provided more than $5.1 million in corporate contributions and U.S. Bank Foundation giving nationally to Habitat, and matched employee giving at nearly $69,000.
"I'm so thankful to work for an organization that puts people first and encourages employees to participate in community activities such as Habitat for Humanity," said Shannon Donnelly, U.S. Bank managing director and chief administrative officer of Global Markets & Specialized Finance. "Not only is the bank supporting great causes, but the community events allow us to meet colleagues across the bank that we do not see on a daily basis."
Nsombo, his wife, and their three children ages 4-8 will move into their new home in April 2024. Nsombo noted the stability of owning a home as something important for his family.
Impact Finance Business Transformation Manager A'Daris McNeese worked alongside Nsombo several hours and the two enjoyed speaking French. "Working alongside Jean was great," she said. "We were building his future home together so there is a strong feeling of pride and connection. When I learned that he is from Congo Kinshasa and speaks French, I was happy that I could step in to help him connect more with the other volunteers. Jean said that he had never worked with such a big group and that it was exciting to see so many people volunteering, giving their time, to help his family."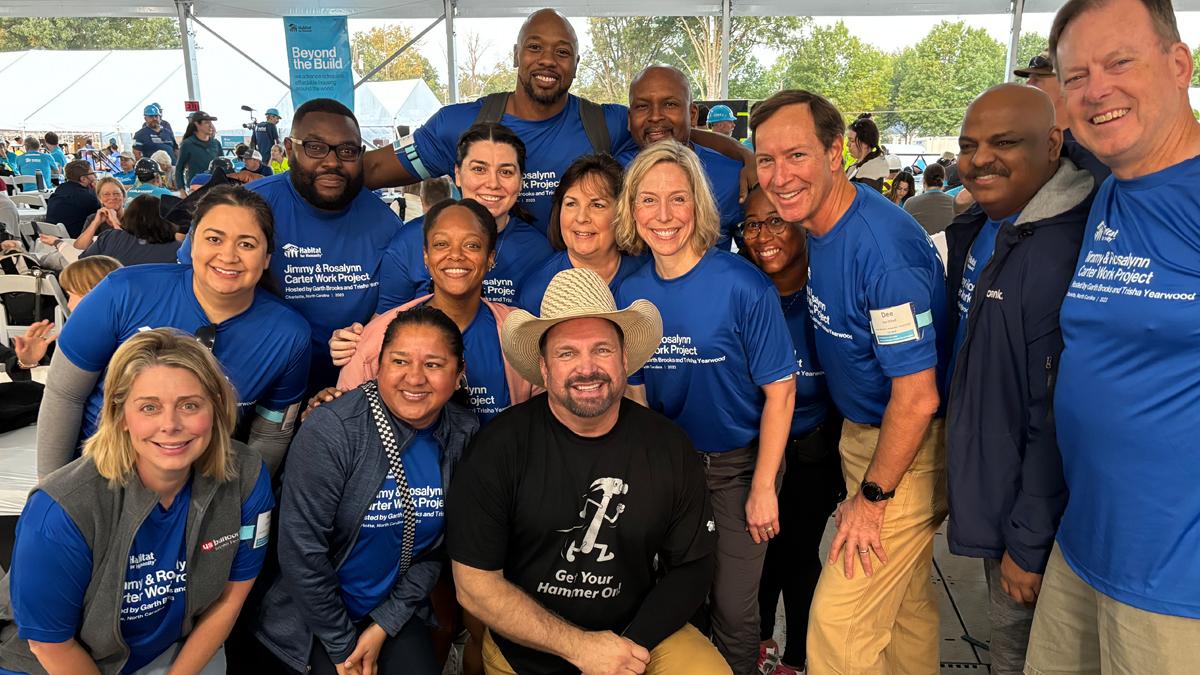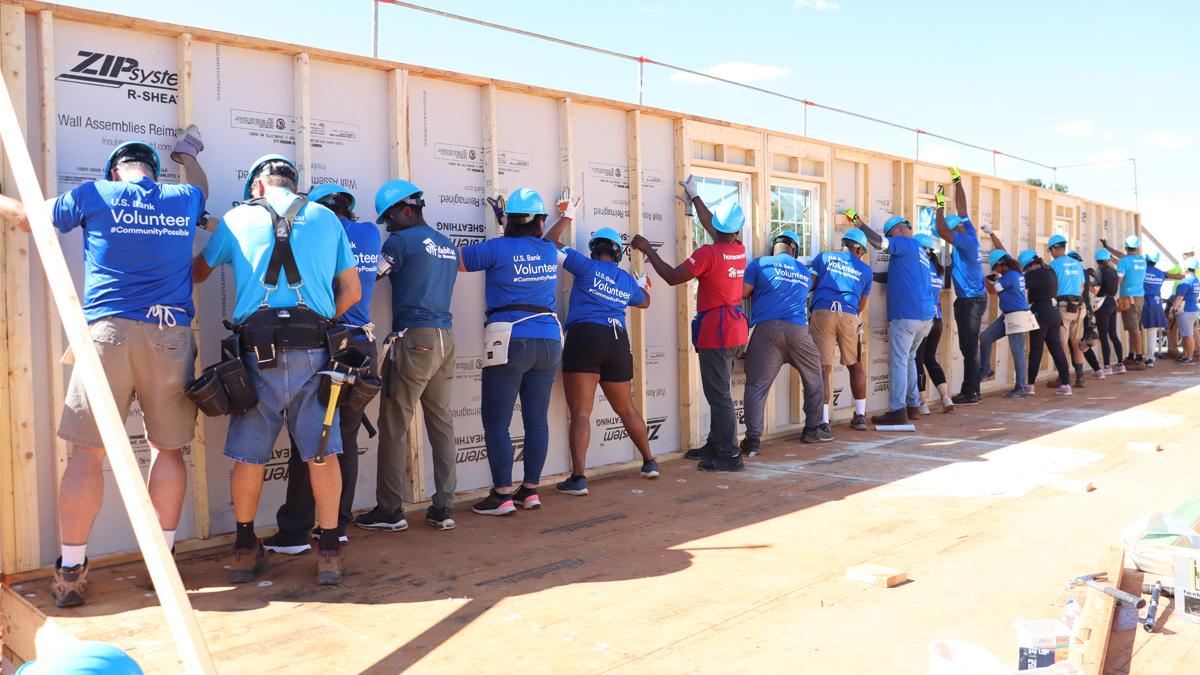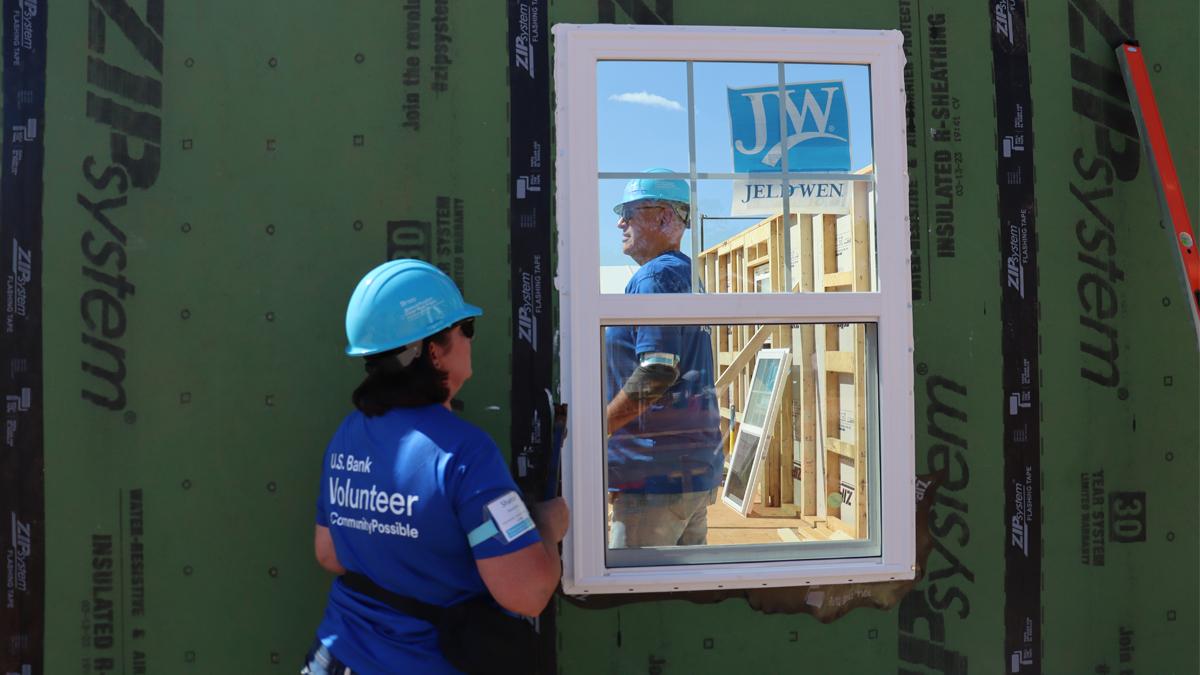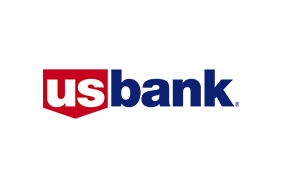 U.S. Bank
U.S. Bank
About U.S. Bank
U.S. Bancorp, with approximately 70,000 employees and $601 billion in assets as of September 30, 2022, is the parent company of U.S. Bank National Association. The Minneapolis-based company serves millions of customers locally, nationally and globally through a diversified mix of businesses: Consumer and Business Banking; Payment Services; Corporate & Commercial Banking; and Wealth Management and Investment Services. The company has been recognized for its approach to digital innovation, social responsibility, and customer service, including being named one of the 2022 World's Most Ethical Companies and Fortune's most admired superregional bank. Learn more at usbank.com/about.
More from U.S. Bank