Published 10-26-23
Submitted by Mary Kay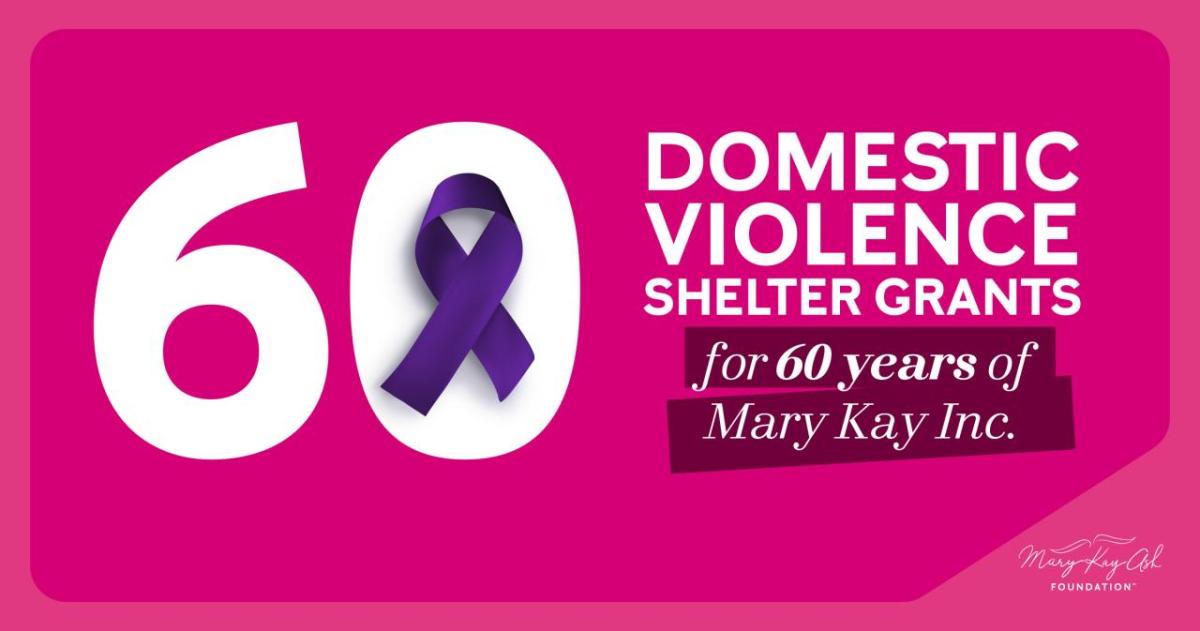 Home should be a haven. Unfortunately, the homes of millions of women and children are plagued by domestic violence. The Mary Kay Ash Foundation is committed to stopping the violence, breaking the silence, and making a difference for these women and their families.
Since 2000, 2,700+ organizations advocating to eradicate domestic violence have received grants from the Mary Kay Ash Foundation, totaling over $56 million. The Mary Kay Ash Foundation has supported over six million women and girls seeking shelter and services free from abuse.
In celebration of Mary Kay Inc's 60th anniversary, the Mary Kay Ash FoundationSM is honored to announce $1.2 million in domestic violence shelter grants around the country. Established in 1996, the Mary Kay Ash Foundation remains committed to its two-fold mission: cancers affecting women and ending domestic violence.
This year, 60 domestic violence shelters around the country were awarded $20,000 grants each, totaling $1.2 million. These unrestricted funds will be used to provide critical, life-saving support programs and services, shelter operations, counseling and legal aid, childcare, basic necessities and more for women and their families seeking refuge from abusive situations. Having access to resources like these ensures women and their families feel supported and can regain a sense of hope for their future on their journey to a life free from abuse. 
Click here to access a full list of 2023 Mary Kay Ash Foundation Domestic Violence Shelter Grant recipients and previous years' recipients. 
Each year, the grant cycle opens in early January and the deadline for applications is the end of April. Applicants will be required to provide detailed information on services / programs offered, population served and various other questions. Additionally, each shelter may attach a letter of recommendation from a Mary Kay Independent Sales Force member within their grant application attachments.
Grant Applications for the 2024 cycle will be accepted from January 1 through April 30, 2024. Shelters who receive a grant, are not eligible to apply for the contiguous next year's grant cycle. Grants are awarded in the amount of $20,000, with a minimum of one grant awarded per state.
To learn more or apply for a Mary Kay Ash Foundation Domestic Violence Shelter Grant, visit our website.

Mary Kay
Mary Kay
Then. Now. Always. One of the original glass ceiling breakers, Mary Kay Ash founded her dream beauty brand in Texas in 1963 with one goal: to enrich women's lives. That dream has blossomed into a global company with millions of independent sales force members in more than 35 countries. For 60 years, the Mary Kay opportunity has empowered women to define their own futures through education, mentorship, advocacy, and innovation. Mary Kay is dedicated to investing in the science behind beauty and manufacturing cutting-edge skincare, color cosmetics, nutritional supplements, and fragrances. Mary Kay believes in preserving our planet for future generations, protecting women impacted by cancer and domestic abuse, and encouraging youth to follow their dreams. Learn more at marykayglobal.com, find us on Facebook, Instagram, and LinkedIn, or follow us on Twitter.
More from Mary Kay