Published 10-24-23
Submitted by Bloomberg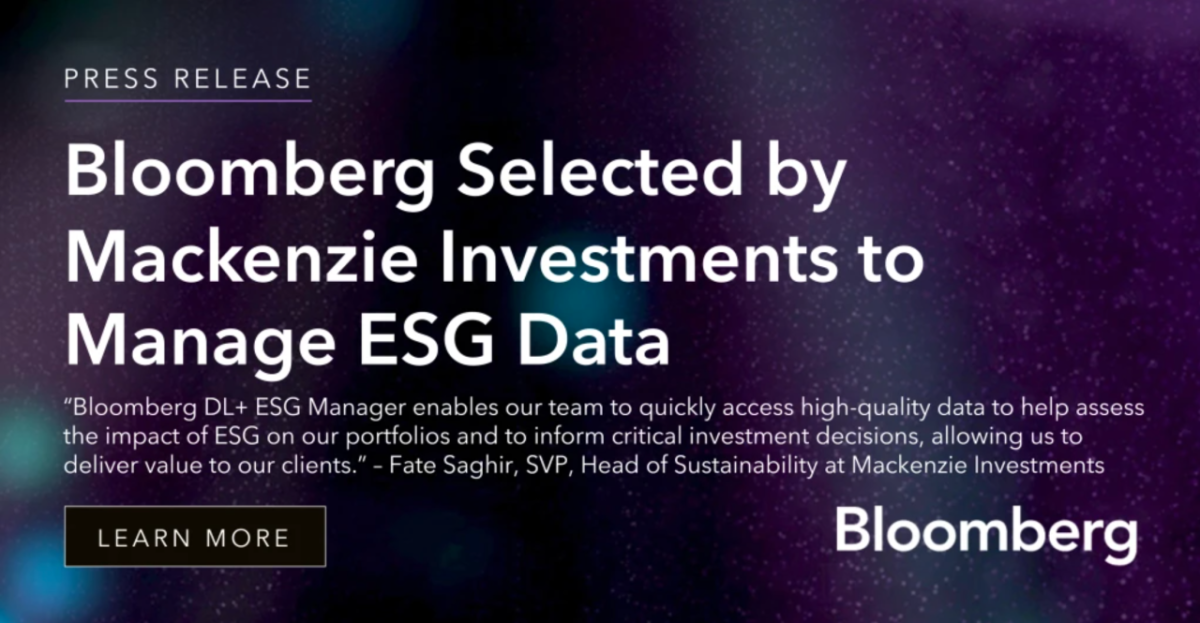 Originally published on Bloomberg.com
NEW YORK, October 24, 2023 /CSRwire/ - Bloomberg announced its DL+ ESG Manager solution has been selected by Mackenzie Investments, one of Canada's largest investment management firms, to host the acquisition, management and publishing of multi-vendor ESG data. This positions the firm to implement ESG investing approaches more efficiently and develop more sophisticated ESG-focused insights and investment products.
ESG Manager is a part of Bloomberg's Data License Plus (DL+) solution suite, built to address client demand for integration of ESG data from multiple vendors into their investment systems. While DL+ acquires, models and links all of a customers' licensed Bloomberg data, which includes reference, pricing, regulatory, ESG, fundamentals, estimates and historical data for quant and investment research workflows, ESG Manager arranges the different models and content sets offered by the industry's leading ESG providers.
"The need for financial institutions to incorporate quality, consistent ESG data throughout their investment workflow continues to grow alongside the market's ever-increasing demand for ESG data," said Don Huff, Global Head of Client Services and Operations at Bloomberg Data Management Services. "We built DL+ ESG Manager to help customers achieve a unified and holistic view of ESG data across their firm, delivered to the cloud data warehouse of their choice."
The ESG data made available through Bloomberg can also be supplemented with other reference data and pricing through DL+. This creates a combined universe of data that can be easily browsed and navigated through a web-based Data Management Workstation.
"As a leading Canadian investment manager, we continue to strengthen our processes and advance our ESG and sustainable investing approaches, and by working with a trusted technology partner like Bloomberg our team is able to operate in a more agile environment," said Fate Saghir, SVP, Head of Sustainability at Mackenzie Investments. "Bloomberg DL+ ESG Manager enables our team to quickly access high-quality data to help assess the impact of ESG on our portfolios and to inform critical investment decisions, allowing us to deliver value to our clients."
Mackenzie Investments previously adopted Bloomberg's AIM and PORT Enterprise solutions to support its portfolio management and ETF workflows.
About Bloomberg
Bloomberg is a global leader in business and financial information, delivering trusted data, news, and insights that bring transparency, efficiency, and fairness to markets. The company helps connect influential communities across the global financial ecosystem via reliable technology solutions that enable our customers to make more informed decisions and foster better collaboration.
For more information, visit Bloomberg.com/company or request a demo.
About Mackenzie Investments
Mackenzie Investments is a leading investment management firm with $186 billion in assets under management as of September 30, 2023. Mackenzie provides investment solutions and related services to more than one million retail and institutional clients through multiple distribution channels. Founded in 1967, Mackenzie is a global asset manager with offices across Canada as well as in Boston, Dublin, London, Hong Kong and Beijing. Mackenzie is a member of IGM Financial Inc. (TSX: IGM), one of Canada's premier financial services companies with approximately $253 billion in total assets under management and advisement as of September 30, 2023. For more information, visit mackenzieinvestments.com.
Media Contact
Susan Doyle, sdoyle37@bloomberg.net, +1-202-807-2213

Bloomberg
Bloomberg
Bloomberg delivers business and markets news, data, analysis, and video to the world, featuring stories from Businessweek and Bloomberg News.
More from Bloomberg