Published 10-24-23
Submitted by Mondelez International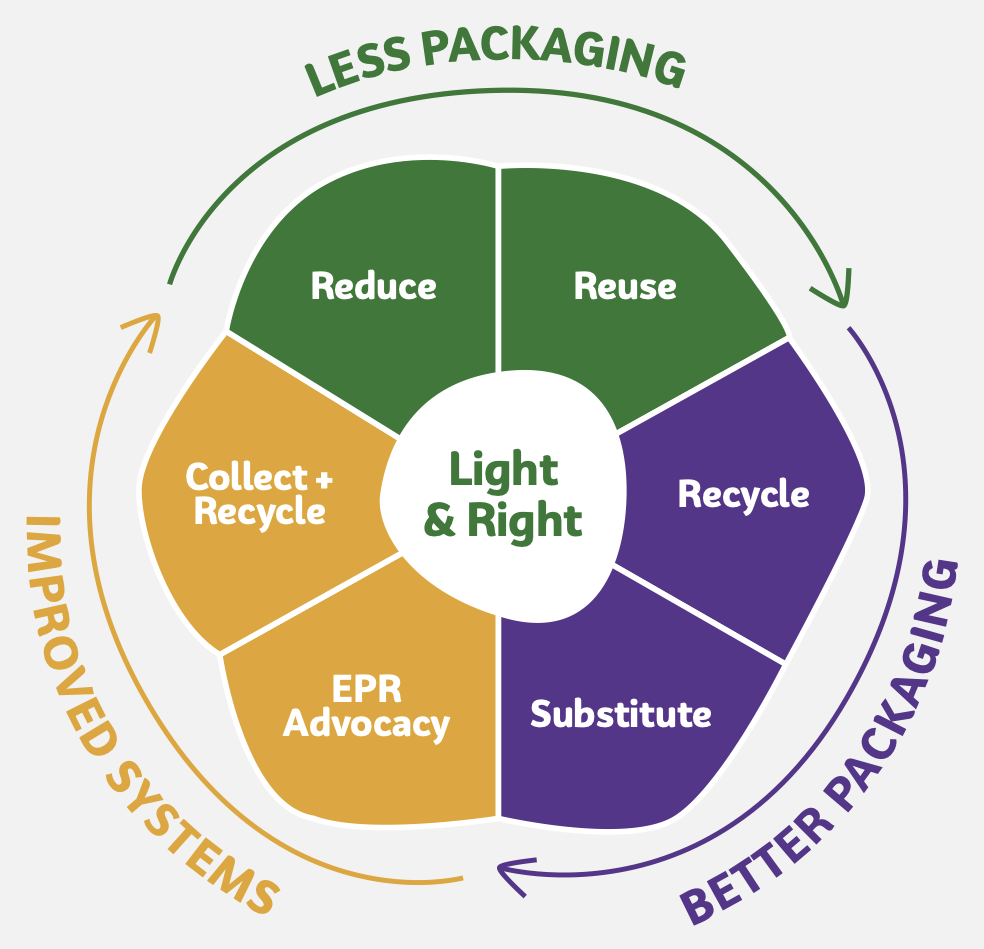 Mondelēz 2022 Snacking Made Right Report
We strive to use more sustainable packaging that protects our products, delights our consumers, and does not harm the environment. We want to continuously improve our packaging, and deliver on our long-term aim of advancing a circular packaging economy that is good for people and the planet.
2025 GOALS
Make 100% packaging designed to be recyclable by 2025
Reduce virgin plastic in rigid plastic packaging by at least 25% and in all plastic packaging by 5% by 2025
Have 5% recycled content in our plastic packaging by 2025
Making it Light and Right
Our guiding principle is to make packaging light and right, with less packaging, better packaging, and improved systems all reinforcing each other for bigger impact. So we are reducing the amount of packaging we use while also innovating to simplify materials so they can be recycled and using recycled materials where we can.
LESS PACKAGING
Our focus on less packaging includes keeping our packaging light and safe with low environmental impact. It also involves reducing the overall footprint of our packaging, and designing packaging for consumer reuse and refill where feasible. We aim to reduce virgin plastic in rigid plastic packaging by at least 25% and in all plastic packaging by at least 5%, each by 2025 (vs. 2020).
BETTER PACKAGING
By better packaging, we aim to design our packaging to be recyclable and remove challenging materials. We also mean substituting virgin (new) plastic packaging with alternatives, including recycled plastic content. This way, we'll help support a circular pack economy.
A key goal for us on this front is to have all our packaging designed to be recyclable by 2025. We are getting closer and closer to this – achieving nearly 96% in 2022. We aim to have 5% recycled content in our plastic packaging by 2025.
All our paper and carton board, and some rigid plastics and flexible plastic films are already designed to be recycled.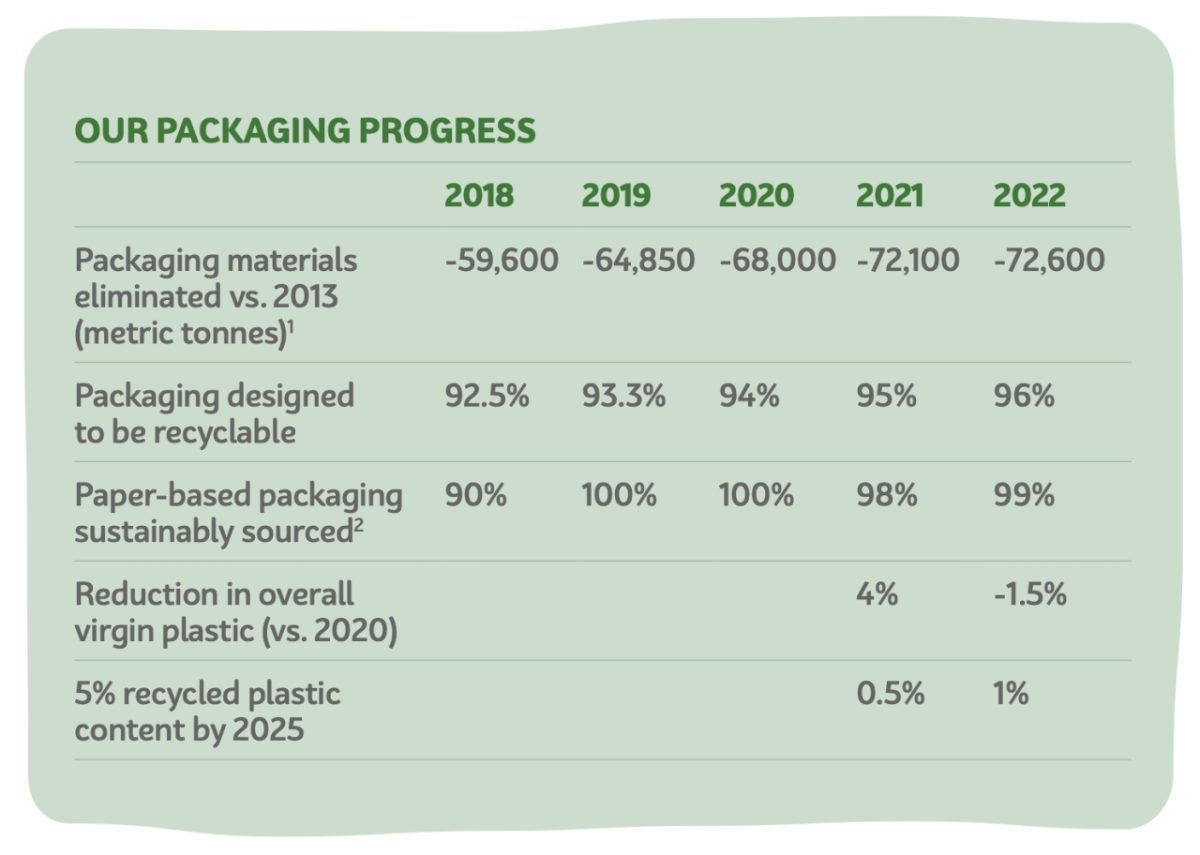 IMPROVED SYSTEMS
Through improved systems, we aim to collect as much plastic as we put into the environment, lead the development of capabilities to scale the necessary infrastructure; and advocate for extended producer responsibility (EPR) schemes to include plastic packaging, especially packaging made from flexible plastics.
Working Together for Bigger Impact
Collaboration is key. We have, for example, joined the Business Call for a UN Treaty on Plastic Pollution, and are members of the Ellen MacArthur Foundation (EMF) and World Wildlife Fund (WWF) policy working groups. Further, we are part of the Consumer Goods Forum working groups on Extended Producer Responsibility, Golden Design Rules and recent exploration into Flexible Packaging all targeting collective action on plastic waste.
Increasing Awareness on the Need to Save our Seas
We are partnering with environmental NGO Save Philippine Seas (SPS) to produce a five-part YouTube series to increase awareness, particularly among young people, of the real causes of marine litter and how to avoid and/or mitigate this through practical solutions.
Shown on the Miming and Friends YouTube channel aimed at a younger audience, the five episodes focus on various aspects of waste management, with animation and music to appeal to kids and their parents. Episode 1 was launched in 2022, gaining 12.24 million impressions. Episodes 2 and 3 will be shown in 2023 and Episode 4 and 5 in 2024.
This is the second year of our partnership with SPS. We are working with them to help people better understand the issue of plastic waste and marine litter – from the causes of plastic pollution in the sea to how people can help tackle the problem themselves at home.
We're also working with industry groups across the Philippines and other Southeast Asian countries to form a roadmap to increase plastic collection and recycling rates.
Our Packaging Mix
As the chart shows, the great majority of our packaging is non-plastic. There are relatively well-developed recycling markets around the world for this packaging.
Lightweight flexible packaging works well to protect our products for our consumers, keeping it safe and fresh for longer, and reduces food waste. It also reduces shipping costs and CO2e emissions from transportation due to its relative light weight.
However, lightweight flexible packaging creates environmental challenges as collection and recycling are underdeveloped in most countries.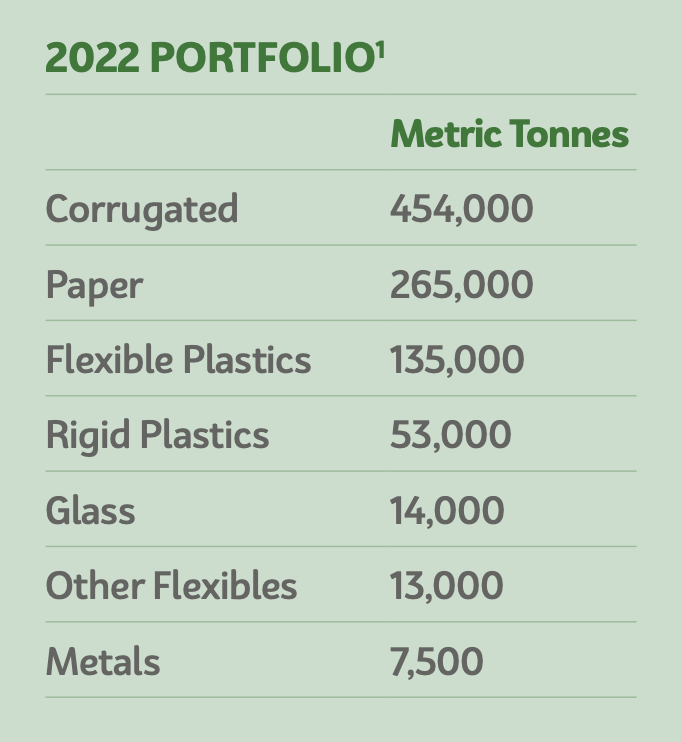 Creating Infrastructure Through Sustainable Futures
Through our Sustainable Futures impact investment platform, we have partnered with the Circulate Capital Ocean Fund (CCOF), a fund dedicated to addressing India and Southeast Asia's plastics challenges. The investment will help CCOF support scalable business solutions to help develop infrastructure for the collecting, sorting, and recycling of plastic waste, including flexible films. We are working with Ricron Panel, who are part of the Circulate Capital Ocean Fund. We are using their innovative, strong, and durable recycled panels made from hard-to-recycle, multi-layered waste plastic in a number of ways, for example for furniture and pallets.
We have also invested in a project in India to transform multi-layered plastic food packaging waste into construction of plastic boards that can be used to manufacture various products. Wealth out of Waste Boards (WoW Boards) uses technology from a female-led start-up, TrashCon, in India. Since 2021, we have been supporting a waste picker-managed centre with a capacity for handling 600 MT/year of plastic waste. At the centre, the MLP waste is repurposed to make WoW Boards. These boards are then used to make desks / benches for schools, the roof of workers' sheds, and benches in parks.
Leading the Way in India
In India, we are doing a great deal to improve our packaging and make advances on circularity. 2022 saw a massive drive to reduce our plastic footprint with a strong focus on recyclability. It involved taking ownership of the product to the end of its lifecycle by successfully executing 100% Extended Producers Responsibility for post-consumer plastics.
Our plastic recycling efforts in India in partnership with plastic waste management agencies and plastic waste processors have enabled us to recycle up to 75% of our post-consumer plastic in 2022. This is almost a 10% increase in recyclability compared to 2021. Initiatives included less packaging, for example with the elimination of single-use plastic, including with the overwrap film on Cadbury Celebrations Gift packs, better packaging, such as recycle-ready packs; and the introduction of post-consumer recycled PET for Cadbury Rich Dry Fruit Collection Celebrations packs and Cadbury Lickables spoons.
World-first for Cadbury in Australia
In a first for Cadbury, we're supporting emerging recycling technology to source soft plastic packaging that contains recycled content. Traditionally a single-use material for food packaging, the switch to sourcing soft plastics will see our Australian-made Cadbury Dairy Milk, Caramilk, and Old Gold blocks wrapped in 30% recycled content. The transition to using recycled material will divert 120 tonnes of soft plastic from landfill – that's the weight of 206 fully-sized dairy cows – who supply the famous fresh milk in Cadbury Dairy Milk chocolate.
While the new packaging is more sustainable, it looks and feels the same, carrying Cadbury's iconic purple colors and distinctive markers and preserving the chocolate's taste, texture, and shape. However, chocoholics will notice a new on-pack QR code, leading Cadbury fans to more information on the packaging innovation and how Cadbury is supporting a circular economy for packaging.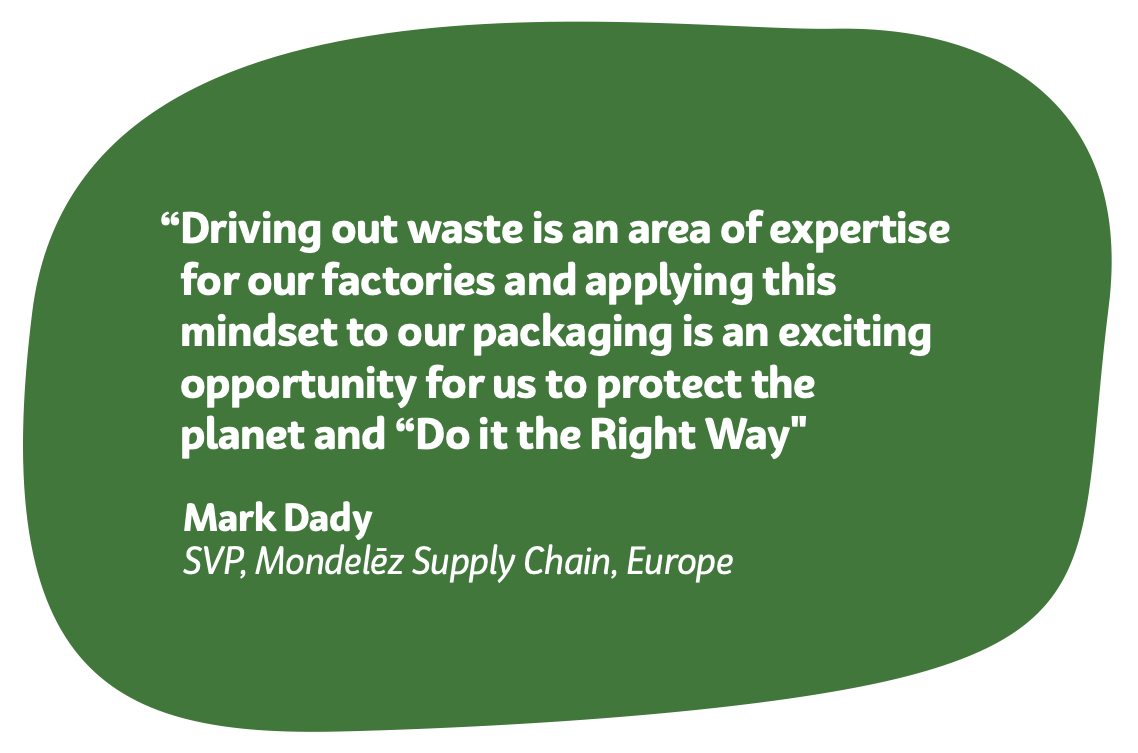 Encouraging Ideas to Make our Packaging Light and Right
Through our Packathon campaign, which we run across Europe for a few months, we have encouraged our colleagues to share their ideas on how to make our packaging 'Light & Right'. The aim was to invite our colleagues everyone to have an end-to-end mindset in tackling the issue, from sourcing to manufacturing to selling, and to share their ideas.
The program was launched with a special focus on our supply chain colleagues and our factories across Europe, and within three months, more than 300 ideas were shared with our leaders.
Most of the winning ideas have started be implemented across 2022, with some already up and running withing our EU plants. As we move forward, we aim to apply our 'Light & Right' approach across major parts of our portfolio.
Using 30% Recycled Packaging with Cadbury
As part of our broader initiative to reduce the use of virgin plastic material in our packaging portfolio by 5% by 2025, our iconic Cadbury Dairy Milk and Cadbury Mini Snow Balls 110g sharing bars now come with 30% certified recycled plastic in their packaging. So Cadbury fans across the UK can continue enjoying their favorite sharing bars more sustainably.
Advanced recycling technology and a significant investment enabled us to develop the innovative new packaging. The necessary food-grade recycled plastic packaging isn't widely available so securing the volume for this project was a challenge involving significant resources and collaboration with many external suppliers throughout the value chain.
Using the mass balance approach, the packaging is independently certified by International Sustainability and Carbon Certification (ISCC) and supplied in partnership with Amcor, a global leader in developing and producing responsible packaging for food and other industries. By the end of 2022, the new packaging had been used for over 10 million bar wrappers.
We are also using 75% recycled plastic (RPET) content in our Dairylea Lunchables packaging in the UK and will expect to begin using certified plastic with recycled material using the mass balance approach in our Philadelphia tubs and lids from next year. And there is more to come as we keep striving to use less and less virgin plastic in our packaging.
Read more in the Mondelēz 2022 Snacking Made Right Report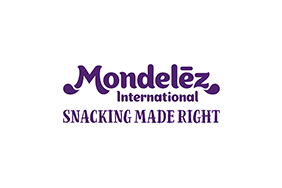 Mondelez International
Mondelez International
Mondelēz International, Inc. (NASDAQ: MDLZ) empowers people to snack right in over 150 countries around the world. With 2019 net revenues of approximately $26 billion, MDLZ is leading the future of snacking with iconic global and local brands such as OREO, belVita and LU biscuits; Cadbury Dairy Milk, Milka and Toblerone chocolate; Sour Patch Kids candy and Trident gum. Mondelēz International is a proud member of the Standard and Poor's 500, Nasdaq 100 and Dow Jones Sustainability Index. Visit www.mondelezinternational.com or follow the company on Twitter at www.twitter.com/MDLZ.
More from Mondelez International