Published 10-23-23
Submitted by GoDaddy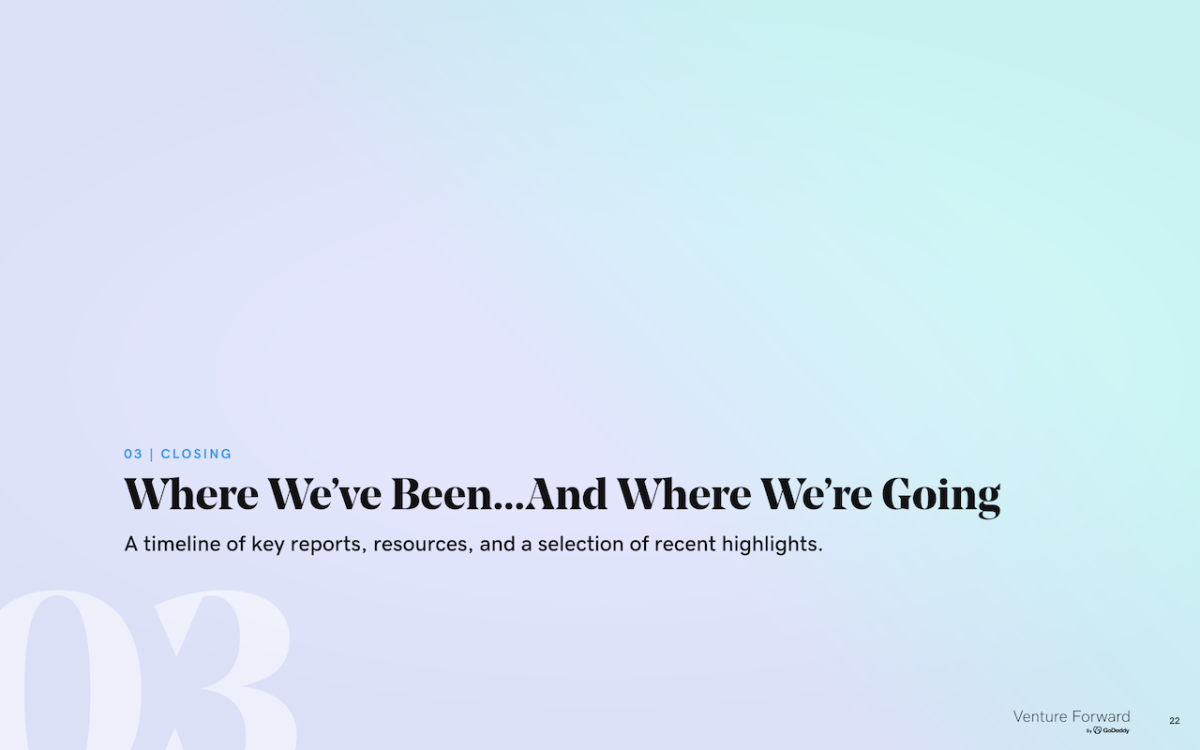 As originally published by GoDaddy's Venture Forward research initiative
Where We've Been...And Where We're Going
A timeline of key reports, resources, and a selection of recent highlights.
Timeline: Venture Forward Microbusiness Reports
Over the years, we're proud to have published and partnered on key reports.
Select any listed below to download.
2020 Venture Forward Microbusiness Reports:
2021 Venture Forward Microbusiness Reports:
2022 Venture Forward Microbusiness Reports:
2023 Venture Forward Microbusiness Reports:
View more data downloads, recent press, and our research methodology at Venture Forward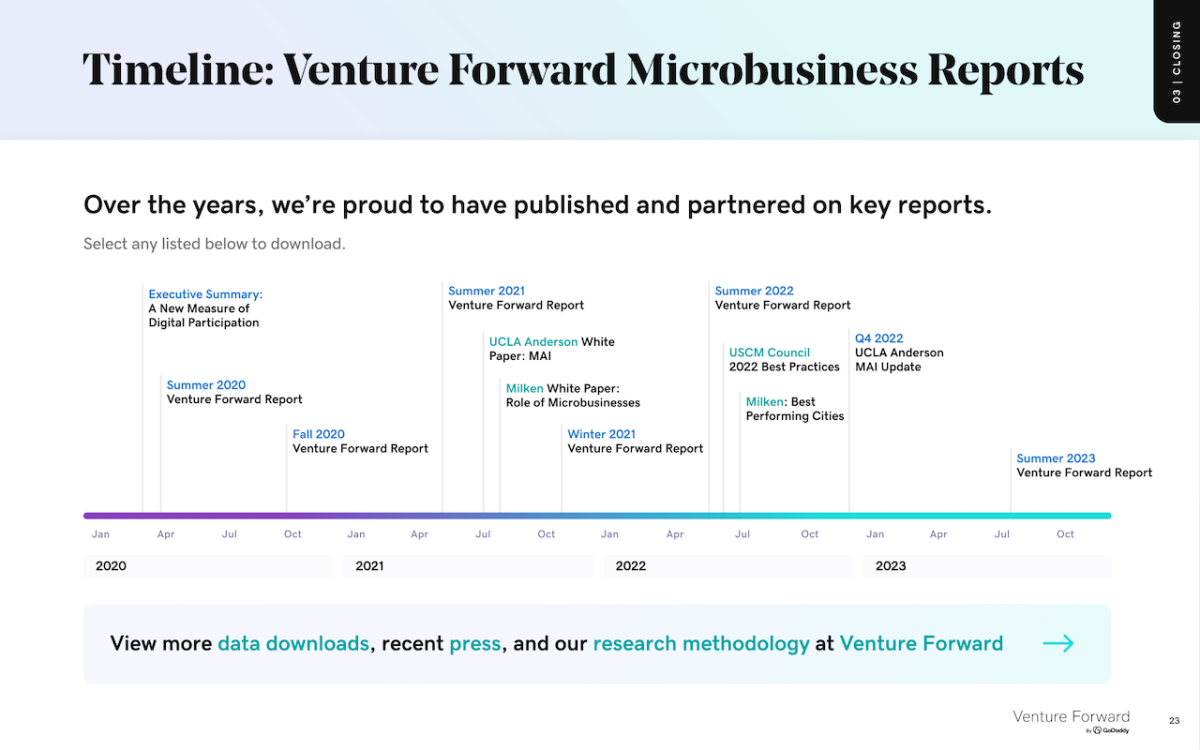 Using Data Insights to Support Entrepreneurs
Our Venture Forward research initiative goes beyond merely reporting on the findings of our proprietary small business data analyses. We use our research to proactively engage and support civic leaders, policymakers and influencers who care deeply about nurturing entrepreneurial growth in communities around the world. We also dive deeply on trending topics to develop unique insights on the perspectives of small business owners. Here are a few examples. More are available on the Venture Forward website
Venture Forward was proud to host a panel at the African American Mayor's Association Conference in Washington, D.C., with Mayor Bibb (Cleveland) and Mayor Cantrell (New Orleans).
Microbusinesses have a impact on local economies creating significantly more value than the income they generate for their owners.
In Spring 2023, GoDaddy surveyed U.S. small businesses on their biggest challenges, their perception of generative Al, and their use of generative Al to overcome challenges.
A use case of a husband and wife team in England, as part of a greater look at the cost-of-living crisis that threatens the British microbusiness economy.
We're here to support entrepreneurs
Contact GoDaddy's Venture Forward research team at VentureForward@GoDaddy.com
GoDaddy Venture Forward Report | Summer 2023 | U.S. Edition
This report is powered by the latest data from Venture Forward, a GoDaddy research initiative to quantify the presence and impact of over 21 million online microbusinesses on their local economies, while shining a light on the entrepreneurs behind them. Our goal is to empower anyone who advocates for entrepreneurs with robust data and insights that can't be found elsewhere.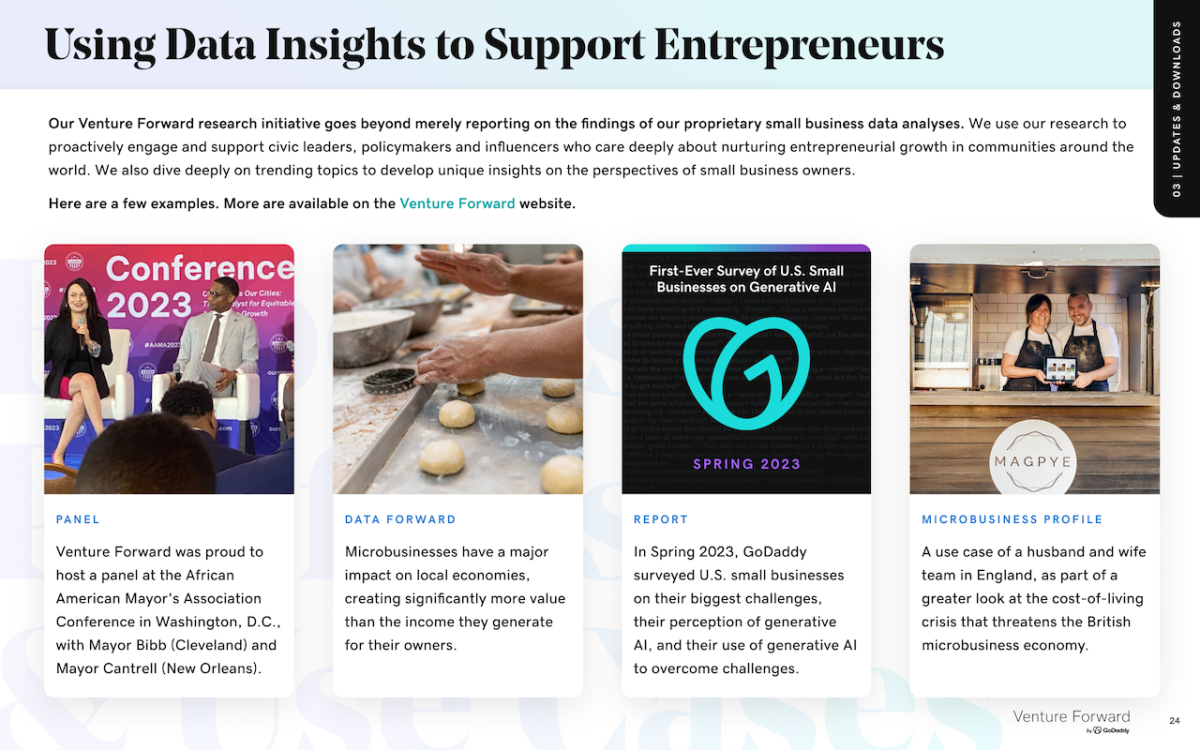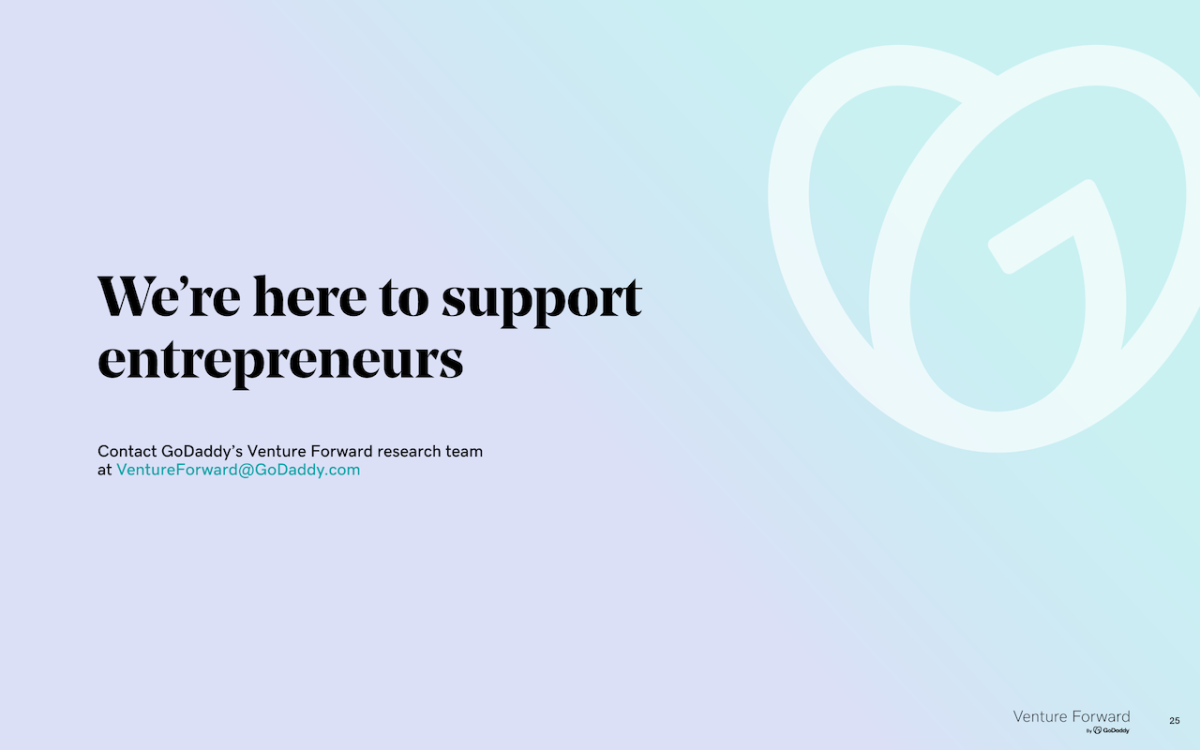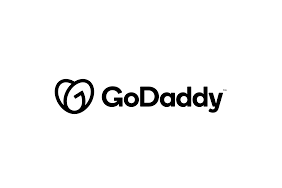 GoDaddy
GoDaddy
GoDaddy is empowering everyday entrepreneurs around the world by providing all of the help and tools to succeed online. GoDaddy is the place people come to name their idea, build a professional website, attract customers, sell their products and services, and manage their work. Our mission is to give our customers the tools, insights and the people to transform their ideas and personal initiative into success. To learn more about the company, visit www.GoDaddy.com.
GoDaddy focuses on making opportunity more inclusive for all in the communities where we work, live and play across the globe. We rally behind inclusive entrepreneurship and other critical local needs that empower people to succeed through philanthropic and in-kind donations, volunteerism, strategic partnerships and advocacy.
Empower by GoDaddy is GoDaddy's global community and philanthropic program equipping entrepreneurs in underserved communities with training, tools and peer networks to accelerate their journeys. GoDaddy rallies behind entrepreneurs in underserved communities by building their confidence and skills to strengthen their small business' digital presence.  Entrepreneurs engage in customized learning experiences, work 1-1 with GoDaddy volunteer coaches and local mentors, and gain access to wrap-around services, in-kind products and networks boosting their small businesses success.
More from GoDaddy