Published 10-23-23
Submitted by UN Global Compact Network UK

The UN Global Compact Network UK has launched the SDG Playbook for SMEs, the go-to guide for smaller companies to unlock the competitive advantages of embracing the UN Sustainable Development Goals (SDGs).
The SDGs remain the greatest catalyst for global action. Companies - no matter how big or small - need to raise their sustainability ambitions to the standards laid out by the SDGs.
The SDG Playbook for SMEs – produced in partnership with Irwin Mitchell – provides the building blocks for small and medium-sized enterprises to integrate the SDGs into core business functions. Doing so can lower operational costs and risk, strengthen customer loyalty, unlock new revenue streams, and improve relations with employees, suppliers, and other stakeholders.
Engaging with the SDGs isn't just about doing the right thing for society and the planet - the firms that will be successful tomorrow are the ones that today place sustainability at the core of their business model.
Whether you're a small business at the start of your journey, or a large multinational engaging smaller companies in your supply chain, take action today to future-proof your business.
Download the report here.
About the UN Global Compact Network UK 
The UN Global Compact Network UK is part of the world's largest responsible business initiative connecting UK companies and other organisations in a global movement dedicated to driving sustainable growth. Through an extensive programme of activity, we promote practical sustainability leadership, share knowledge across sectors, and actively shape the responsible business environment to create a world we want to live and do business in. 
The United Nations Global Compact's universally recognised Principles, rooted in UN treaties, provide a robust foundation from which we lead UK business action on the Sustainable Development Goals (SDGs). We use our power to convene business and other organisations to find practical solutions to global challenges.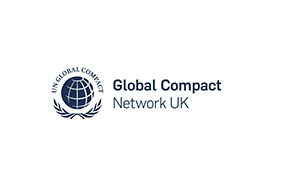 UN Global Compact Network UK