Published 10-17-23
Submitted by Walgreens Boots Alliance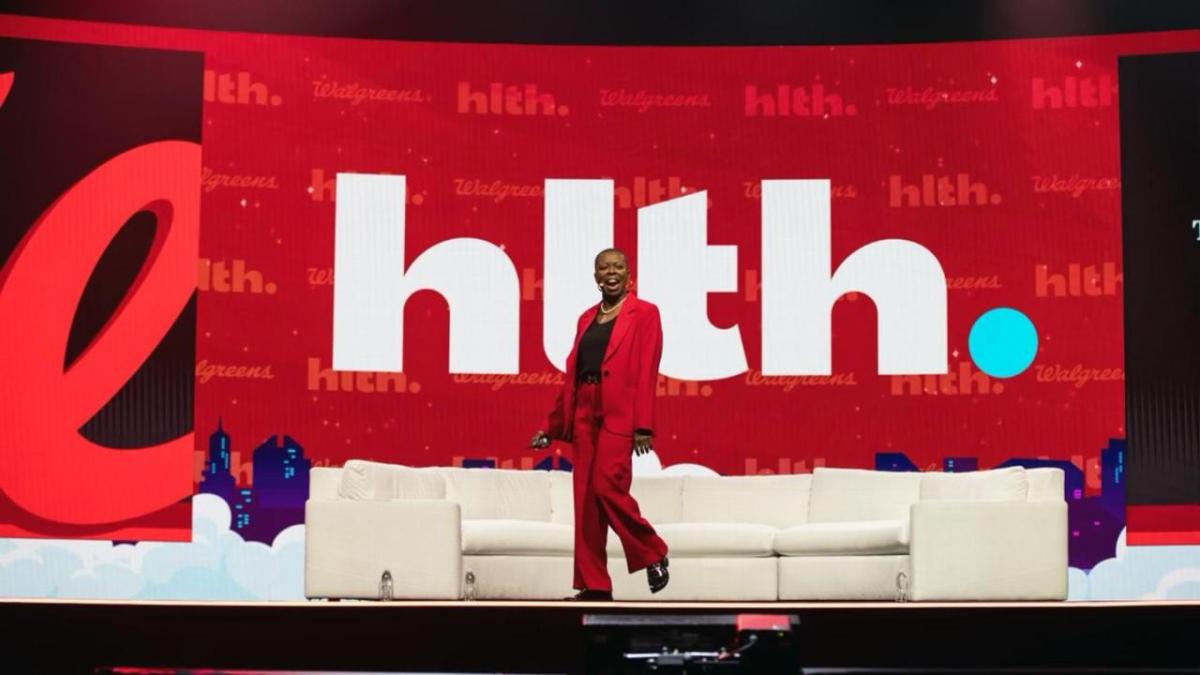 Originally published by Walgreens Boots Alliance
From Oct. 8 to 11, Las Vegas became the epicenter of healthcare innovation as more than 10,000 global attendees gathered for this year's highly anticipated annual HLTH conference. At the heart of the action was Walgreens - making waves with the company's first-ever booth experience at HLTH, a powerful Main Stage session, and insightful discussions on the intersection of healthcare and innovation.
Here are a few highlights from HLTH 2023:
Tracey D. Brown represented Walgreens collaboration in delivering empowered care solutions
"So we talk about about the future, but the future is actually right here, right now, and I think this demonstration shows that we are actually all committed to improving the overall health and wellbeing for all people." 
- Tracey D. Brown, EVP, president of Walgreens retail & chief customer officer
Exciting news at HLTH this year: Walgreens announced an early collaboration with Samsung Health and b.well Connected Health Platform to provide Samsung users with a more connected, convenient and proactive health experience that is personalized, accessible and available to Samsung users in the palm of their hands.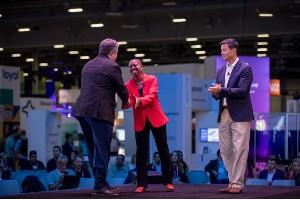 Tracey Brown also graced the Main Stage, igniting impactful conversations
"We have an opportunity - and I dare say - a responsibility to drive transformation. It requires resilient transformative leaders...creating the partnerships that are required, the technology, and the data, so that we can create personalized effective care to improve the overall health and wellbeing for people in this country."

- Tracey D. Brown, EVP, president of Walgreens retail & chief customer officer
Tracey D. Brown, EVP, president of Walgreens retail & chief customer officer, underscored Walgreens transformation into a healthcare company that solves challenges that face the industry. She emphasized the power of the fourth network and community-based solutions that make quality healthcare more accessible while improving outcomes and lowering costs - an approach with the potential to transform the way we engage with our health.
"We're launching Virtual Healthcare at Walgreens this month because our goal is to be the most convenient health and wellness destination, whether you're physically in stores or visit Walgreens virtually in stores."
A defining moment on the Main Stage was a preview of Walgreens Virtual Healthcare offering set to launch in late October 2023. This digital solution will provide discreet, convenient and on-demand medical care for common health needs. It will make it easier for individuals to receive online diagnoses and prescriptions, making healthcare accessible and affordable at any time. Meeting patients where they're at is core to Walgreens mission, and Walgreens Virtual Healthcare aims to improve access to fast, reliable, affordable care.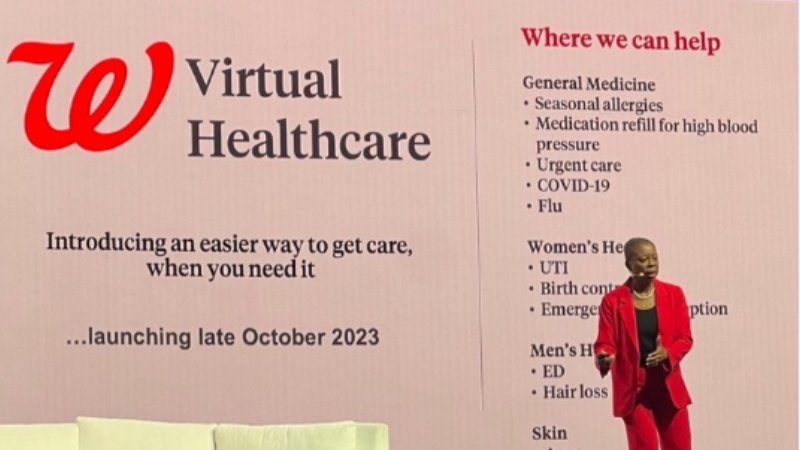 Some of the key benefits include:
An easier way to get care, when you need it: Patients will be able to connect easily with doctors and nurse practitioners through virtual or chat-based consultations. For certain conditions, video visits with healthcare providers will be available, all on the patient's terms and from the convenience of their own devices.
Care and treatment for some of the most common health needs: Walgreens Virtual Healthcare will provide on-demand medical care and treatment for some of the most common health needs, including respiratory illness, allergies, urinary tract infections (UTIs) and acne.
Streamlined treatment access: After patients connect with a provider either via chat or video, Walgreens Virtual Healthcare enables them to get their prescriptions filled from their preferred pharmacy, including at Walgreens pharmacies or with Walgreens Same-Day Prescription Delivery.
Affordable pricing: Most Walgreens Virtual Healthcare chat visits will be priced at $33 out-of-pocket, with pricing for video visits varying from $36-75, making healthcare more affordable and accessible. At this time, insurance is not accepted for Walgreens Virtual Healthcare visits, but it can be used to cover the cost of prescriptions. In the future, Walgreens Virtual Healthcare plans to accept insurance, Flexible Spending Accounts and Healthcare Savings Accounts will be accepted.
Patients in select states will be able to access Walgreens Virtual Healthcare at Walgreens.com beginning in late October. These initial states cover nearly half of the U.S. population and half of Walgreens pharmacy customers. Walgreens plans to expand the service to cover additional conditions and markets in the near future.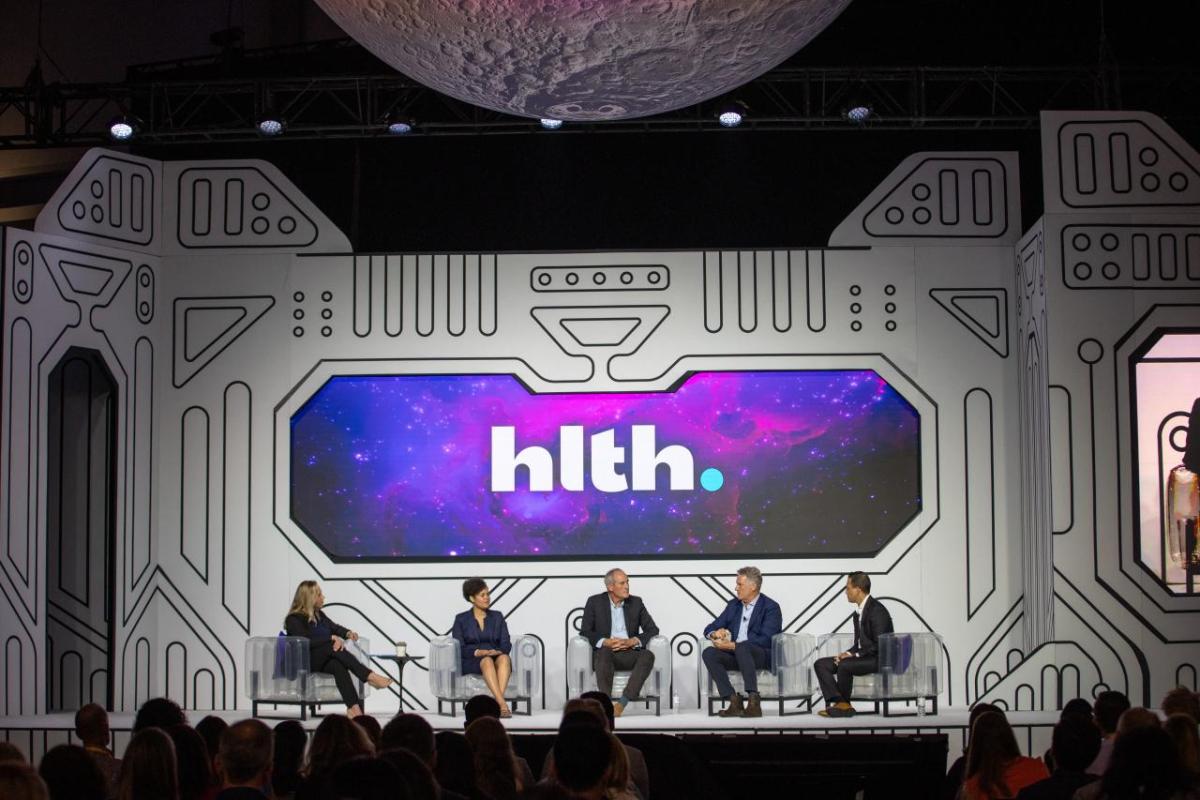 Dr. Kevin Ban shared his expertise during two enlightening panels
"I think that we're exceptionally good at understanding customer needs and wants, and once they engage with us, that's the moment when we can help navigate their care."

- Dr. Kevin Ban, EVP & global chief medical officer
Dr. Kevin Ban, EVP & global chief medical officer, participated in two panels. The first, a MedCity News program, explored how retailers and other companies are improving consumer convenience through virtual, at-home and other non-traditional means. The second panel, on the show floor, tapped into the minds of leaders behind the retailization of healthcare, emphasizing personalization, convenience, transparency and experience in the digital age.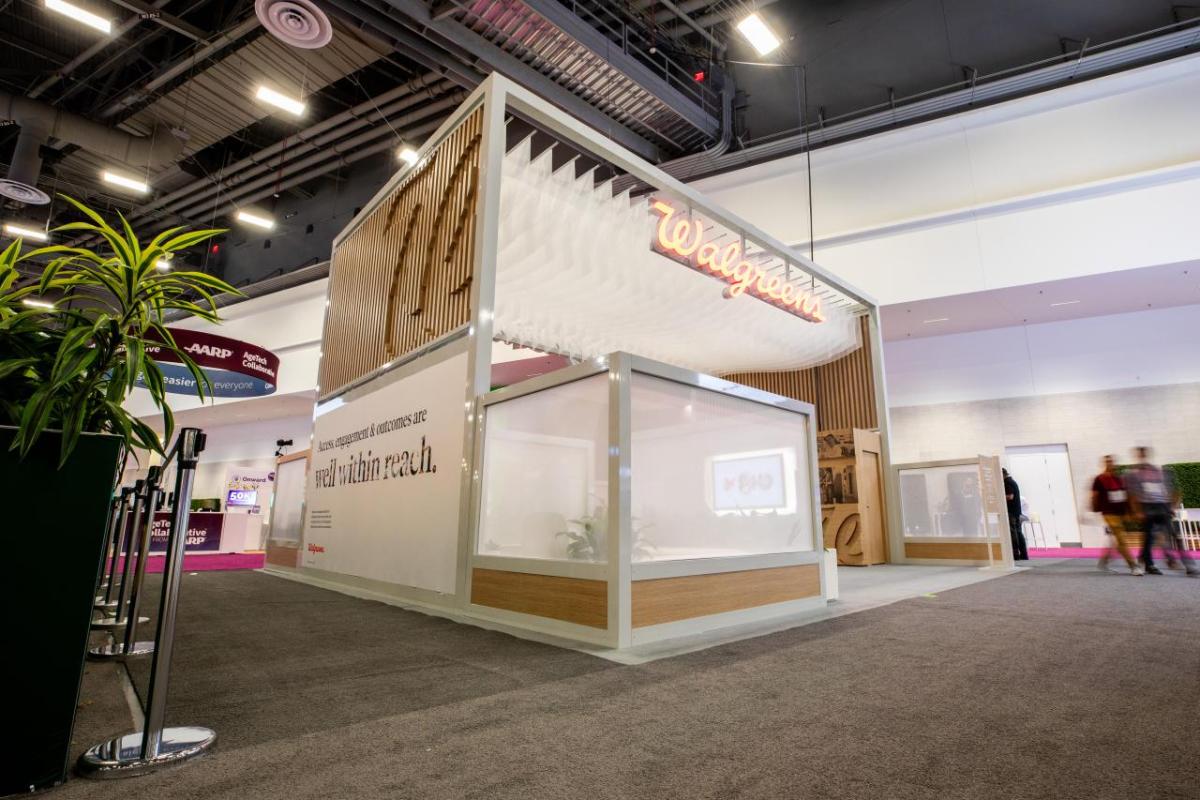 Walgreens debuted a first-ever booth experience at HLTH
Walgreens debuted its first-ever booth experience at HLTH, positioning itself at the heart of the HLTH community. Nearly 200 flu and COVID-19 vaccines were administered at the booth. Prior to the vaccine clinic, Walgreens hosted a "Healthy Hour" where attendees enjoyed healthy refreshments while learning more about Walgreens healthcare offerings.  

Reflecting on a successful HLTH 2023, Walgreens leaders seized the opportunity to step up on the national stage alongside fellow trailblazers in the healthcare industry to spark conversations, unveil forthcoming innovations and reaffirm our commitment to reimagining local healthcare and wellbeing for all.  

Shortly after the conclusion of HLTH, Walgreens Boots Alliance announced the appointment of Tim Wentworth as Chief Executive Officer, who will join the company Oct. 23.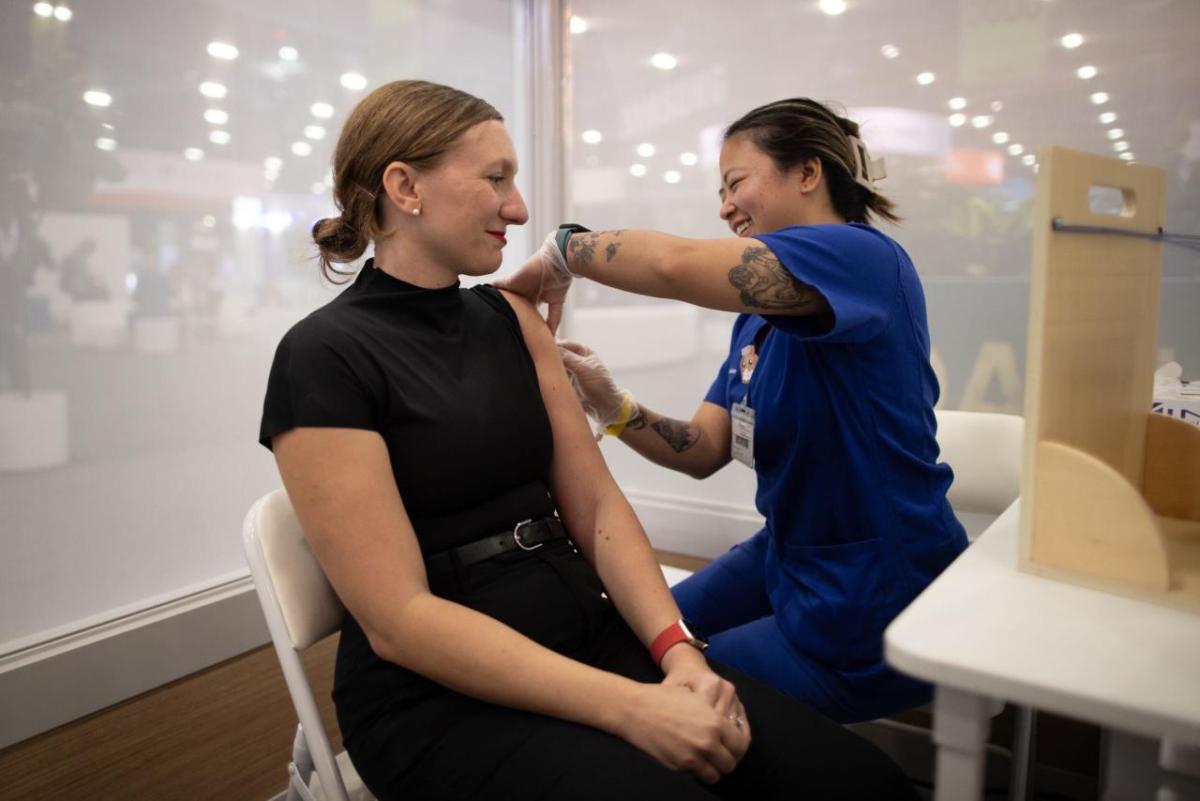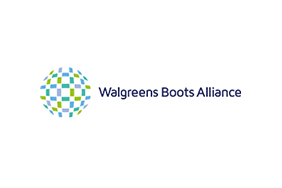 Walgreens Boots Alliance
Walgreens Boots Alliance
Walgreens Boots Alliance (Nasdaq: WBA) is an integrated healthcare, pharmacy and retail leader serving millions of customers and patients every day, with a 170-year heritage of caring for communities.
A trusted, global innovator in retail pharmacy with approximately 13,000 locations across the U.S., Europe and Latin America, WBA plays a critical role in the healthcare ecosystem. The company is reimagining local healthcare and well-being for all as part of its purpose – to create more joyful lives through better health. Through dispensing medicines, improving access to a wide range of health services, providing high quality health and beauty products and offering anytime, anywhere convenience across its digital platforms, WBA is shaping the future of healthcare.
WBA employs more than 325,000 people and has a presence in nine countries through its portfolio of consumer brands: Walgreens, Boots, Duane Reade, the No7 Beauty Company, Benavides in Mexico and Ahumada in Chile. Additionally, WBA has a portfolio of healthcare-focused investments located in several countries, including China and the U.S.
The company is proud of its contributions to healthy communities, a healthy planet, an inclusive workplace and a sustainable marketplace. WBA has been recognized for its commitment to operating sustainably: the company is an index component of the Dow Jones Sustainability Indices (DJSI) and was named to the 100 Best Corporate Citizens 2022.
More from Walgreens Boots Alliance