Published 10-17-23
Submitted by Bloomberg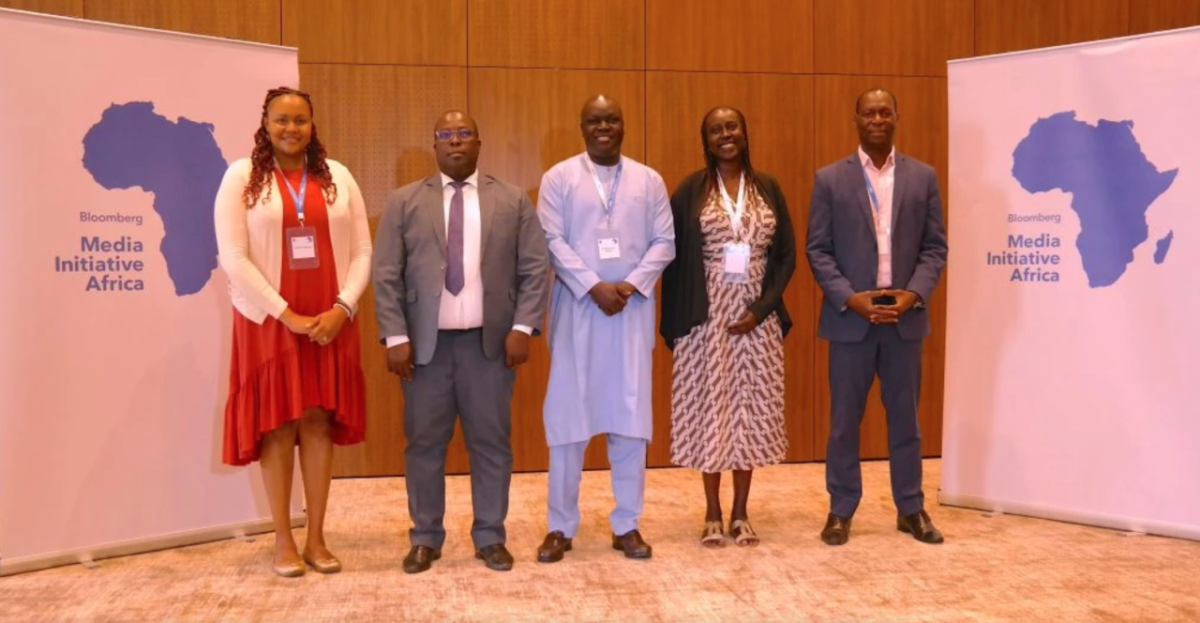 Originally published on bloomberg.com
Bloomberg Media Initiative Africa (BMIA) has launched in francophone West Africa for the first time. More than 100 delegates participated in Bloomberg's Financial Journalism Training (FJT) program in Senegal and Côte d'Ivoire. The delegates are part of the first cohort to participate in the program through French.
At country launches in Dakar and Abidjan, participants from the media, government and civil society were joined by senior representatives from the Senegal and Cote d'Ivoire governments to celebrate the expansion of the FJT program to French speaking markets.
Over the next eight months, delegates will spend 23 days in interactive in-person sessions led by prominent faculty members at local universities. Participants will engage in a series of workshops that will strengthen their skills in and understanding of data analysis, capital markets, accounting, public policy, economics and the transforming media landscape. Financial journalism sessions will be taught by Bloomberg News reporters. Delegates will also receive a free, six-month subscription to the Bloomberg Terminal, offering access to global data, news and analysis.
The sessions have been developed in partnership with prominent faculty at local universities, including Centre d'Etudes des Sciences et Techniques de l'Information (CESTI) and Centre Africain d'Etudes Supérieures en Gestion (CESAG) in Senegal, and the Institut des Sciences et Techniques de la Communication (ISTC) In Côte d'Ivoire, in collaboration with Strathmore University Business School (SUBS) in Kenya.
Speaking following the event in Dakar the Honorable Moussa Bocar Thiam, Minister of Communications, Telecommunications and Digital Economy, Senegal said: "We are excited that BMIA has launched its financial journalism training program in Senegal in partnership with CESTI and CESAG. It is crucial that journalists develop key business journalism and data analysis skills as the Senegalese economy transforms and investment opportunities evolve. I am confident that the program will support the continuous progression of media in the region through exposing them to leading financial journalism experts and concepts."
Speaking following the event in Abidjan the Honoroable Amadou Coulibally, Minister of Communication and Digital Economy, Cote d'Ivoire said: "We are delighted that BMIA has launched its financial journalism training program in Cote d'Ivoire. As our economy and business networks continue to expand, it is vital that local journalists develop the techniques needed to accurately report on complex transitions and developments. By participating in this program, Ivorian media will learn techniques from some of the world's leading financial journalism experts."
"Since 2014, more than 800 delegates have completed the Financial Journalism Training program, from countries right across the continent. The practical training delegates receive, particularly in the area of financial data analysis, has proved invaluable to participants as they develop in their careers, says Erana Stennnett, Head of Bloomberg Corporate Philanthropy in the Africa & Middle East and Director of Bloomberg Media Initiative Africa. "As we offer the program in French for the first time, we hope this new cohort of journalists and executives lead the way in shaping the future of robust business and financial journalism in francophone Africa.
The FJT program, part of Bloomberg Media Initiative Africa (BMIA), supports the advancement of financial journalism to  contribute to more inclusive economic development on the continent of Africa. In collaboration with a consortium of pre-eminent journalism and business schools across eight key African markets, BMIA is designed to deliver a highly innovative, integrated and practical world-class executive training program that is firmly rooted in African market realities. The expansion of the program to Senegal and Cote d'Ivoire, follows the success of the program in Ghana, Kenya, Nigeria, South Africa, Tanzania, and Zambia, where over 800 delegates from 16 countries have graduated to date.
FJT is offered to journalists and mid-career professionals in communications, business, government and civil society. The Financial Journalism Training program is a core component of BMIA, which aims to contribute to the advancement of business and financial reporting in Africa. Funded by Bloomberg Philanthropies, the initiative is supported by the Stavros Niarchos Foundation and the Ford Foundation.
### ENDS ###
Follow the conversation online using #BMIAFJT
To view a report on the aims and outcomes of phase one of the BMIA program see here.
For more information on BMIA please click here.
About the Bloomberg Africa Media Initiative (BMIA)
Launched by Mike Bloomberg in South Africa in 2014, the Bloomberg Africa Media Initiative (BMIA) is a pan-Africa program designed to accelerate development of a globally competitive media and financial reporting industry as well as promote transparency, accountability and good governance in Africa and beyond. The initiative has four components: It provides cross-disciplinary educational programs to increase the number of highly trained business and financial journalists, as well as supports research to stimulate new media innovations, convene international leaders to promote interactive dialogue and build strong relationships to enhance the quality of financial coverage and the availability of reliable and timely data on the continent.
About Bloomberg Philanthropies:
Bloomberg Philanthropies invests in 700 cities and 150 countries around the world to ensure better, longer lives for the greatest number of people. The organization focuses on five key areas for creating lasting change: the Arts, Education, Environment, Government Innovation, and Public Health. Bloomberg Philanthropies encompasses all of Michael R. Bloomberg's giving, including his foundation, corporate, and personal philanthropy as well as Bloomberg Associates, a pro bono consultancy that works in cities around the world. In 2022, Bloomberg Philanthropies distributed US$ 1.7 billion. For more information, please visit  bloomberg.org, sign up for our newsletter,  or follow us on  Facebook,  Instagram,  YouTube,  Twitter/X, and LinkedIn.
Media Contact:
Oisin O Malley – Bloomberg LP
oomalley2@bloomberg.net

Bloomberg
Bloomberg
Bloomberg delivers business and markets news, data, analysis, and video to the world, featuring stories from Businessweek and Bloomberg News.
More from Bloomberg