Published 10-16-23
Submitted by TriplePundit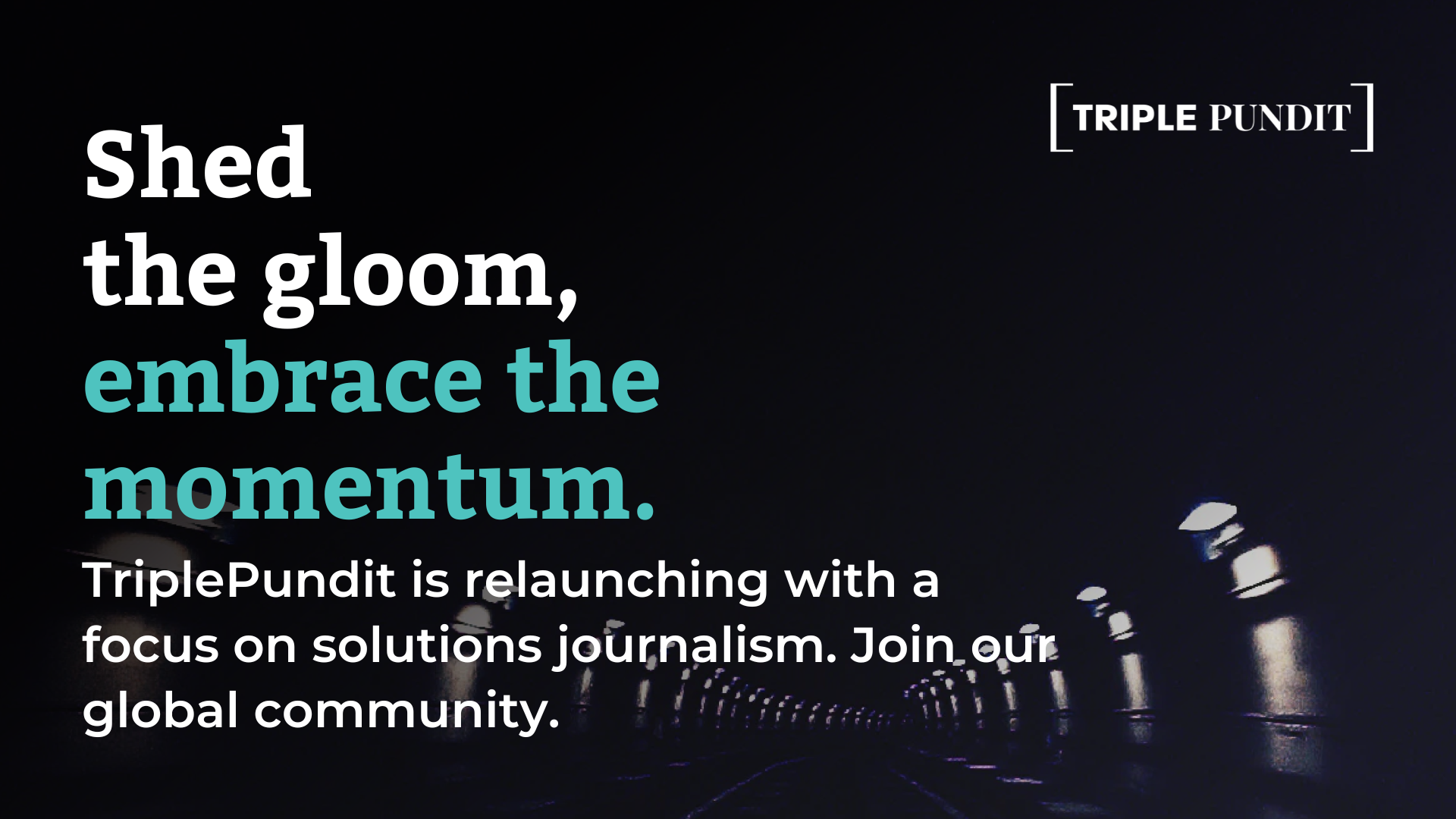 Big changes are brewing at TriplePundit, and we're finally ready to spill the tea.
Launched in 2005, TriplePundit is one of the longest-running online news platforms for sustainability in business. We've built a global community by reporting the latest on people, planet and profit for nearly two decades.
As the sustainability and social impact space continues to evolve, so do we. That's why we're bringing solutions journalism to sustainable business news. Our manifesto: Shed the gloom, embrace the momentum.
What is solutions journalism? Solutions journalism centers on the belief that solutions to challenges are also newsworthy. Grounded in evidence and journalistic rigor, this style of reporting focuses not only on the problem, but also on how people are working to solve it and what we can learn from them — whether they succeed or not.
Why should I care? TriplePundit is the first publication in the sustainability and social impact space to take this approach, although we know readers are looking for it. More than 65% of U.S. adults read about sustainability, the environment or social well-being on a regular basis, according to 2022 polling from 3BL and TriplePundit. And the majority said they'd like to see more coverage of new technologies, systems and ideas that tackle global challenges.
Do readers really want this? Don't just take our word for it. Research from the Solutions Journalism Network shows that audiences prefer the hopeful tone of solutions coverage and are more likely to take action on an issue after viewing it. The Center for Media Engagement at the University of Texas at Austin also found that readers are more likely to come back to publications using a solutions approach, while the Institute for Applied Positive Research linked solutions coverage to improved problem-solving skills and renewed energy among audiences.
With this transition, TriplePundit joins more than 1,900 news organizations worldwide in providing our audiences with an alternative to the barrage of news coverage centered on problems with little guidance on what to do about them.
Check out the new face of TriplePundit here, with in-depth solutions stories that showcase the best of this style of reporting and what it means for our space. 

TriplePundit
TriplePundit
TriplePundit is a digital media platform for the people and organizations making a real impact on the environmental, social and economic challenges we face. We spark action by bringing visibility to the changemakers who see and do things differently, with in-depth reporting and analysis through the lens of solutions journalism.
More from TriplePundit