Published 10-13-23
Submitted by Southern Company
For the second year in a row, Southern Company provided 100% renewable energy for the TOUR Championship — and that's no small feat.
The PGA TOUR season finale at Atlanta's East Lake Golf Club is the culminating event of the FedExCup Playoffs. The tournament is a massive operation. But longtime partner Southern Company has been driven to create the most sustainable TOUR Championship yet.
Sustainable solutions touched every facet of the tournament's operation, including:
500,000-kilowatt hours of renewable energy credits to avoid emissions generated from fossil fuel-based electricity used on course
Renewable natural gas (RNG) to avoid emissions from the clubhouse's natural gas appliances by integrating environmental credits from carbon neutral RNG captured from landfills
Zero-emission Moxion Power battery energy storage in Southern Company's spectator area, the SO Cool Zone, and select hospitality areas
90% of golf carts are electric
11,000 gallons of renewable diesel (R99) to replace traditional diesel
Battery- and solar-powered cellphone charging stations for fan use
Electric vehicle (EV) chargers in the East Lake Golf Club parking lot
Renewable and recyclable materials in Southern Company's Good Energy Pavilion fan experience.
"I'm very excited about the innovations that we have been able to bring to the TOUR Championship," says Robin Lanier, Southern Company's Director of New Ventures. "These solutions combined are equivalent to removing about 245 gasoline-powered vehicles off the road per year." 
"Without Southern Company, the TOUR Championship wouldn't be able to hit our sustainability goals," says Brazos Barber, Director of Sustainability for the PGA Tour. "It's invaluable in reducing emissions and moving away from fossil fuels."
Driving sustainability on the course connects with Southern Company's goal off the course — to achieve net zero emissions across the company's electric and gas businesses by 2050.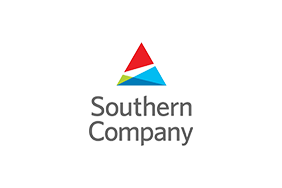 Southern Company
Southern Company
Southern Company (NYSE: SO) is a leading energy provider serving 9 million residential and commercial customers across the Southeast and beyond through its family of companies. Providing clean, safe, reliable and affordable energy with excellent service is our mission. The company has electric operating companies in three states, natural gas distribution companies in four states, a competitive generation company, a leading distributed energy distribution company with national capabilities, a fiber optics network and telecommunications services. Through an industry-leading commitment to innovation, resilience and sustainability, we are taking action to meet customers' and communities' needs while advancing our goal of net zero greenhouse gas emissions by 2050. Our uncompromising values ensure we put the needs of those we serve at the center of everything we do and are the key to our sustained success. We are transforming energy into economic, environmental and social progress for tomorrow. Our corporate culture and hiring practices have earned the company national awards and recognition from numerous organizations, including Forbes, The Military Times, DiversityInc, Black Enterprise, J.D. Power, Fortune, Human Rights Campaign and more. To learn more, visit www.southerncompany.com.
More from Southern Company