Published 10-13-23
Submitted by DP World
Trade is the lifeblood of the global economy, with ports serving as the epicenters of international trade and shipping. However, their extensive activities and emissions from cargo handling and transportation result in a significant carbon footprint. According to the International Maritime Organization, shipping accounts for almost 3% of the world's greenhouse gas emissions, a number that is predicted to rise.
As one of the world's leading port operators, we are embracing the challenge of decarbonizing our operations. We're taking action to reduce emissions by venturing into hydrogen electric technology, beginning with a pilot for our rubber-tired gantry cranes (RTGs) at Canada's Port of Vancouver. 
A clean and efficient fuel, hydrogen is a proven technology and a viable choice for powering heavy-duty machinery. Given that RTGs contribute to nearly half of ports' shore-based carbon emissions, transitioning them from diesel to electric can substantially decrease their environmental impact.
Slated to kick off in Q2 2024, the hydrogen pilot will gauge the feasibility of electrifying our global fleet of 1,500 RTGs. If the pilot project is successful, it will be a significant step towards our global efforts to reduce emissions and decarbonize operations, helping to make a significant environmental impact on the port industry.
The science behind this is compelling: hydrogen fuel cells produce electricity through a chemical reaction between hydrogen and oxygen emitting only water vapor as a byproduct. Hydrogen fuel cells are efficient and flexible, producing zero emissions other than water vapor, making them a prime candidate for powering heavy machinery in eco-sensitive settings. 
To execute the technology behind the pilot, we selected TYCROP Manufacturing Ltd, an industrial manufacturing and engineering company, in collaboration with Loop Energy, a hydrogen fuel cell manufacturer, to design and manufacture the equipment for this initiative.
The pilot involves outfitting our RTGs with a TYCROP-designed dual fuel system powered by two of Loop Energy's T505 fuel cell systems. This unique dual system offers the flexibility to run the RTG on either hydrogen or diesel, depending on hydrogen availability. 
We chose the Port of Vancouver specifically for this pilot due to its thriving hydrogen and fuel cell ecosystem, which was buoyed further by substantial support from the Province of BC. The pilot promises real-world testing in genuine port conditions, ensuring the utmost efficacy and reliability. This pilot could eventually signal potential broader electrification throughout our global fleet of RTGs. 
Commitment to Sustainability
The move is in line with our ambitious decarbonization goals. As announced last year at COP27, we are investing USD$500 million to cut carbon emissions by nearly 700,000 tons over the next five years, with the goal of achieving net-zero status by 2050. (The planned reduction represents a 20% cut from 2021 levels.)
To get there, we're focusing our roadmap on three main initiatives: the electrification of our ports and terminals equipment; investment into renewable energy; and research and development projects that investigate alternative fuels, vessels, and vehicles across our portfolio. 
In Europe, Rotterdam World Gateway is almost fully electric and is our first net-zero terminal, while our South Korea operations are well on the way. In South America, we have 20 electric terminal tractors on order for DP World Callao in Peru, with more on the way for the Port of Santos in Brazil. We also have Britain's first all-electric terminal tractor at our London Gateway port.
Electricity from renewable sources will also be key. In Europe, half of our electricity comes from renewables, with many ports running on 100% renewable energy. Last year, DP World Chile became the first port operator in South America to receive a renewable energy certification; all its electricity comes from hydropower. Meanwhile, Jebel Ali boasts the largest rooftop solar panel installation in the Middle East.
We're also investing in the digital side; our intelligent High Bay Storage system, known as BoxBay, eliminates unnecessary reshuffling of containers and promotes energy efficiency. We have invested $4 billion in technology since 2016, and 70% of our ports use cutting-edge automation software.
Pioneering a Sustainable Future in Port Operations
There's no question that ports have an essential role to play in mitigating their environmental impact. One of our largest challenges comes from our marine services and logistics businesses, which represent a significant chunk of our total carbon footprint. Decarbonizing will require rewiring the entire system, with new supply chains and structures in place. 
It is a huge undertaking, but we are embracing this responsibility by continuing to intensify our decarbonization efforts. Our foray into hydrogen electric technology, as illustrated by the pilot project at the Port of Vancouver, underscores our commitment to a net-zero future. If successful, this pilot could be a cornerstone in our broader strategy to decarbonize and electrify operations on a global scale. In meeting our own ambitious goals, we hope to set a precedent that helps the entire maritime industry move towards a decisively more sustainable future.
###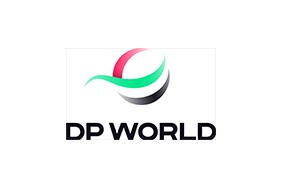 DP World
DP World
Trade is the lifeblood of the global economy, creating opportunities and improving the quality of life for people around the world. DP World exists to make the world's trade flow better, changing what's possible for the customers and communities we serve globally. 
With a dedicated, diverse and professional team of more than 103,000 employees spanning 75 countries on six continents, DP World is pushing trade further and faster towards a seamless supply chain that's fit for the future. 
We're rapidly transforming and integrating our businesses -- Ports and Terminals, Marine Services, Logistics and Technology – and uniting our global infrastructure with local expertise to create stronger, more efficient end-to-end supply chain solutions that can change the way the world trades.
What's more, we're reshaping the future by investing in innovation. From intelligent delivery systems to automated warehouse stacking, we're at the cutting edge of disruptive technology, pushing the sector towards better ways to trade, minimising disruptions from the factory floor to the customer's door. 
WE MAKE TRADE FLOW TO CHANGE WHAT'S POSSIBLE FOR EVERYONE.
More from DP World