Published 10-11-23
Submitted by The Home Depot

Originally published on Built From Scratch
October marks Careers in Construction Month. This monthlong initiative focuses on increasing public awareness of construction careers and inspiring the next generation of craft professionals.
DID YOU KNOW?
There are approximately 400,000 job openings in the construction industry
40% of construction workers expected to retire by 2031
94% of contractors struggle to find skilled workers
Right now, there are more than 7 million people employed in the construction industry nationwide — a number that's expected to grow over the next decade. The Home Depot and The Home Depot Foundation are committed to training the next generation of skilled tradespeople, diversifying the industry and helping fill the skilled labor gap through their Path to Pro programs.
The Home Depot's Path to Pro program provides jobseekers and hiring professionals alike with resources, trades training and career networking opportunities, available in English and Spanish. As the skilled trades population becomes increasingly diverse, ensuring accessibility to trades training and resources is critical to bridging the labor gap between the number of skilled trade workers and unprecedented demand for trade jobs. Path to Pro's resource library, introductory trades training and access to the Path to Pro Network are free and available to anyone with internet access.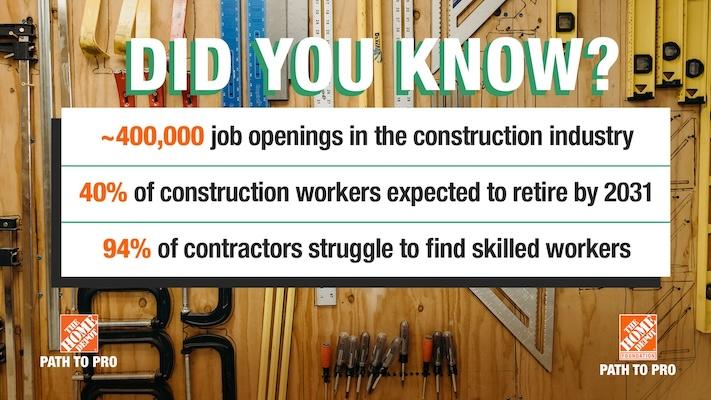 The Home Depot Foundation's skilled trades training program, Path to Pro, which launched in 2018, provides free training for future skilled workers through industry-leading nonprofit organizations. These partnerships have introduced more than 200,000 people to the skilled trades and have trained more than 41,000 participants through programming available to youth, high school students, underserved communities and separating U.S. military.
"Many skilled people are now retiring, and we don't have enough young people joining the trades. Just like my dad, my grandfather was a construction worker, and a lot of methods and knowledge has been passed down from my grandfather and my dad to me," says Tyler Dykhouse, a Path to Pro scholarship recipient.
In August, The Foundation announced a $6 million investment in skilled trades training as part of its $50 million commitment to train the next generation of skilled tradespeople. With these philanthropic grants, the Foundation launched a brand-new entrepreneurship program and will provide free, skilled trades training and scholarships for more veterans, military families, high school students and separating service members
To learn more about The Home Depot and The Home Depot Foundation's commitment to trades training, visit our website or check out the 2023 ESG Report.  
Keep up with all the latest Home Depot news! Subscribe to our bi-weekly news update and get the top Built from Scratch stories delivered straight to your inbox.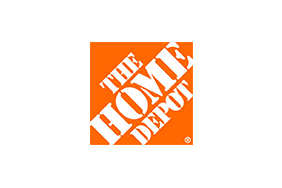 The Home Depot
The Home Depot
About The Home Depot
We are the world's largest home improvement specialty retailer with stores in all 50 states, the District of Columbia, Puerto Rico, U.S. Virgin Islands, 10 Canadian provinces, and Mexico.
More from The Home Depot