Published 10-04-23
Submitted by MetLife, Inc.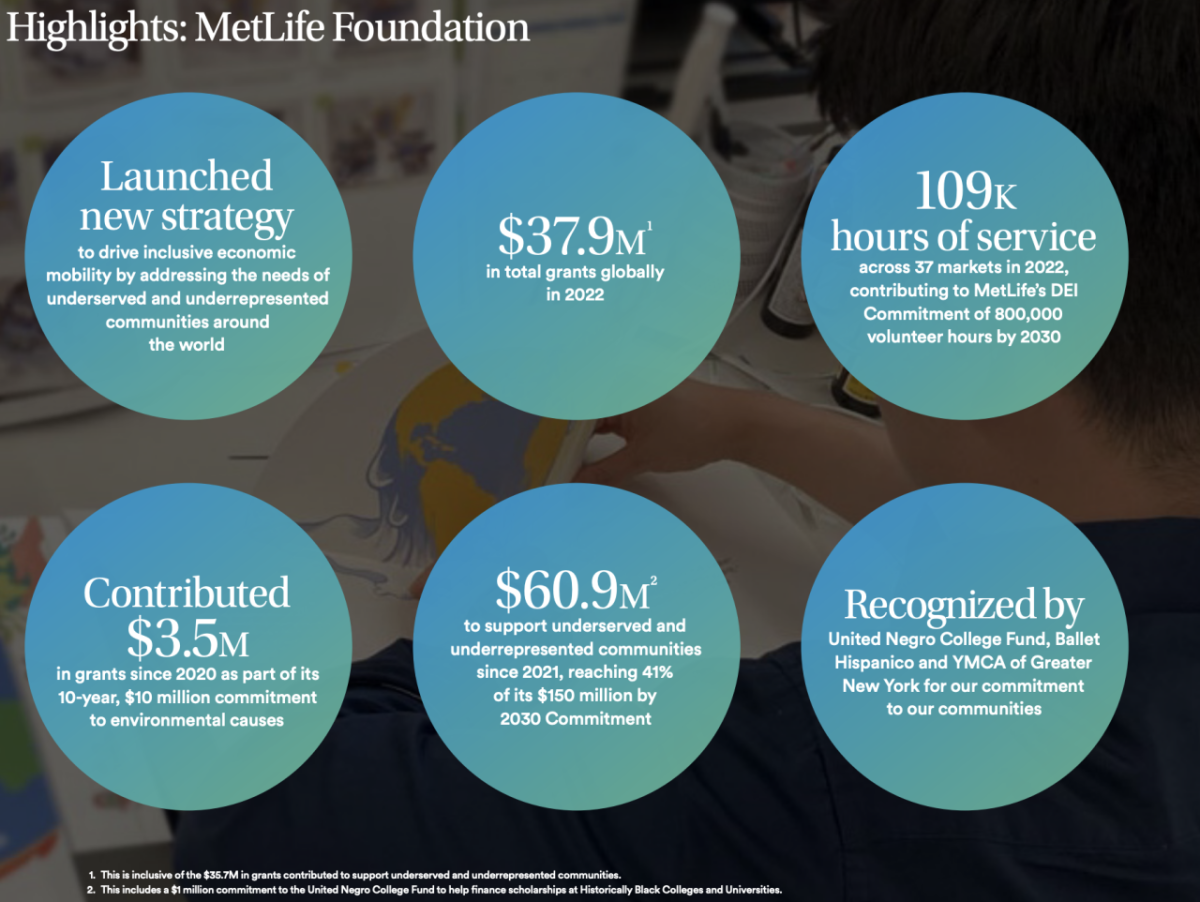 Read the full MetLife 2022 Sustainability Report
Our Approach
As one of the world's leading financial services companies, MetLife plays an important role in communities. All MetLife regions, lines of business and colleagues contribute to community engagement and outreach, including through volunteerism and pro bono work. Throughout the company, executives and senior leaders engage in and encourage community work via organizational volunteer goals. MetLife Foundation helps connect MetLife colleagues with nonprofits and opportunities to make a difference.
Priorities
MetLife's 2030 DEI Commitments include pledges of 800,000 employee volunteer hours with a focus on supporting historically marginalized individuals and their families, and $150 million from MetLife Foundation to support underserved and underrepresented communities. To advance these commitments, MetLife Foundation launched a multi-pronged strategy to drive inclusive economic mobility by addressing the needs of such communities around the world. MetLife Foundation grants align with the UN SDGs and across three strategic giving portfolios:
ECONOMIC INCLUSION

Invests in efforts that support upskilling and reskilling of young people and adults to be competitive in a digital and new economy and earn family-sustaining wages. 

FINANCIAL HEALTH

Supports efforts focused on building financial resiliency through the enablement of budget management, savings, access to credit and public/ private benefits. 

RESILIENT COMMUNITIES

Invests in efforts that open up access to physical and mental well-being resources and help build a more resilient planet. 
FINANCIAL HEALTH
Inclusive Fintech 50 (IF50) is a global competition that identifies early-stage fintechs driving financial inclusion and resilience. Since 2019, the IF50 competition has attracted 1,343 eligible applicants, who are addressing limitations in financial services delivery for low-income and underserved customers. These emerging fintechs operate in over 237 countries, reach over 338 million customers, and have raised over $3.4 billion. 
Village Capital1 —ADAPT: Social Innovation for a More Resilient Future ADAPT identifies startups that help communities and individuals respond to global challenges impacted by climate change, healthcare, wellness and economic mobility and that provide solutions that fundamentally shape and strengthen social resilience. 
Women's World Banking (WWB) brings gender intentionality to expand financial and economic inclusion in India through training and support for 5,000 women agents who will provide access to financial services to an estimated 2 million rural lowincome women. It also opens access to affordable credit to nano- and micro-entrepreneur women. 
Aspen Institute Financial Security Program's Benefits21 convenes experts from the public and private sectors to close benefit gaps and to reimagine benefits in the U.S. for the 21st-century workforce. The impact of the initiative produces tools and insights, convenes policymakers and financial security leaders, and promotes policy innovation toward modern benefits for all workers. 
Economic Inclusion
Generation: You Employed MetLife Foundation is partnering with global employment nonprofit Generation to improve inclusion in entry-level tech sector roles through original research that will deepen our understanding of barriers to entry in tech hiring and provide practical steps that employers, policymakers and others can take to increase equity in the tech hiring process.
NPower is a national nonprofit working to create pathways to economic prosperity by launching educational training and support programs leading to digital careers for military veterans and young adults from underserved communities. The organization provides tech skills training to 2,100+ young people and military veterans annually, and 81% of program graduates are placed in high-quality jobs or continue their education. 
RESILIENT COMMUNITIES
ASHOKA Through promoting public awareness and institutional change, Ashoka aims to create a new narrative on aging populations focused on "new longevity"—a concept of becoming a lifelong contributor by leading healthy and purposeful lives as we age.
Vision To Learn delivers mobile vision clinics to screen 800,000 K-12 students and will provide glasses to over 170,000 students over the next two school years. Glasses are custom made and fit for the students within about three weeks of the exam and warrantied for one year. 
1. An accelerator program supported by MetLife Foundation to identify early-stage innovative solutions for financial health.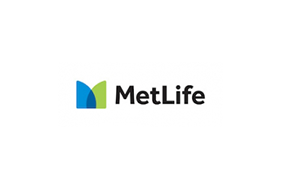 MetLife, Inc.
MetLife, Inc.
MetLife, Inc. has helped generations of people around the world protect their families and finances. As one of the world's leading financial services companies, MetLife provides insurance, annuities, employee benefits and asset management to individual and institutional customers. United by its purpose—Always with you, building a more confident future—MetLife is adapting to meet the needs of a rapidly changing world and strengthening its commitments to address critical challenges such as climate change, gender and racial inequality, and disadvantaged communities.
Visit MetLife's website

Read about MetLife's sustainability strategy

Learn more about the work of MetLife Foundation
More from MetLife, Inc.