Published 09-27-23
Submitted by MetLife, Inc.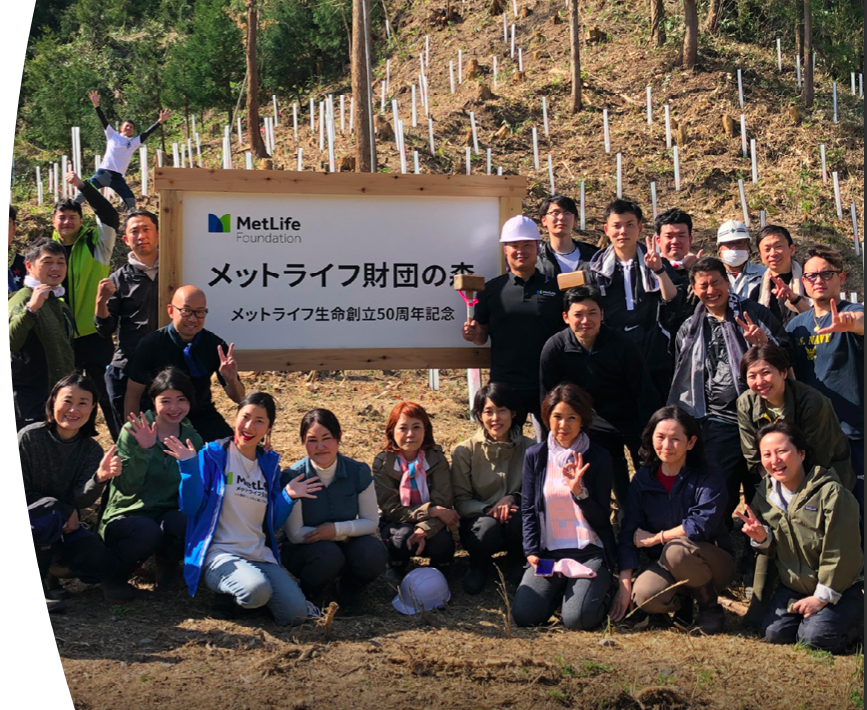 Read the full MetLife 2022 Sustainability Report
Each year, thousands of colleagues participate in our employee engagement program to promote environmental stewardship, called "Our Green Impact." The program offers colleagues on-site and virtual environmental education, as well as volunteer opportunities. In addition to location-based "green teams" that drive initiatives at the office level, every MetLife line of business, function and region has a climate goals champion responsible for helping the enterprise achieve our short- and long-term goals. Over 20 champions gather bimonthly to set objectives for their function, drive action, collect metrics and share progress with their senior leaders and colleagues.
2022 MetLife EcoChallenge
More than 4,300 colleagues from 40+ markets participated in the 2022 MetLife EcoChallenge, an annual two-week competition to encourage colleagues to adopt green habits. Participation in the challenge has tripled since 2020, making 2022 our most impactful challenge to date.
MetLife Extraordinary Litter Pickup
Following the success of the Great EMEA Litter Pickup in 2021, we introduced our first global litter pickup campaign—an effort centered around Earth Day during which colleagues around the world picked up trash to beautify their communities. The program engaged over 2,700 stakeholders in 35 markets, completing over 4,200 volunteer hours.
Volunteerism for Environmental Causes
We encourage a culture of year-round volunteering in which MetLife colleagues live our purpose by lending their time, talent and passion for their communities to educational, environmental, mentoring, coaching, skills based and pro-bono initiatives. Supporting building environmental resiliency in communities around the world is a focus of volunteerism at MetLife. Through MetLife Foundation partners, employees are helping Planet Water in Mexico build AquaTowers to provide access to clean, safe water, sanitation and education on water health and hygiene across Mexico. In Asia, colleagues are working with Shakti Foundation to help green the urban roads of Shaka City in Bangladesh through a focus on planting and maintain plants and trees to help mitigate the adverse effects of decreasing greenery.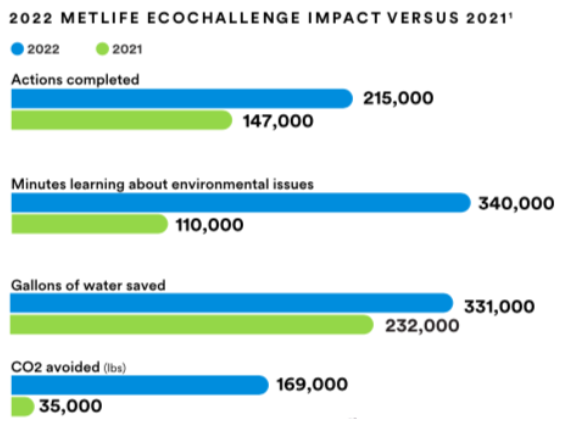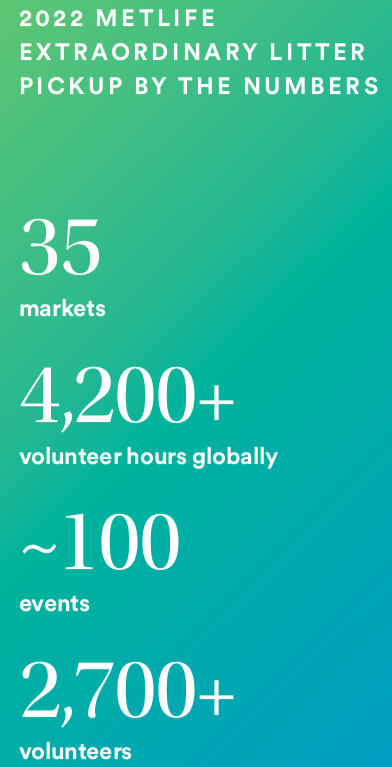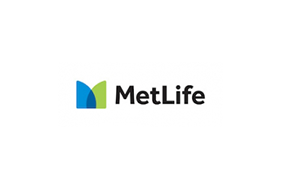 MetLife, Inc.
MetLife, Inc.
MetLife, Inc. has helped generations of people around the world protect their families and finances. As one of the world's leading financial services companies, MetLife provides insurance, annuities, employee benefits and asset management to individual and institutional customers. United by its purpose—Always with you, building a more confident future—MetLife is adapting to meet the needs of a rapidly changing world and strengthening its commitments to address critical challenges such as climate change, gender and racial inequality, and disadvantaged communities.
Visit MetLife's website

Read about MetLife's sustainability strategy

Learn more about the work of MetLife Foundation
More from MetLife, Inc.