Published 09-26-23
Submitted by Yum! Brands
Discover how KFC US is leaning into sustainability on "EARTH with John Holden." In the episode, you'll hear from KFC U.S. Senior Manager, Supply Chain Management, Sustainability & Packaging, Kellie (Goodrich) Alvarado, on how the brand is minimizing its environmental impact by adopting sustainable packaging in its restaurants. You can catch the full episode live on YouTube.
Furthermore, Yum! continues leveraging the power of its more than 55,000 KFC, Pizza Hut, Taco Bell and The Habit Burger Grill restaurants to be part of sustainable packaging solutions by reimagining its iconic packaging like the KFC bucket, Pizza Hut pizza boxes and Taco Bell sauce packets.
Yum!'s sustainable packaging policy includes the following three focus areas:
The elimination of unnecessary packaging
The shift to more sustainable materials
The support of better recycling systems and reusable products
While each brand is in a different stage in its sustainable packaging journey, they now have one cohesive blueprint to follow and can lean on each other while striving toward the same three goals.
Read more about these efforts here.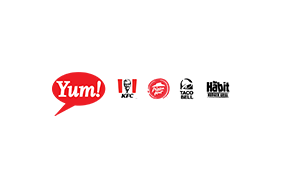 Yum! Brands
Yum! Brands
Yum! Brands, Inc., based in Louisville, Kentucky, has over 54,000 restaurants in more than 155 countries and territories, operating the Company's brands – KFC, Pizza Hut and Taco Bell – global leaders of the chicken, pizza and Mexican-style food categories. The Company's family of brands also includes The Habit Burger Grill, a fast-casual restaurant concept specializing in made-to-order chargrilled burgers, sandwiches and more. Yum! Brands was named to the 2021 Dow Jones Sustainability Index North America and was ranked on Newsweek's list of 2021 America's Most Responsible Companies. In 2022, Yum! Brands was named to 3BL Media's 100 Best Corporate Citizens.
More from Yum! Brands