Published 09-25-23
Submitted by McDonald's Corporation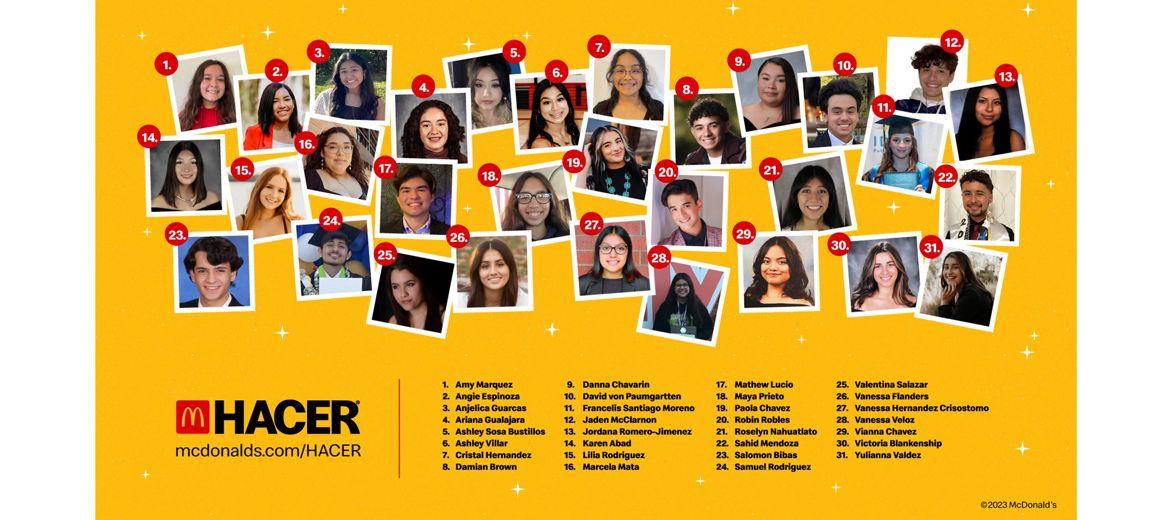 CHICAGO, September 25, 2023 /CSRwire/ - Thirty-one Hispanic students from all over the country are confidently embarking on their college journey after being awarded a combined half a million dollars as recipients of the McDonald's HACER® National Scholarship. Founded in 1985, HACER® has become one of the largest programs committed to providing college scholarships and resources for Hispanics, awarding more than $33 million in scholarships to more than 17,000 students nationwide.
In its 38th year, the scholarship program continues to provide educational opportunities to help narrow the gap that exists for Hispanic college-bound students, further reinforcing McDonald's long-standing commitment to feeding and fostering the diverse communities it serves.
In a positive stride forward, recent research has unveiled a promising trend: the number of Hispanic students pursuing a college education is steadily increasing year over year. Projections indicate that by 2026, Hispanic enrollment in higher education will surpass 4 million students, with a growth rate exceeding that of any other racial-ethnic group by more than 10%1. However, despite this upward trend in enrollment, there remains a persistent disparity at four-year institutions, where Hispanics' graduation rate is 13% lower than that of their White non-Hispanic peers2. According to a 2021 Pew Research Center survey, the primary reasons cited by the majority of Hispanic students without a bachelor's degree and not currently enrolled in school are the need to contribute to their family's financial support and the inability to afford a four-year degree3.
"Everyone deserves a fair chance at chasing their dreams. We recognize the financial hurdles many students and their families face in pursuing a college education, and for this reason McDonald's and our Hispanic Owner/Operators remain committed to our investments and fostering educational opportunities," said Richard Castro, a McDonald's Owner/Operator and national HACER® scholarship chairperson. "We're proud to celebrate our newest recipients and encourage aspiring college students to kickstart their journey toward a brighter future by applying for HACER®."
This year's HACER® recipients share a common theme: resilience. Here is a glimpse into just a few of their inspiring backgrounds:  
Salomon Bibas, Miami, Florida: A student who developed an app mockup for laryngectomees—patients who have had their voice box at least partially removed—to effectively communicate after his father's untreatable vocal chord illness forever impacted his speech. His decision to pursue his studies in engineering were also partially motivated by the Tepuis of Venezuela, some of the oldest geologic formations in South America, to help tackle and minimize devastating climate impacts.
Angie Espinoza, Tobyhanna, Pennsylvania: A student who founded a student-led international nonprofit organization to distribute supplies to underserved communities in the Dominican Republic, including fully equipped bookbags with school supplies, menstrual care products, athletic footwear and briefs. 
Samuel Rodriguez, San Leandro, California: A student dedicated to mentoring other young men and empowering them to prioritize their mental health and pursue goals. His own journey of triumph over adversity, including overcoming the challenges of a home fire and a car accident, fuels his passion for making a positive impact. 
The McDonald's HACER® National Scholarship aims to change the narrative from disparity to empowerment by offering mentorship, academic resources and financial aid to support students every step of the way. Recipients are selected based on academic achievement, community involvement, and financial need through a rigorous selection process that includes an application, questionnaire, and interviews with a panel of judges representing academia, business, media and McDonald's USA.
Hispanic college-bound high school seniors and their parents are encouraged to visit mcdonalds.com/hacer to learn more about the resources offered in English and Spanish, and for details on how to apply. The next scholarship application period opens in October 2023 and runs through February 2024, continuing our commitment to initiatives educating the next generation of youth.
McDonald's and its Hispanic Owner/Operators congratulate the 2023 HACER® National Scholarship recipients:
Texas
Amy Marquez from Riesel, TX attending Texas State University
Cristal Hernandez from Garland,TX attending University of Texas at Arlington
Damian Brown from Corpus Christi,TX attending Stephen F. Austin State University  
David von Paumgartten from Buda, TX attending The University of Texas, Dallas
Francelis Santiago Moreno from San Antonio, TX attending Universidad de Puerto Rico Recinto de Carolina
Karen Abad from Houston, TX attending Carnegie Mellon University
Marcela Mata from Mount Pleasant, TX attending Meredith College
Matthew Lucio from Brownsville, TX attending The University of Texas, Austin  
Vanessa Veloz from Mineola, TX attending The University of Texas, Dallas
Victoria Blankenship from Sherman, TX attending Texas A&M University, College Station
California
Danna Chavarin from Sylmar, CA attending California State University of Northridge (CSUN)
Maya Prieto from San Pedro, CA attending California State University, Long Beach  
Paola Chavez from Tulelake, CA attending Oregon Institute of Technology  
Sahid Mendoza from Delhi, CA attending University of California, Merced 
Samuel Rodriguez from San Leandro, CA attending University of California, Riverside  
Vianna Chavez from Riverside, CA attending University of California, Los Angeles 
Yulianna Valdez from Montague, CA attending Shasta College
Connecticut
Roselyn Nahuatlato from West Haven, CT attending University of Connecticut
Valentina Salazar from Unionville, CT attending University of Connecticut
Minnesota
Ashley Sosa Bustillos from Brooklyn Center, MN attending St. Catherine University  
Ashley Villar from Rochester, MN attending University of St Thomas. St Paul Minnesota
New Jersey
Jaden McClarnon from Holmdel, NJ attending Pennsylvania State University
Jordana Romero-Jimenez from Scotch Plains, NJ attending Seton Hall University
Florida
Salomon Bibas from Miami, FL attending University of Florida
Illinois
Lilia Rodriguez from Hampshire, IL attending Illinois State University
Indiana
Ariana Gualajara from Winamac, IN attending Ball State University  
Kansas
Robin Robles from Overland Park, KS attending Creighton University
New Hampshire
Vanessa Flanders from Gilford, NH attending SUNY Cortland
Pennsylvania
Angie Espinoza from Tobyhanna, PA attending University of Pittsburgh
Rhode Island
Anjelica Guarcas from Providence, RI attending Bentley University
Washington
Vanessa Hernandez Crisostomo from Vancouver, WA attending University of Washington, Seattle Campus
About McDonald's USA
McDonald's USA, LLC, serves a variety of menu options made with quality ingredients to millions of customers every day. Ninety-five percent of McDonald's approximately 13,500 U.S. restaurants are owned and operated by independent business owners. For more information, visit www.mcdonalds.com, or follow us on Twitter @McDonalds and Facebook at www.facebook.com/mcdonalds.
View original content here.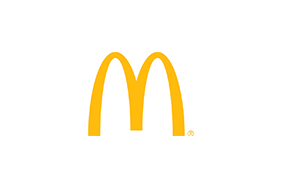 McDonald's Corporation
McDonald's Corporation
McDonald's is the world's leading global foodservice retailer with nearly 40,000 locations in over 100 countries. Approximately 95% of McDonald's restaurants worldwide are owned and operated by independent local business owners.
More from McDonald's Corporation