Published 09-21-23
Submitted by GoDaddy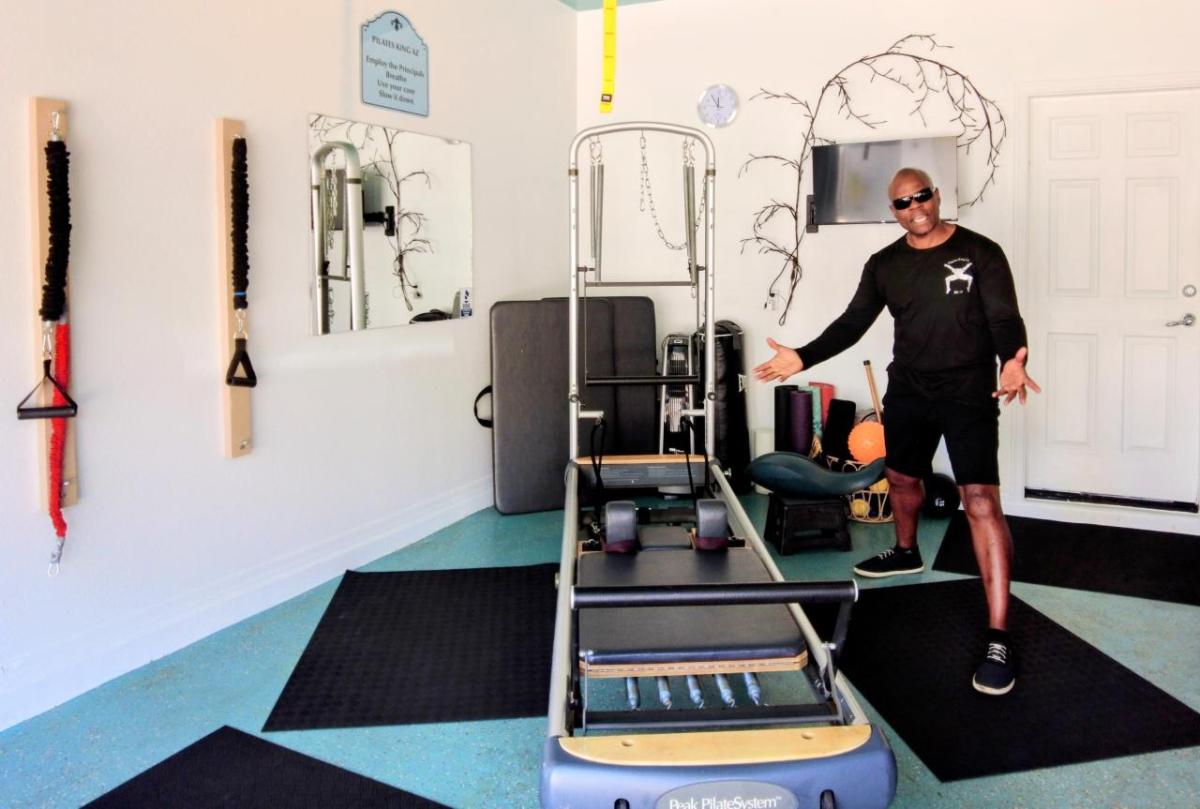 Phoenix-based creator and CEO of Pilates King L.L.C. Ade McCray is on a mission to make Pilates more accessible for all. A graduate of GoDaddy's signature social impact program, Empower by GoDaddy, Ade shares how he accelerated his small business success through new digital skills, mentorship, resources and networking offered by the partnership between GoDaddy and the Better Business Bureau of the Pacific Southwest.
Ade hit a plateau in his career in 2021 and combined with state-mandated quarantines during the Covid-19 pandemic, he felt it was the perfect time to start a new business. Ade's vision was to make Pilates – a full-body workout that improves muscle tone, flexibility and strength – more accessible. Specifically, he hoped to reach those seeking exercise who were either stuck at home, unable to join a gym, or who couldn't afford expensive instructor-led studio classes. His vision is to engage clients around the world to participate in outdoor Pilates-based exercises. His method uses resistance bands anchored to a vehicle while engaging in standing Pilates-based exercises at a specific location.
"I've always been motivated by and had a curiosity for health and movement," said Ade. I found myself searching for alternative options where you could benefit from exercise without needing expensive gym equipment. I thought Pilates could be a very good avenue for people who may not be able to afford studio classes and cross training equipment."
Ade's journey to Pilates King was unique. He grew up in West Africa before moving to the U.S. in 1986 and joining the Navy for two and a half years. Over time, he became interested in the arts, particularly dance. He even had a dance contract with the German Opera for six years. Following his time as a dancer, Ade picked up Pilates, where he trained and served as an instructor for the next 15 years before taking the leap into entrepreneurship.
Now, his full-time job is getting Pilates King off the ground. However, since entrepreneurship is new to Ade, getting started hasn't been without its challenges. Advertising, networking, financing, and understanding business operations, in particular, have been some of Ade's largest hurdles. But a steep learning curve hasn't stopped Ade from achieving his goals.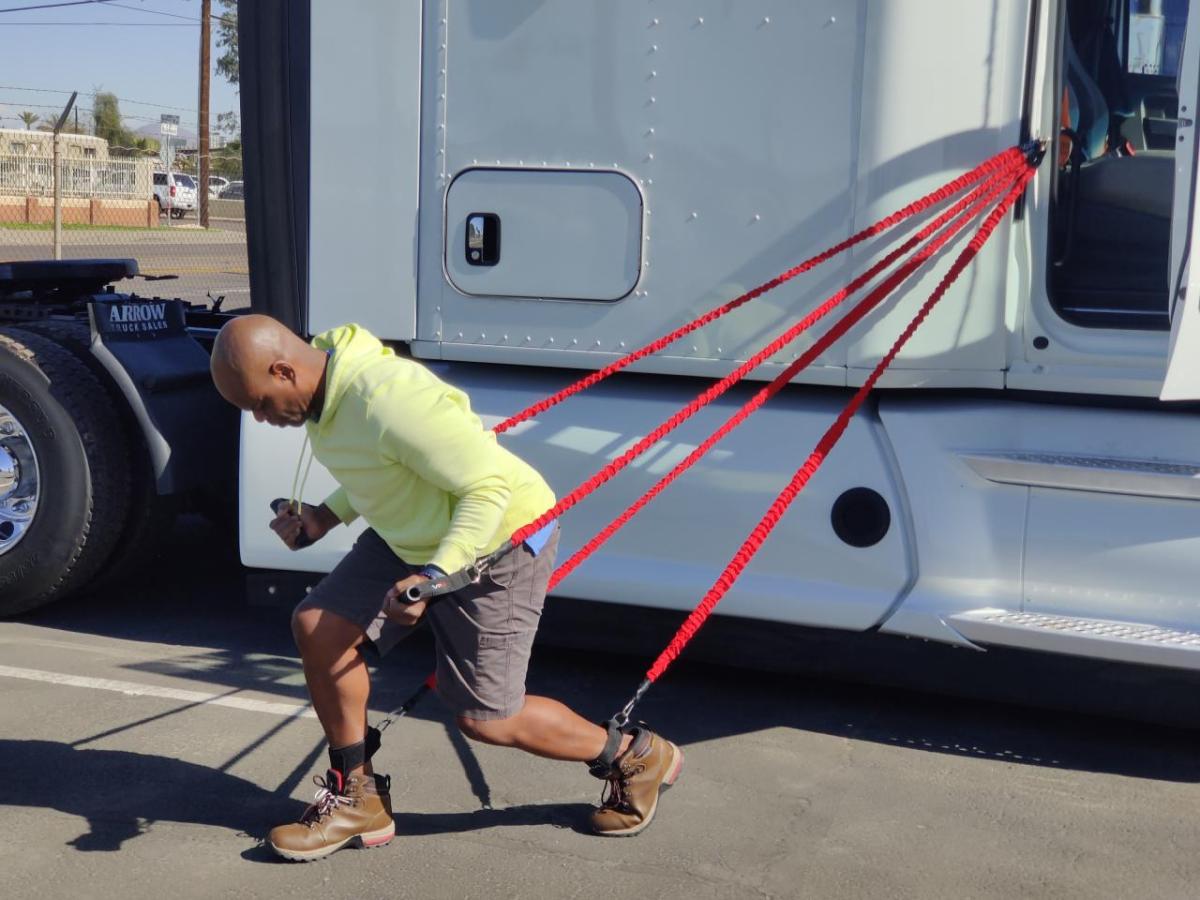 For Ade, success means creating opportunities where people feel comfortable and equal. His short-term goal for Pilates King is to launch a mobile app for his business, and long-term, he hopes to support customers globally and make his business accessible to everyone around the world. 
"I'm inspired to do my best to care for mankind and make positive change that will help future generations," said Ade. "Everything else will fall into place."
Ade shares that the Empower by GoDaddy program helped to fill in gaps of knowledge about business ownership. Empower by GoDaddy provides entrepreneurs in underserved communities with training, tools and peer networks to accelerate their journeys. Ade came into the program open-mindedly and absorbed as much information as he could, using tools like GoDaddy Studio and GoDaddy's AI Prompt Library. The information he learned in Empower by GoDaddy helped him build his business through online advertising, something about which he previously knew little. 
"I had a clear vision for my business but there were just some nuances in running a business that I needed support with," said Ade. "Getting involved with Empower by GoDaddy helped me to make sense of all that goes into business ownership, and my operations are getting much better."
For first-time entrepreneurs like Ade and those interested in starting a business of their own, Ade said, "Be true to yourself and stick with your idea. Consistency and follow-through are very important. You might get discouraged, but practice discipline and you will be successful." 
Ade's story is just one example of how GoDaddy is working to make entrepreneurship more inclusive for all. To learn more about Empower by GoDaddy, visit: https://www.godaddy.com/godaddy-for-good/empower
Empower by GoDaddy Spotlight Series: By partnering with diverse local nonprofits and community organizations around the world, Empower by GoDaddy aims to reach those who haven't otherwise had access by offering skills training, resources, and mentoring to help accelerate their business journeys. This article is part of the Empower by GoDaddy spotlight series that shines a light on the individuals who make this unique initiative possible.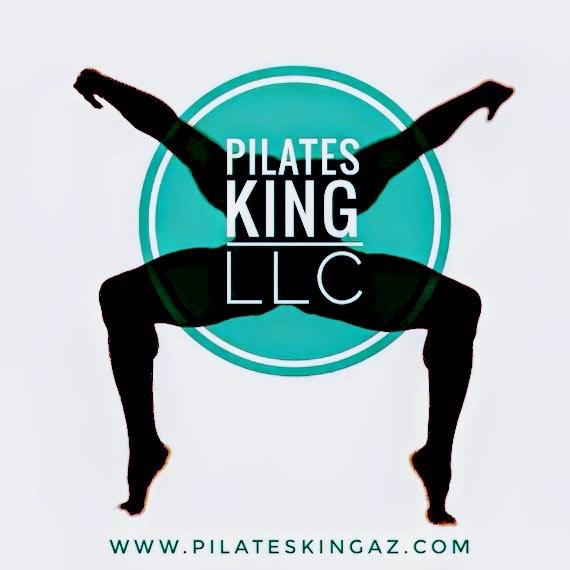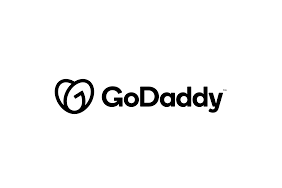 GoDaddy
GoDaddy
GoDaddy is empowering everyday entrepreneurs around the world by providing all of the help and tools to succeed online. GoDaddy is the place people come to name their idea, build a professional website, attract customers, sell their products and services, and manage their work. Our mission is to give our customers the tools, insights and the people to transform their ideas and personal initiative into success. To learn more about the company, visit www.GoDaddy.com.
GoDaddy focuses on making opportunity more inclusive for all in the communities where we work, live and play across the globe. We rally behind inclusive entrepreneurship and other critical local needs that empower people to succeed through philanthropic and in-kind donations, volunteerism, strategic partnerships and advocacy.
Empower by GoDaddy is GoDaddy's global community and philanthropic program equipping entrepreneurs in underserved communities with training, tools and peer networks to accelerate their journeys. GoDaddy rallies behind entrepreneurs in underserved communities by building their confidence and skills to strengthen their small business' digital presence.  Entrepreneurs engage in customized learning experiences, work 1-1 with GoDaddy volunteer coaches and local mentors, and gain access to wrap-around services, in-kind products and networks boosting their small businesses success.
More from GoDaddy