Published 09-20-23
Submitted by Enbridge Inc.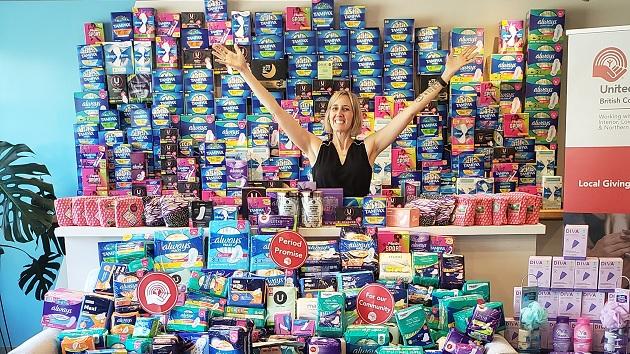 Choosing between menstrual products or being able to put food on the table, unfortunately, is a financial decision many are faced with.
As many as 26% of people who menstruate report having struggled to afford menstrual products for themselves or their dependents. United Way British Columbia is working to put a stop to the lack of access. Period.
"Everyone who's menstruated has had a time in their life where they haven't had products available to them when they needed it," says Chelsea Ingram, Campaign Manager for United Way BC's Thompson-Nicola-Cariboo region.
"When you don't have access to menstrual products, how do you go out into the community and continue to live your life?"
The Period Promise Campaign was created in partnership with CUPE 1816 and tackles physical and psychological barriers that come with period poverty, such as buying product for free distribution, educating organizations and presenting on the topics of menstrual equity and period poverty, and lobbying governments to adopt policies that improve overall access to product.
One such policy that organizations can sign today is the United Way's Period Policy Promise Agreement, which commits to providing free and accessible products in the workplace or office.
"We're really just trying to spread awareness around menstruation and get as many organizations to sign the agreement as possible and be part of the solution," says Ingram.
In each of 2022 and 2023, Enbridge made $2,500 Fueling Futures donations to United Way BC as part of our commitment to establishing vibrant and sustainable communities near our operations. Funding supports the purchase of menstrual products, and this year was dedicated to the Thompson-Nicola-Cariboo region to support the Period Promise campaign in the Kamloops area.
Enbridge also supports the campaign via a product drive.
United Way BC's 2023 Period Promise Campaign was particularly successful, raising more than $53,000 to support the initiative and collecting more than half a million menstrual products at 73 collection sites across BC.
Ingram says the Period Promise campaign is her "favourite" campaign to work on.
"I love being able to support people who menstruate within our community. Every donation raises awareness, reduces stigma, and tackles the vulnerability and isolation caused by period poverty," she says.
"We held an awareness campaign in a mall recently, and it was so cool to see girls come up and talk to us about periods so openly—it's changed so much even from when I was a younger girl, but we still have a long way to go."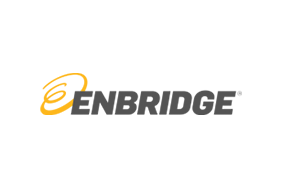 Enbridge Inc.
Enbridge Inc.
About Enbridge
At Enbridge, our name spells out our mission: a bridge to a sustainable energy future. That bridge safely connects millions of people around the world to the energy they rely on every day, fueling quality of life. Whether it's natural gas, oil or renewable power, the energy we deliver through networks spanning North America and our growing European offshore wind portfolio helps to heat homes, feed families, fuel vehicles and power industry. We're investing in modern energy infrastructure to sustain access to secure, affordable energy. We're also building on two decades of experience in renewable energy to advance new low-carbon energy technologies including hydrogen, renewable natural gas and carbon capture and storage. We're committed to reducing the carbon footprint of the energy we deliver, and to achieving net zero greenhouse gas emissions by 2050.
Headquartered in Calgary, Alberta, Enbridge's common shares trade under the symbol ENB on the Toronto (TSX) and New York (NYSE) stock exchanges. To learn more, visit us at Enbridge.com
More from Enbridge Inc.