Published 09-19-23
Submitted by Illumina
Originally published on Illumina News Center
Illumina recently hosted 16 San Diego students for an intensive two-week paid summer program, thanks to a partnership with local nonprofit SD2, which gives underrepresented students unique access to STEM education and mentorships.
The students, who ranged from high school juniors to college freshmen, came to Illumina's San Diego headquarters to acquire lab skills, network with Illumina employees, and learn about their many STEM career options.
"It is crucial for Illumina to have a diverse workforce to support genomics and other STEM fields," says Sharon Vidal, the company's global head of Corporate Social Responsibility (CSR). "By investing in community programs that support equitable access to STEM education early in their education, we can help students see themselves being key contributors as they pursue careers in the life sciences."
Seeing themselves in STEM
The program was designed to inspire students from diverse backgrounds and to give Illumina employees a great opportunity to support their community. Illumina and SD2took a holistic approach to the "boot camp": Many of the participants face food insecurity or lack transportation, so the organizers worked to provide rides and meals. Throughout the two weeks, the intensive curriculum offered students a snapshot of what a career in STEM might look like.
"We wanted the students to leave with a stronger sense of belonging in STEM," says Karmin Noar, vice president of Strategic Growth at SD2. "Most are low-income, first-generation students who come from underrepresented backgrounds, so it was really important for this to be a paid experience and provide opportunities for them to gain soft and technical skills."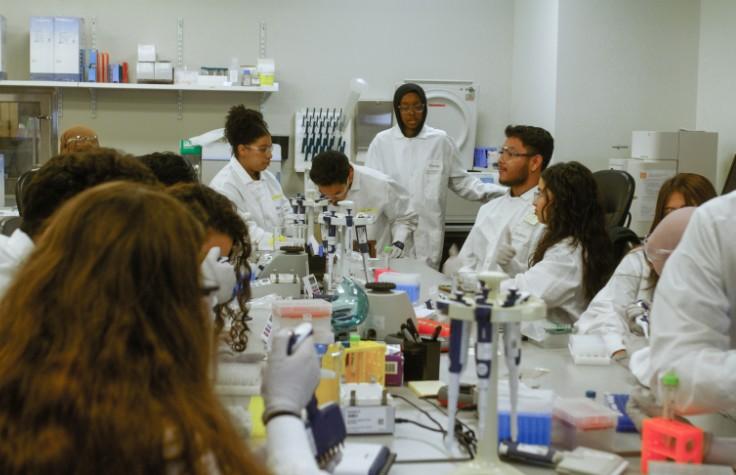 During the laboratory sections, the students learned about safety, basic pipetting, library preparation, and the different ways genomics can be applied. They were also given career and personal development support to help them better understand their strengths and tell their stories. Each student created an elevator pitch, wrote a résumé, built a LinkedIn profile, and developed a personal brand.
"There was a massive shift in the way the interns carried themselves from the beginning of the program to the end," says Vanessa Light, Illumina's senior manager of CSR. "By midweek, you could see the confidence in the way they walked the halls and engaged with employees. They knew they had a place at Illumina and were confident in the journey that had brought them here."
The program was an eye-opener for many participants. One community college student assumed every Illumina employee had gone straight from high school to a four-year university. By the end of the experience, he had met scientists and other professionals who, like him, were first-generation; they had transferred from community college to a four-year university before landing a job at Illumina. These interactions inspired him to pursue a similar path.
"This experience changed the trajectory for many of our students," says H. Puentes, SD2 co-founder, president, and CEO. "They left this experience inspired, knowledgeable, and confident to pursue careers in STEM."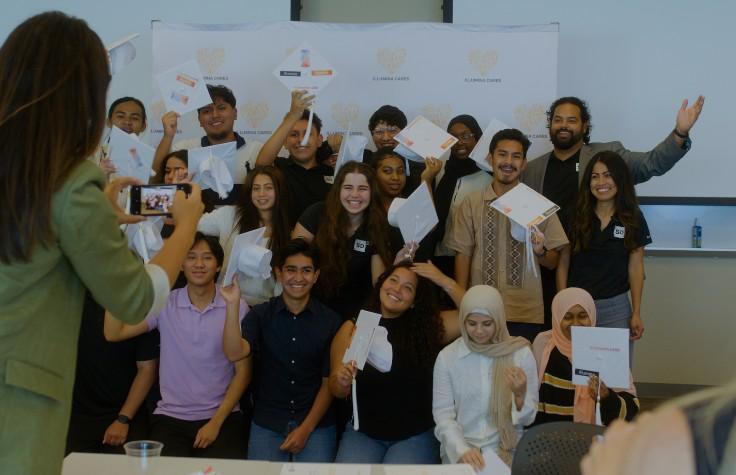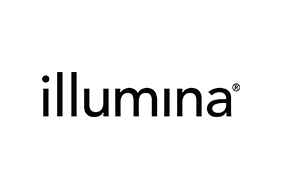 Illumina
Illumina
Illumina is improving human health by unlocking the power of the genome. Our focus on innovation has established us as the global leader in DNA sequencing and array-based technologies, serving customers in the research, clinical, and applied markets. Our products are used for applications in the life sciences, oncology, reproductive health, agriculture, and other emerging segments. 
More from Illumina