Published 09-18-23
Submitted by Mary Kay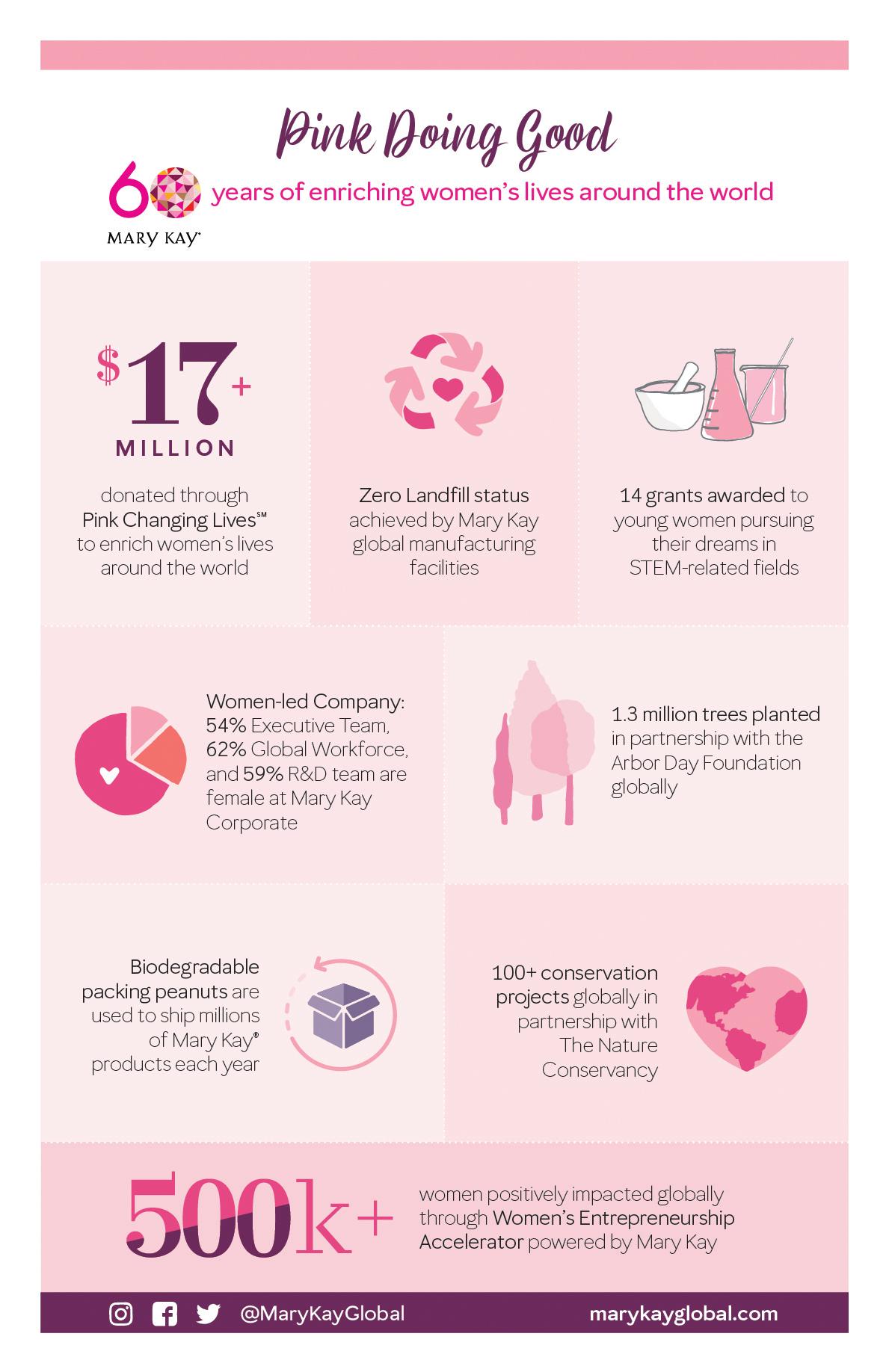 Mary Kay Ash once said, "There are three types of people in this world: those who make things happen, those who watch things happen, and those who wonder what happened. We all have a choice. You can decide which type of person you want to be. I have always chosen to be in the first group."
Mary Kay is celebrating its 60th anniversary. That's 60 years of making the world a better place for women and their families; 60 years of environmental restoration and beautification to preserve the world's most precious resources; 60 years of advocating, bringing awareness to, and supporting women-related cancers and ending domestic violence; and 60 years of giving from the heart to causes near and dear to our corporate mission and founder, Mary Kay Ash's heart around the world.
Since 1996*, Mary Kay and its company-sponsored foundations have given more than $200 million in charitable contributions to support organizations fighting cancers affecting women, domestic violence, gender inequality, education for women and girls, environmental protection and restoration, and so much more across the globe. When it comes to our philanthropic efforts, we are intentional. Our support of local, national, and global organizations help ensure we are making an impact where it matters most. Through thoughtful collaboration with key partners, we can maximize our reach, stretch opportunities and outcomes to their full potential, and support essential services and innovative solutions.
Throughout 2022, the iconic global entrepreneurship company furthered its innovations in skin science, continued its sustainability and social impact efforts, and garnered prestigious awards for its business and leadership. It's a thing of beauty and proof that some things really do get better with age. Here's to 60 years for women around the world.
To learn more about our most recent initiatives and philanthropic efforts, check out our 2022 Year-End Highlights.
*Comprehensive philanthropic tracking began in 1996 upon the establishment of the Mary Kay Ash FoundationSM. 

Mary Kay
Mary Kay
Then. Now. Always. One of the original glass ceiling breakers, Mary Kay Ash founded her dream beauty brand in Texas in 1963 with one goal: to enrich women's lives. That dream has blossomed into a global company with millions of independent sales force members in more than 35 countries. For 60 years, the Mary Kay opportunity has empowered women to define their own futures through education, mentorship, advocacy, and innovation. Mary Kay is dedicated to investing in the science behind beauty and manufacturing cutting-edge skincare, color cosmetics, nutritional supplements, and fragrances. Mary Kay believes in preserving our planet for future generations, protecting women impacted by cancer and domestic abuse, and encouraging youth to follow their dreams. Learn more at marykayglobal.com, find us on Facebook, Instagram, and LinkedIn, or follow us on Twitter.
More from Mary Kay