Published 09-15-23
Submitted by The Chemours Company
From the cell phone in your hand, to fostering education in Wood County, to the habitats we conserve—Chemours Washington Works plays an important role. We are committed to producing innovative products that enable industries critical to both local prosperity and global progress, making a difference in our community, and being an environmental leader and responsible manufacturer.
Moreover, the West Virginia facility is vital to the production of important modern technologies such as electric vehicles, sustainable hydrogen, and advanced electronics that are essential for the country's economic prosperity and national security.
The Chemours plant is the only one in the United States that manufactures PFA, a critical resin used in manufacturing the semiconductors that power our phones, computers, and other electronic systems. Without the PFA produced here at Washington Works, it would be impossible to secure a domestic supply chain for semiconductors, risking more shortages and disruptions. The fluoropolymer solutions we produce at Washington Works are also critical to increasing efficiency and durability in lithium-ion batteries, which power electric cars and other modes of transportation.
Innovating sustainable solutions starts with making them in a responsible manner—one that strives to keep our people and local communities beautiful, healthy, and safe for everyone. At Washington Works, we invest in processes and technologies that enable us to maximize efficiency and minimize our impact on the environment while preserving and investing in the beauty of the environment around us.
In 2022, the site's nature trail achieved Certified Gold status by the Wildlife Habitat Council (WHC)—the highest level of certification. The Washington Works integrated approach encompasses the creation and maintenance of a variety of wildlife habitats on the manufacturing site and land adjacent to the site. The program serves a wide variety of flora and fauna, 2.72 miles of networked nature trails, and learning programs geared to all ages. Across the organization, seven of our sites have received WHC certification—five gold, one silver, and one basic certification—and are engaged in 67 actively managed WHC projects.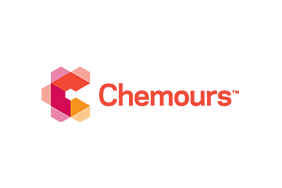 The Chemours Company
The Chemours Company
The Chemours Company (NYSE: CC) is a global leader in Titanium Technologies, Thermal & Specialized Solutions, and Advanced Performance Materials providing its customers
with solutions in a wide range of industries with market-defining products, application expertise and chemistry-based innovations. We deliver customized solutions with a wide range of industrial and specialty chemicals products for markets, including coatings, plastics, refrigeration and air conditioning, transportation, semiconductor and consumer electronics, general industrial, and oil and gas. Our flagship products are sold under prominent brands such as Ti-Pure™, Opteon™, Freon™, Teflon™, Viton™, Nafion™, and Krytox™. The company has approximately 6,600 employees and 29 manufacturing sites serving approximately 2,900 customers in approximately 120 countries. Chemours is headquartered in Wilmington, Delaware and is listed on the NYSE under the symbol CC.
More from The Chemours Company