Published 09-13-23
Submitted by The Consumer Goods Forum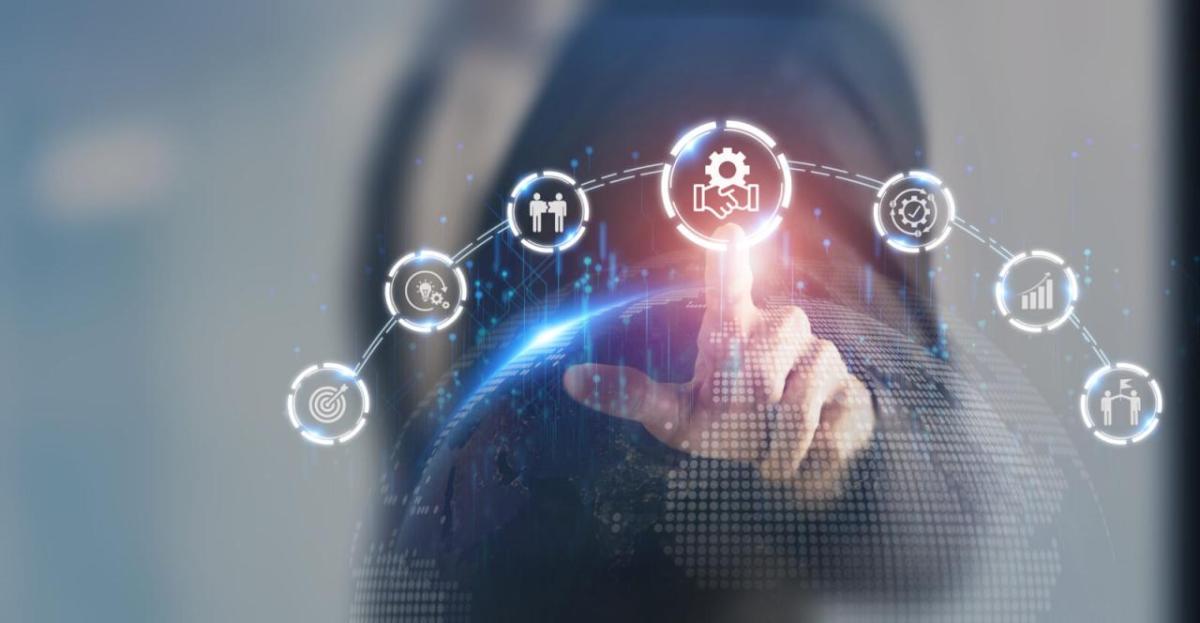 The number of Chief Sustainability Officers (CSOs) have tripled in the past two years. Many are relatively new and are tasked to lead the development of sustainability plans and interact with various departments across the enterprise. Recently, retailers have made more significant commitments to sustainability goals, aligned them to the UN Sustainable Development Goals and enlisted board and management support to finalize and socialize these plans. CSOs and their sustainability teams will soon realize that data must be a more prominent consideration in their plan. They'll need a more defined data strategy and governance approach, which may sit outside their skillset.
Sustainability Data and Governance
CSOs have the expertise in understanding the governmental regulations, environmental science, understanding stakeholder interests and developing plans and systems to lead organizational success in sustainability. CSOs must also build trust – trust that the plans are appropriate and that the various sustainability reports are accurate, which ultimately means trust in data.
Data is central to the sustainability plans in any organization. Retailers need to collect data from various sources, such as suppliers, store locations, warehouse sites and product data and bring it together as a single trustworthy source. They must use strong data governance practices continuously to ensure the data is accurate and up to date.
Closer Collaboration Between Technology, Business and Sustainability Roles
Fortunately, many companies have undergone some type of digital transformation in the past several years, which can help the adoption and use of new data. Understanding that data is a valuable resource, and that it's everyone's role to maximize the value of data and use it appropriately, is now part of many companies' data culture.
Data of all types are assets that need to be governed, enriched and maximized internally and shared with confidence with consumers. With the introduction of new sustainability plans, CSOs and their teams will be introducing novel processes and varieties of data to business teams. CSOs need to work with data and marketing teams to strategically tie sustainability goals to corporate, marketing and business goals. Furthermore, business data embedded into marketing and operational activities now needs to ensure sustainability information is integrated into existing processes and decision points.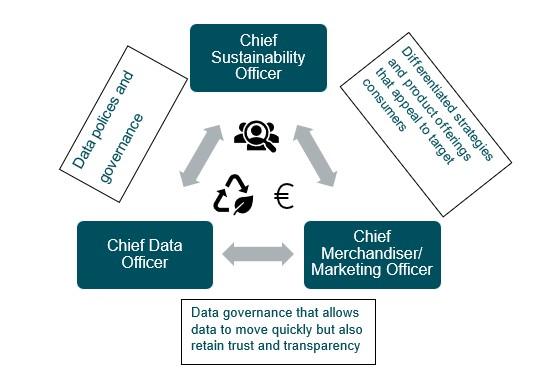 Chief Marketing Officer
Marketing and merchandising leaders and their teams have traditionally owned consumer messaging, product content and promotional communication. The commitments to sustainability have opened up new paradigms to marketing. Along with reaching consumers with the right product and encouraging new and repeat purchases, there is a rising need for sustainability messaging. Promotions are starting to involve sustainability, such as advertising high nutritional, environment-friendly products that claim fair-trading practices or other claims relevant to the category. The complexity of managing more voluminous data and a greater variety of data requires marketing teams to work more closely with the sustainability leaders in retail organizations.
Chief Data Officer
Along with CSOs, data leadership roles are growing in popularity at retailers. As data complexity rises and expectations of speed to market increase, data needs to flow to business teams in a governed way and feed business analytic applications. The CDO is the owner of the data and partners with the CIO to ensure the data framework is set up for the organization and flexible enough to bring in new data, such as sustainability data. Furthermore, the CDO must work with the Chief Sustainability Officer and CMO to build rules and workflow approvals to safeguard against greenwashing. Building a trustworthy and transparent data model inclusive of sustainability data ensures consistent ESG reporting over time.
Collaboration Strategies Among Key CSO Partners
While it may be easy for several retail leaders to align on the goals and agree that their teams will work together on a common goal, there is loads of work to do and processes to build to make it happen. Changing business activities and behaviors to reach the aggressive business and sustainability goals requires a technology platform where work activities can be visible, interdepartmental handoffs can be designed and tasks can be efficiently completed across teams.
Multidomain master data management is the platform where organizations can launch data projects to add sustainability attribution to products, provides additional environmental facts for store locations and other operational sites and add facts and documentation to provide evidence of the sustainable practices of the retail vendors.
Sustainability master data governed on the right platform not only reduces the gaps, limits miscommunication, reduces regulatory risk but also provides transparency for all these activities. A collaborative, data-driven approach gives greater confidence to organizations and CSOs to communicate progress on goals to all stakeholders and consumers.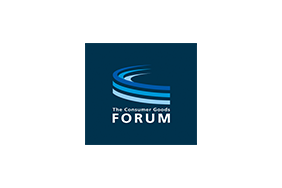 The Consumer Goods Forum
The Consumer Goods Forum
The Consumer Goods Forum ("CGF") is a global, parity-based industry network that is driven by its members to encourage the global adoption of practices and standards that serves the consumer goods industry worldwide. It brings together the CEOs and senior management of some 400 retailers, manufacturers, service providers, and other stakeholders across 70 countries, and it reflects the diversity of the industry in geography, size, product category and format. Its member companies have combined sales of EUR 3.5 trillion and directly employ nearly 10 million people, with a further 90 million related jobs estimated along the value chain. It is governed by its Board of Directors, which comprises more than 50 manufacturer and retailer CEOs. For more, please visit: www.theconsumergoodsforum.com.
Join our global community to stay abreast of the latest news on how the consumer goods industry is working together efficiently for positive change and building better lives through better business: Twitter, LinkedIn, YouTube.
Contact:
Lee Green
Director, Communications
+33 1 82 00 95 70
Louise Chester
Communications Officer
+33 1 82 00 95 91
More from The Consumer Goods Forum