Published 09-08-23
Submitted by Enbridge Inc.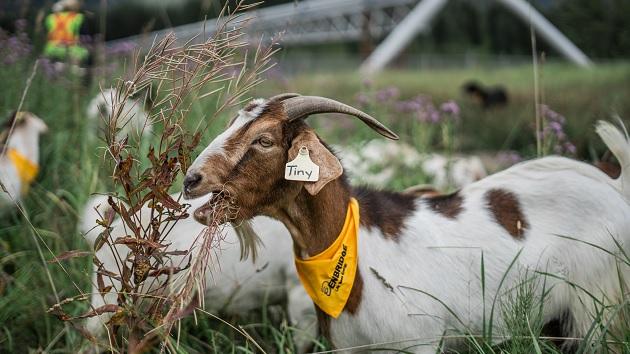 "Baaa-a-a-a-a-a! Baaa-a-a-a-a-a!"
The familiar sound of bleating goats roaming in northern British Columbia is nothing new. But these goats, donning yellow Enbridge bandanas on their necks, are anything but ordinary.
These 30 stylish herbivores are not trespassers on this parcel of land, located along Pine Pass, north of the community of MacLeod Lake, about 240 km north of Prince George. In fact, this herd is actually esteemed guests of Enbridge, encouraged to do what they do best—eat!
Enbridge, in partnership with Spectrum Resource Group, is proud to employ these goats for the first time on our natural gas pipeline system in BC, to ensure our rights-of-way are cleared of invasive plant species. Aptly called the Goat Grazing Project, these amazing creatures will munch away aggressive grasses and shrubs considered invasive plants.
Clearing invasive plants is a critical component of Enbridge's commitment to integrated vegetation management along the pipeline right of way. This land needs to have an herb-dominated ecosystem, meaning having only smaller plants like grasses and legumes grow in the area. shrubs and trees on the right of way reduce Enbridge's ability to access sites for maintenance on our pipeline infrastructure.
So why goats? Well, these incredible creatures have proven to be one of nature's best grazers, with an appetite for invasive species that rivals traditional methods of vegetation management, such as using chemical application and mechanical means like cutting.
"When these goats are penned in an area, they will overgraze these shrubs. When they are confined in a space, they will eat everything on a plant, and that disturbance is far more damaging," explains Dan Tisseur, Senior Environment Advisor for Operations and Maintenance with Enbridge's Canadian natural gas pipeline business.
"The best-case scenario is the goats eat everything. They eat the leaves, they eat the little branches, and they graze it right down to the ground."
The Goat Grazing Project is part of Enbridge's Integrated Vegetation Management Program, incorporating both traditional and biological methods through the use of herbivores. So while these goats happily fill their tummies, we're also doing our part to control invasive plants in an environmentally friendly way.
While the concept of goats on the job might raise a smile, Enbridge takes the Goat Grazing Project very seriously. To help gain deeper insights into managing invasive species effectively, we're conducting research in the locations where the goats are grazing. Picture this as a collaborative effort between Enbridge's expert team and our ravenous four-legged partners. While the goats feed their way down a pipeline corridor, Enbridge researchers and environmental specialists are diligently observing and recording the progress and efficacy of this approach.
"This is going to be a multi-year project to assess the efficacy over time. So we're actually going to bring these goats back to the same location to repeat these treatments to see if over time we're witnessing a reduction in the shrub biomass and invasive plants on site," Tisseur says.
The next time you see a goat gracefully grazing along Enbridge's pipeline right of way, know that it represents more than just a charming sight.
It's a symbol of our dedication to sustainable practices and a reminder that sometimes, the most effective solutions come from working hand-in-hoof with Mother Nature.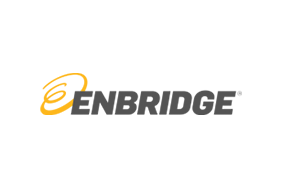 Enbridge Inc.
Enbridge Inc.
About Enbridge
At Enbridge, our name spells out our mission: a bridge to a sustainable energy future. That bridge safely connects millions of people around the world to the energy they rely on every day, fueling quality of life. Whether it's natural gas, oil or renewable power, the energy we deliver through networks spanning North America and our growing European offshore wind portfolio helps to heat homes, feed families, fuel vehicles and power industry. We're investing in modern energy infrastructure to sustain access to secure, affordable energy. We're also building on two decades of experience in renewable energy to advance new low-carbon energy technologies including hydrogen, renewable natural gas and carbon capture and storage. We're committed to reducing the carbon footprint of the energy we deliver, and to achieving net zero greenhouse gas emissions by 2050.
Headquartered in Calgary, Alberta, Enbridge's common shares trade under the symbol ENB on the Toronto (TSX) and New York (NYSE) stock exchanges. To learn more, visit us at Enbridge.com
More from Enbridge Inc.