Published 09-06-23
Submitted by IBAT Alliance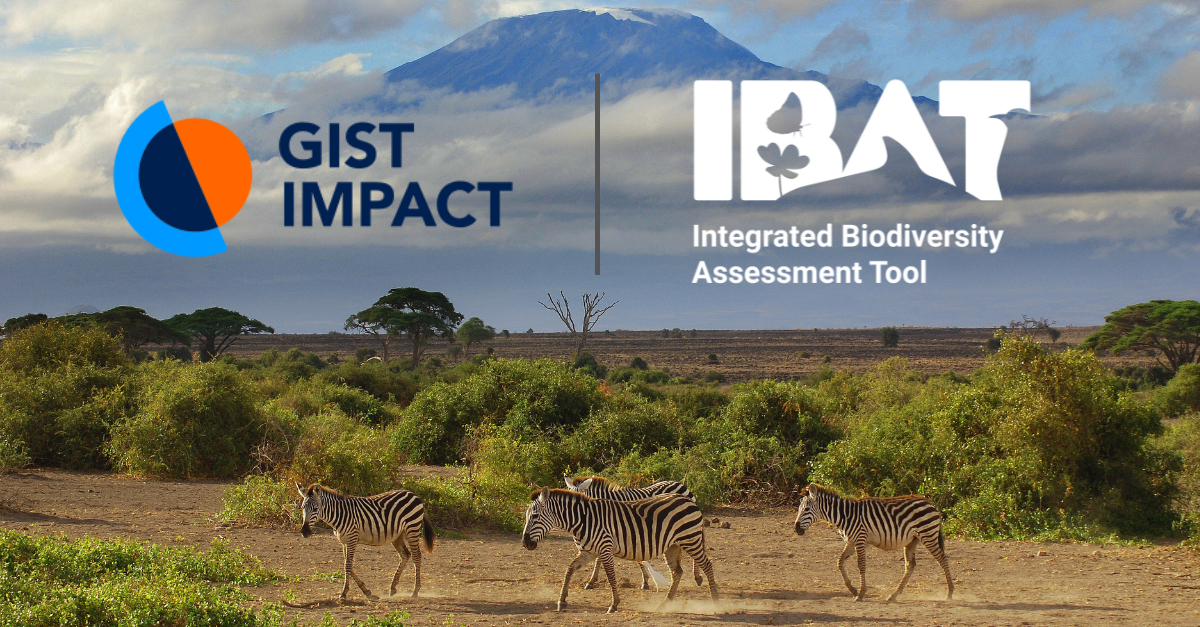 CAMBRIDGE, England, September 6, 2023 /CSRwire/ - GIST Impact, a leading impact data and analytics provider, has joined forces with the Integrated Biodiversity Assessment Tool (IBAT) Alliance to expand investor access to IBAT's world-leading biodiversity data.
The GIST Impact-IBAT partnership comes at a time of increasing investor interest in biodiversity-themed financial products, as well as growing biodiversity reporting requirements as part of new regulations and frameworks, such as the EU's Sustainable Finance Disclosure Regulation (SFDR), France's Article 29, and the Taskforce on Nature-related Financial Disclosures (TNFD).
The new integrated dataset, which combines IBAT's data on protected areas, Key Biodiversity Areas and threatened species, with GIST Impact's extensive asset-location database, will help investors better understand the proximity of corporate activities to protected areas and locations important for biodiversity, and identify those sites with the highest potential biodiversity-related impacts.
With this information, investors will be better equipped to identify and manage biodiversity-related risks and opportunities in their portfolios, as well as provide more comprehensive reporting on corporate and portfolio impacts in compliance with the recommendations of the TNFD, SFDR, Article 29 and the Partnership for Biodiversity Accounting Financials (PBAF).
Speaking on the GIST Impact-IBAT partnership, Pavan Sukhdev, CEO of GIST Impact, and former President of WWF International, said: "Nature loss is at the heart of many of our greatest problems today, from climate breakdown and water scarcity, to public health deficiencies and rural poverty. Knowing where biodiversity and ecosystems are still intact, and what we are losing and where, is essential to designing solutions, and that's where IBAT's extensive database is invaluable."
Ed Ellis, Business Manager of IBAT, emphasized the importance of this collaboration in advancing sustainable investment practices, commenting: "By combining IBAT's world-leading biodiversity data with GIST Impact's renowned expertise in impact economics and sustainability measurement, we enhance the accessibility and usability of critical biodiversity information for financial institutions. Our partnership with GIST Impact is critical to foster credible disclosure and encourage more responsible investments that contribute to preserving and restoring nature for generations to come."
Through GIST Impact's platform, investors will be able to access over 1 million asset location data points, including risk and proximity analysis data for over 3,000 listed companies globally covering 58 sectors, from financial services and IT, to utilities and mining. GIST Impact plans to further expand coverage in early 2024.
IBAT was developed and is maintained by the IBAT Alliance, consisting of BirdLife International, Conservation International (CI), International Union for Conservation of Nature (IUCN) and United Nations Environment Programme World Conservation Monitoring Centre (UNEP-WCMC). IBAT's data serves as the backbone for organisations whose decisions may affect critical biodiversity.
The partnership draws on GIST Impact's historic and deep expertise in the economics of ecosystems and biodiversity (TEEB), including over 15 years of experience in measuring and valuing corporate impacts on biodiversity and nature, and CEO Pavan Sukhdev's leadership of the seminal G8+5 commissioned TEEB report.
For more information about the collaboration between GIST Impact and IBAT, please visit www.gistimpact.com
About GIST Impact
GIST Impact is a leading impact data and analytics provider that has been measuring and quantifying corporate impacts for more than 15 years. GIST Impact's historic and deep expertise in the economics of ecosystems and biodiversity (TEEB) enriches its clients' knowledge of their impacts and dependencies on nature.
With a team of 100+ scientists, engineers, data scientists and ecological and environmental economists, GIST Impact codifies this experience within its market-leading impact platforms and datasets, covering 12,800+ companies with geographically precise, time-series data.
GIST Impact works with pioneering companies across all sectors and with investors representing over $8 trillion in assets under management. GIST Impact also partners with some of the world's largest ESG data providers, business networks, and fintech platforms to enable impact measurement across global markets.
For further information about GIST Impact, please visit:
www.gistimpact.com
For media inquiries, please contact:
Alexandra Downs alexandra@gistimpact.com
About IBAT
IBAT licenses commercial access to the most globally authoritative biodiversity data datasets and derived data layers including the IUCN Red List of Threatened Species™, the World Database on Protected Areas (WDPA) and the World Database of Key Biodiversity Areas (WDKBA).
The IBAT platform serves as an increasingly important interface between the private sector and biodiversity conservation, providing fast, easy, and integrated access to critical biodiversity information. By providing this access, IBAT aims to provide a robust scientific basis for risk and opportunity analysis and disclosure.
For more information about IBAT please visit:
https://www.ibat-alliance.org/
For any enquiries on IBAT please contact:

IBAT Alliance
IBAT Alliance
The world's most authoritative biodiversity data for your world-shaping decisions. The Integrated Biodiversity Assessment Tool (IBAT) is an online platform for biodiversity risk screening and data services, as well as the home of the Species Threat Abatement and Restoration Metric (STAR).
More from IBAT Alliance