Published 09-05-23
Submitted by Yum China
As the largest restaurant company in China, Yum China is committed to upholding 'People First' as one of the Company's core values and places a high priority on fulfilling the needs of the key stakeholders in the ecosystem. In this spirit, employing over 400,000 people across China, Yum China has a mission to cultivate a barrier-free, friendly, and inclusive workplace for everyone. As part of this commitment, in 2022 Yum China successfully met its target of allocating over 1.5% of its full-time positions to people with disabilities, supported by a number of programs designed to offer career opportunities and a platform for societal integration for all.
Celebrating its 10-year anniversary in 2022, Yum China's "Angel Restaurants" initiative is one of the company's most ambitions programs. It was launched with the primary goal of supporting employees with disabilities in mastering new professional skills. In 2022, Yum China furthered its commitment to this initiative by enhancing its "Angel Restaurant" facilities to better accommodate the unique needs of employees with disabilities. Restaurants were equipped with upgraded visual devices to facilitate communication, and customized visual learning materials were installed to optimize the work environment.
Over the past decade, Yum China has established 30 Angel Restaurants across 27 cities, providing employment support to over 2,000 individuals with disabilities.
To learn more about Yum China's ESG efforts, visit: http://www.yumchina.com/respIndex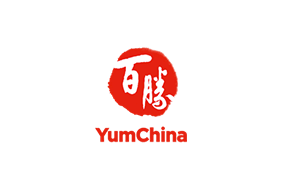 Yum China
Yum China
About Yum China Holdings, Inc.
Yum China Holdings, Inc. is a licensee of Yum! Brands in mainland China. It has exclusive rights in mainland China to KFC, China's leading quick-service restaurant brand, Pizza Hut, the leading casual dining restaurant brand in China, and Taco Bell, a California-based restaurant chain serving innovative Mexican-inspired food. Yum China also owns the Little Sheep, Huang Ji Huang, East Dawning and COFFii & JOY concepts outright. In addition, Yum China has partnered with Lavazza to explore and develop the Lavazza coffee shop concept in China. The Company had over 12,000 restaurants in over 1,700 cities at the end of February 2022.
In 2021, Yum China ranked # 363 on the Fortune 500 list and was named to TIME100 Most Influential Companies list. Yum China has also been selected as member of both Dow Jones Sustainability Indices (DJSI): World Index and Emerging Market Index. In 2022, the Company was named to the Bloomberg Gender-Equality Index and was certified as a Top Employer 2022 in China by the Top Employers Institute, both for the fourth consecutive year. For more information, please visit http://ir.yumchina.com.
More from Yum China