Published 09-01-23
Submitted by Yum! Brands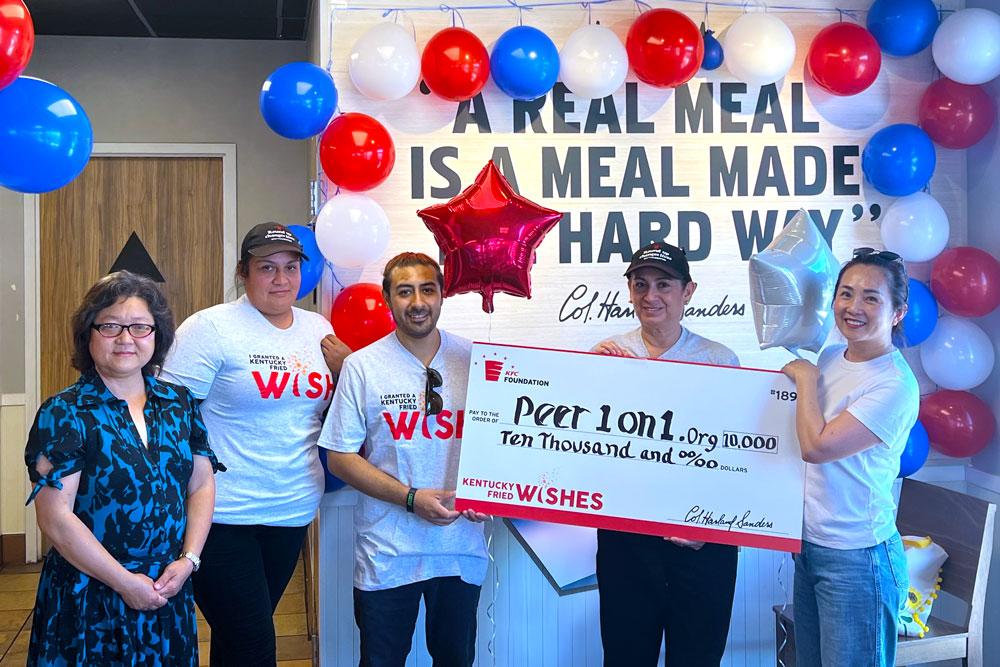 The KFC Foundation is awarding $1 million in grants to 100 community-based non-profit organizations to make a project on their wish list come true. The KFC Foundation's Kentucky Fried Wishes program supports communities by funding community development projects on the wish lists of non-profit organizations.
"We're so inspired by the work of these incredible non-profits and honored to help serve joy by positively impacting hundreds of communities across the country with this funding," said Emma Horn, Executive Director of the KFC Foundation. "With our Kentucky Fried Wishes program in its third year, we're proud to double last year's donation amount and help fund more community projects than ever before."
Since 2021, the KFC Foundation's Kentucky Fried Wishes program has invested over $1.6 million to support over 160 local non-profit organizations.
This year's grant recipients represent a mix of nominations by local KFC restaurant teams and non-profit self-nominations, spanning over 35 different states and supporting a variety of causes and communities, including: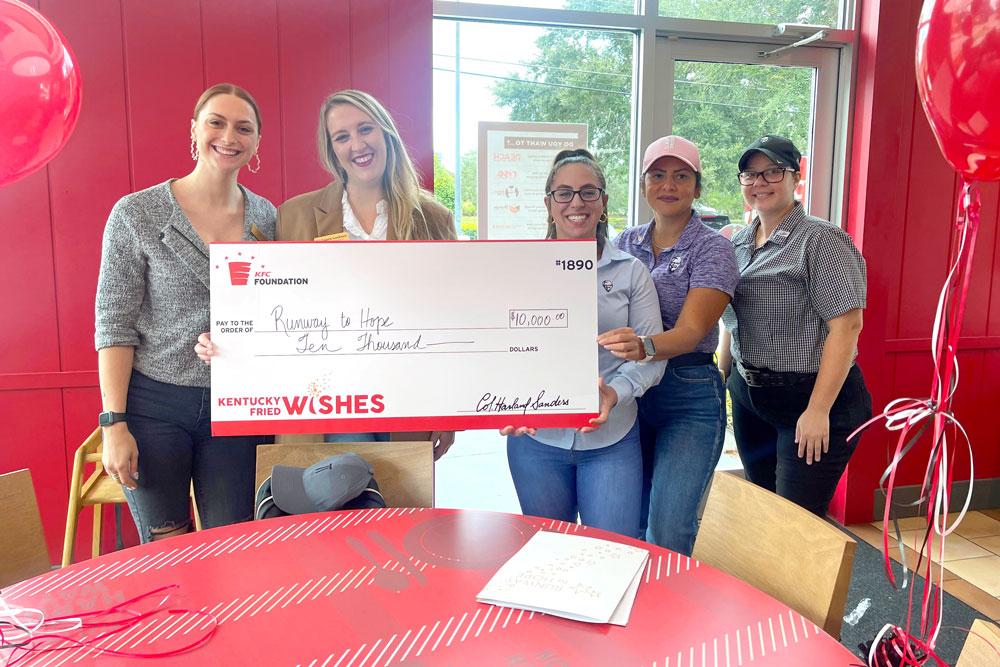 Kentucky Fried Wishes recipients are listed below by state.
Alabama 
Birmingham Education Foundation Birmingham
Alaska 
Catholic Social Services Anchorage 
Family Promise Mat-Su Wasilla
Arizona 
Angel Heart Pajama Project Tucson 
Arizona Autism United Phoenix 
Donkey Dreams Littlefield
California 
ABC Hopes Corona 
Life Learning Academy San Francisco 
LMWS, Inc. (dba: Pacific Lifeline) Upland 
Peer 1 on 1 Cypress 
Riverside Area Rape Crisis Center Riverside 
Special Needs Network, Inc. Los Angeles 
StreetCode Academy East Palo Alto
Colorado 
Housing Resources of Western Colorado Grand Junction 
StableStrides Elbert
Connecticut 
Connecticut Institute for the Blind d/b/a Oak Hill Hartford
Florida 
Arc Broward Plantation 
Friends of Manatee Lagoon West Palm Beach 
Grand Avenue Economic Community Development Corp Orlando 
New Life Mission Melbourne 
Resilient Retreat, Inc. Sarasota 
Runway to Hope Orlando 
Save Our Seabirds, Inc. Sarasota 
Seniors on a Mission, Inc. Jacksonville 
St Francis Society Tampa 
The Arc of Volusia County Daytona Beach 
The McKenzie Project, Inc. Miami 
The NASCAR Foundation Daytona Beach
Georgia 
Called to Care, Inc. Tifton 
Southwest Christian Care Union City Idaho 
Bingham Health Care Foundation Blackfoot 
RISE, Inc. Boise 
Sleep in Heavenly Peace Twin Falls
Idaho 
Bingham Health Care Foundation Blackfoot 
RISE, Inc. Boise 
Sleep in Heavenly Peace Twin Falls
Illinois 
United Way of Central Illinois Springfield
Indiana 
Genesis House Corydon 
Indiana Canine Assistant Network Inc. Zionsville 
Southeastern Church of Christ Indianapolis
Kentucky 
Hardin County Schools Elizabethtown 
Hazel Green Elementary School East Bernstadt 
Inspire 1 Louisville 
Louisville Ballet Louisville 
Miniature Buddies, Inc. Walton 
Pennyroyal Mental Health/Trace Industries Hopkinsville
Louisiana 
Lowlander Center Many
Maine 
Maine Discovery Museum Bangor
Massachusetts 
Boys and Girls Club of Greater New Bedford New Bedford
Michigan 
Flint STRIVE Flint 
Life Remodeled Detroit 
Pegasus Springs TRC National City 
SLD Read Grand Rapids 
Yad Ezra Berkley
Mississippi 
Mississippians Against Human Trafficking Jackson 
Stewpot Community Services, Inc. Jackson 
We Will Go Jackson
Montana 
Wild Souls Wildlife Rescue and Rehabilitation Blue Springs
Nevada 
CARE Chest Las Vegas
New York 
Adaptive Sports Foundation Windham 
Catholic Charities of Herkimer Domestic Violence Program of Herkimer County Ilion 
Girls Inc. of New York City New York 
Latina Sisters Support Commack 
Massena Fire Department Massena
North Carolina 
Anson County Partnership for Children Wadesboro 
Irene Wortham Center Asheville 
Simply Girls, Inc. Dunn 
Unbroken Spirit Arden
North Dakota 
Abused Adult Resource Center Bismarck
Ohio 
Family Violence Prevention Center Xenia 
Girl Scouts of North East Ohio Macedonia 
Lutheran Community Services Bellefontaine 
RTC Services Bellefontaine
Oregon 
Chintimini Wildlife Center Corvallis 
Circle of Friends Eugene 
Evans Creek Retreat Stayton
Pennsylvania 
Community Action Lehigh Valley Bethlehem 
Crime Victim Center of Erie County Inc. Erie 
Joyful Readers Philadelphia 
Pittsburgh Zoo Pittsburgh 
The Salvation Army Lock Haven 
WPSU – Penn State University Park
Rhode Island 
Jonnycake Center of Westerly Westerly
South Carolina 
Dickerson Children's Advocacy Center Lexington 
Dorchester Paws Summerville 
North Myrtle Beach Rescue North Myrtle Beach 
Project Cool Breeze Charleston 
The Children's Museum of the Upstate Greenville 
Walt's Waltz Greenville
South Dakota 
Children's Care Hospital & School dba LifeScape Sioux Falls
Tennessee 
Boys & Girls Clubs of the Tennessee Valley Knoxville 
KELCURT Foundation Soddy-Daisy 
Samaritan House Family Ministries of Carson-Newman Jefferson City
Texas 
Children's Museum of Brownsville Brownsville 
Mesita PTA El Paso
Utah 
The Christmas Box International Salt Lake City
Virginia 
Beyond Boundaries Richmond 
La Cocina VA DBA Kitchen of Purpose Arlington 
The Heart Leaf Center Fairfax
Vermont 
Bennington County Coalition for the Homeless Bennington
West Virginia 
Jeremiah Tree Foundation Ona 
Youth Services System, Inc. Wheeling
Wisconsin 
The Milwaukee LGBT Community Center Milwaukee
Operating independently from KFC Corporation and led by a board including KFC franchisees, the KFC Foundation receives its financial support from the Franchise Donation Program, in which a portion of every case of Secret Recipe Fries sold at participating restaurants goes directly to the KFC Foundation.
KFC team members also help raise money for the KFC Foundation by inviting customers to Round Up their orders during designated Round Up windows. KFC customers can participate in this year's Round Up fundraising program at participating restaurants from Sept. 10 – Nov. 12, to help contribute to next year's Kentucky Fried Wishes non-profit grant recipients.
Kentucky Fried Wishes is just one way the KFC Foundation supports, empowers and serves joy to KFC restaurant employees and communities. The KFC Foundation also provides programs focused on education accessibility and financial assistance for KFC restaurant employees.
About the KFC Foundation
The KFC Foundation, an independent 501c3 organization, has provided over $31 million to support, empower and serve joy to more than 9,300 students, KFC restaurant employees and non-profits. The KFC Foundation's charitable programs include GED achievement, college scholarships, tuition coverage, community giving, savings matching and financial hardship assistance, all made possible by Round Up donations, purchases of KFC's Secret Recipe Fries and other donations. For more information, visit kfcfoundation.org.
*References to "KFC" "KFC Family" "we" and "our" refer to KFC's corporately owned restaurants and independently owned and operated franchises. Franchisees are the exclusive employer of their employees and as such are solely responsible for all employment related matters, including wage setting and benefits, in their restaurants.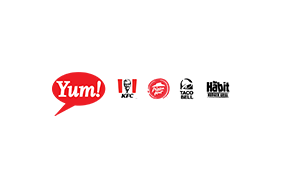 Yum! Brands
Yum! Brands
Yum! Brands, Inc., based in Louisville, Kentucky, has over 54,000 restaurants in more than 155 countries and territories, operating the Company's brands – KFC, Pizza Hut and Taco Bell – global leaders of the chicken, pizza and Mexican-style food categories. The Company's family of brands also includes The Habit Burger Grill, a fast-casual restaurant concept specializing in made-to-order chargrilled burgers, sandwiches and more. Yum! Brands was named to the 2021 Dow Jones Sustainability Index North America and was ranked on Newsweek's list of 2021 America's Most Responsible Companies. In 2022, Yum! Brands was named to 3BL Media's 100 Best Corporate Citizens.
More from Yum! Brands