Published 08-30-23
Submitted by Viatris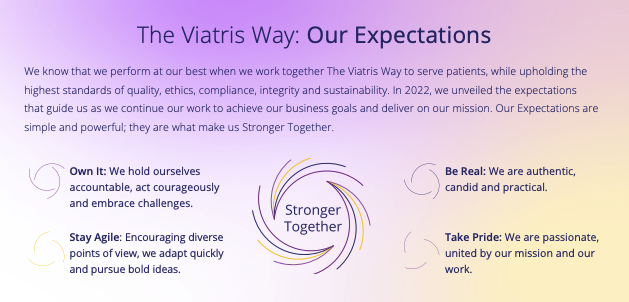 Viatris colleagues are passionate about our mission to empower people worldwide to live healthier at every stage of life. Together, we are building a performance driven, highly engaging and inclusive culture where diverse perspectives drive access, innovation and our ability to make an impact in the world. Our colleagues are leading our mission and we continue to build our culture The Viatris Way with a focus on DEI; colleague experience and engagement; learning and development; career progression; talent attraction and our deep commitment to the health, safety and wellbeing of our colleagues, their families and the communities we serve. In 2022, we continued to strengthen our culture through many initiatives to support and engage colleagues. As a young company, we remain committed to building upon our foundations, harmonizing our processes and programs and initiating many firsts for Viatris. This included conducting our first global employee Voice Survey, defining Our Expectations for how we work together The Viatris Way, growing our initial Employee Resource Groups (ERGs) and supporting our talented colleagues through many new experiences.
"We are incredibly proud of the progress we have made as a company. Our Expectations empower growth individually and advance our mission, collectively. They guide us as we continue our work in support of our mission making us Stronger Together."

— Andrew Enrietti
Chief Human Relations Officer, Viatris
Colleague Engagement 
A key part of what we call The Viatris Way is making sure our colleagues are engaged and motivated. We want to foster a culture in which employees feel valued and are enthusiastic about the work they are doing and the impact they are making. In 2022, we conducted our first-ever global Viatris Voice Survey with an overall participation rate of 89%. The baseline survey marked a milestone in our commitment to engage with colleagues, who rated Viatris highly across all categories surveyed: overall engagement; DEI; health and wellbeing; and transformation and change. The insights from our inaugural Voice Survey are guiding our efforts as we continually strive to create a work environment where people can learn, grow, feel appreciated and make an impact in the world.
Global Voice Survey
Colleagues rated Viatris 8.7 out of 10 for having clear goals and understanding how their work contributes to the goals of their teams.
In our global Voice Survey, colleagues rated Viatris in the top 25% of the pharmaceutical sector for both employee satisfaction and meaningful work.
A dedicated Voice Action Committee provides oversight of a global action plan for areas of focus to drive accountability, synchronize planning across the organization, encourage the exchange of best practices and plan for future listening opportunities.
Engagement - Top 25% of pharmaceutical sector
Diversity, Equity & Inclusion - Top 50% of pharmaceutical sector
Health & Wellbeing - Top 25% of pharmaceutical sector
Transformation & Change - Top 25% of employers
We value our colleagues' feedback and know that it can shape our company and provide valuable insights during times of change. With colleagues across the organization identifying various strengths and opportunities for improvement, the important work ahead will be for leaders to take that valuable feedback into consideration as we continue to evolve.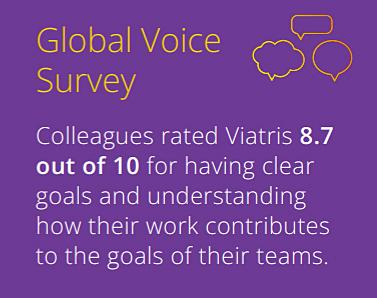 Supporting Colleagues as we Continue to Build for the Future 
We set out in 2022 to build a simpler, stronger and more focused Viatris. That work involved our transaction with Biocon and the announcements to divest our OTC business, the API business, select components of the women's health business and certain geographic markets.1 Supporting employees through these changes as well as maintaining a reliable supply of medicines are our highest priorities. The transaction with Biocon closed in November 2022, and we continue to work with colleagues and our partners at Biocon toward a smooth transition. We are working to support the sharing of best practices and the transition and integration of people and talent in accordance with local consultation processes where applicable. We also are in the process of identifying the right partners for our planned divestitures. We remain committed to ensuring all colleagues who may be affected by these transactions are engaged, supported and receive timely communication. We are also working with trade unions and works councils where applicable.

Sources

1Certain geographic markets refers to those that were a part of the combination with the Upjohn business that are smaller in nature and in which we had no established infrastructure prior to or following the transaction.
View the full 2022 Sustainability Report here.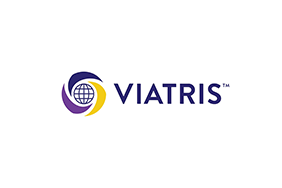 Viatris
Viatris
Viatris Inc. (NASDAQ: VTRS) is a global healthcare company empowering people worldwide to live healthier at every stage of life. We provide access to medicines, advance sustainable operations, develop innovative solutions and leverage our collective expertise to connect more people to more products and services through our one-of-a-kind Global Healthcare Gateway®. Formed in November 2020, Viatris brings together scientific, manufacturing and distribution expertise with proven regulatory, medical, and commercial capabilities to deliver high-quality medicines to patients in more than 165 countries and territories. Viatris' portfolio comprises more than 1,400 approved molecules across a wide range of therapeutic areas, spanning both non-communicable and infectious diseases, including globally recognized brands, complex generic and branded medicines, and a variety of over-the-counter consumer products. With more than 38,000 colleagues globally, Viatris is headquartered in the U.S., with global centers in Pittsburgh, Shanghai and Hyderabad, India. Learn more at viatris.com and investor.viatris.com, and connect with us on Twitter at @ViatrisInc, LinkedIn, Instagram and YouTube.
More from Viatris