Published 08-25-23
Submitted by The Home Depot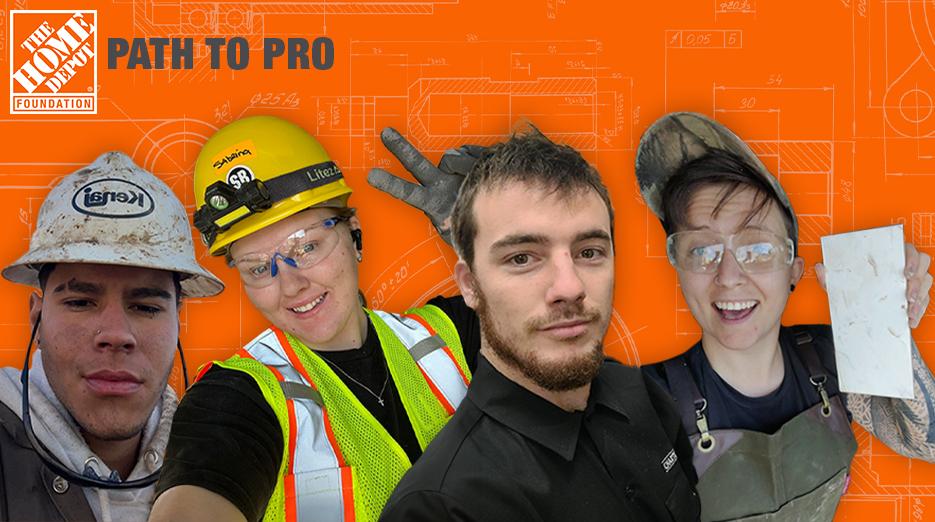 Originally published on Built From Scratch
Just as the remaining summer days are winding down, a new season of learning arrives. In partnership with SkillPointe Foundation, The Home Depot's Path to Pro program is redefining the back-to-school experience, equipping students with the essential tools required to navigate their journey. 

Scholars are sharing their perspective on why they're choosing a career in the skilled trades.
Lazaro Samano always dreamt of pursuing a career in construction. He wants to help build homes and work on challenging commercial construction sites and loves seeing the progression of these large-scale projects. After graduation, he'll pursue a job as a project coordinator, project estimator or construction management assistant.
"The scholarship and education will help tremendously by encouraging me to keep pushing through being a full-time dad while being employed full-time and in school."

– LAZARO SAMANO

LOCATION: BAKERSFIELD, CA 
FIELD OF STUDY: CONSTRUCTION MANAGEMENT 
ANTICIPATED PROGRAM END: NOV. 2024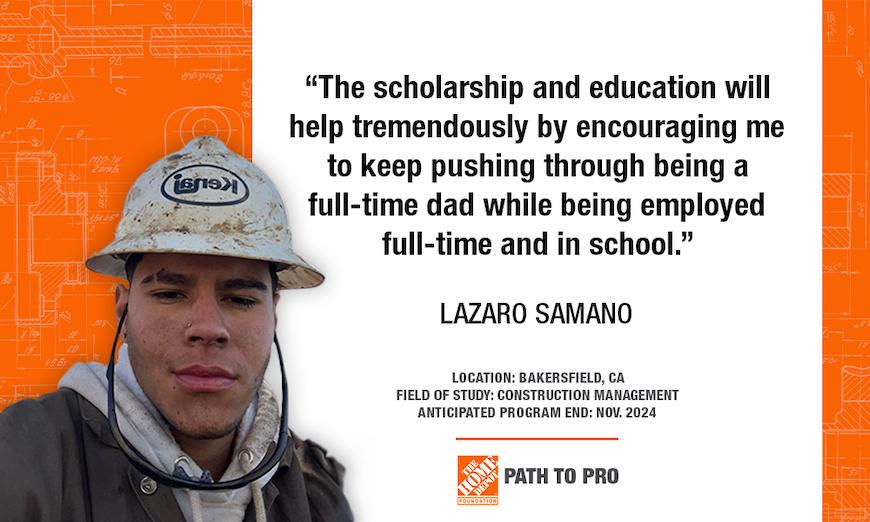 Sabrina grew up with a love for math and figuring out how things work. She studied Civil Engineering in college and decided to pursue Construction Management after speaking with a student advisor. As a woman in the skilled trades industry with ADHD, she knows the road ahead may be difficult, but she refuses to let that hold her back.
"Being a woman in construction requires determination, dedication, and resilience. I want to be a voice for the women within the industry, a voice for the young adults with learning disabilities, and a voice for apprentices that don't get the opportunities they deserve."

– SABRINA KRAUSE

LOCATION: PLYMOUTH, MINNESOTA 
FIELD OF STUDY: CONSTRUCTION MANAGEMENT 
ANTICIPATED PROGRAM END: MAY 2024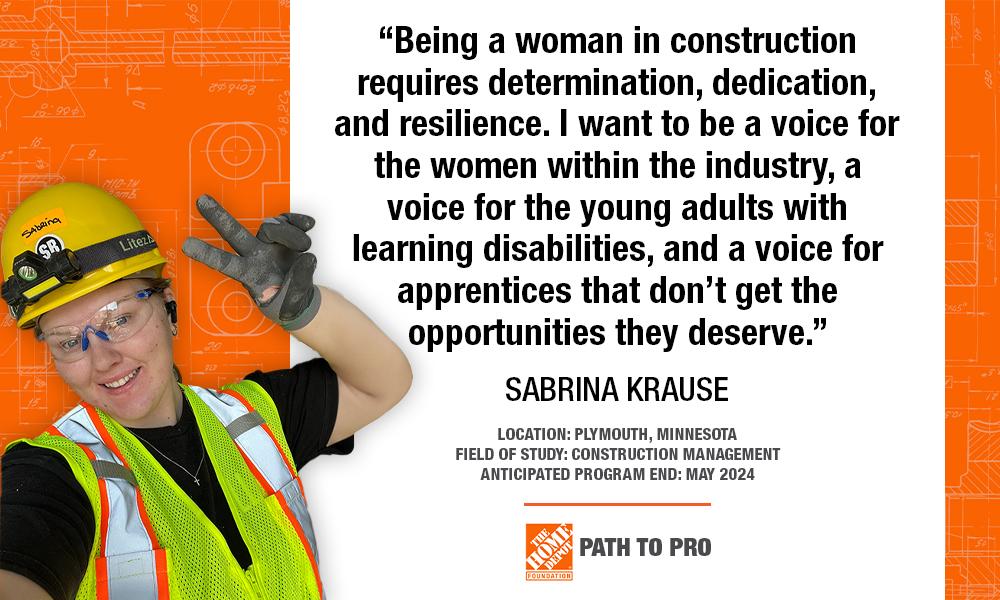 Aaron has worked in various trades over the years, including insulation installation and vessel engineering in Alaska. He is now studying HVAC while taking care of his fianceé and their four children. After graduation, Aaron wants to become a commercial or residential service technician.
"I enjoy working with my hands and diagnosing / repairing machines. It's what I've always done and always will do."

– AARON KIRBY

LOCATION: PASCO, WASHINGTON 
FIELD OF STUDY: HVAC 
ANTICIPATED PROGRAM END: OCT. 2023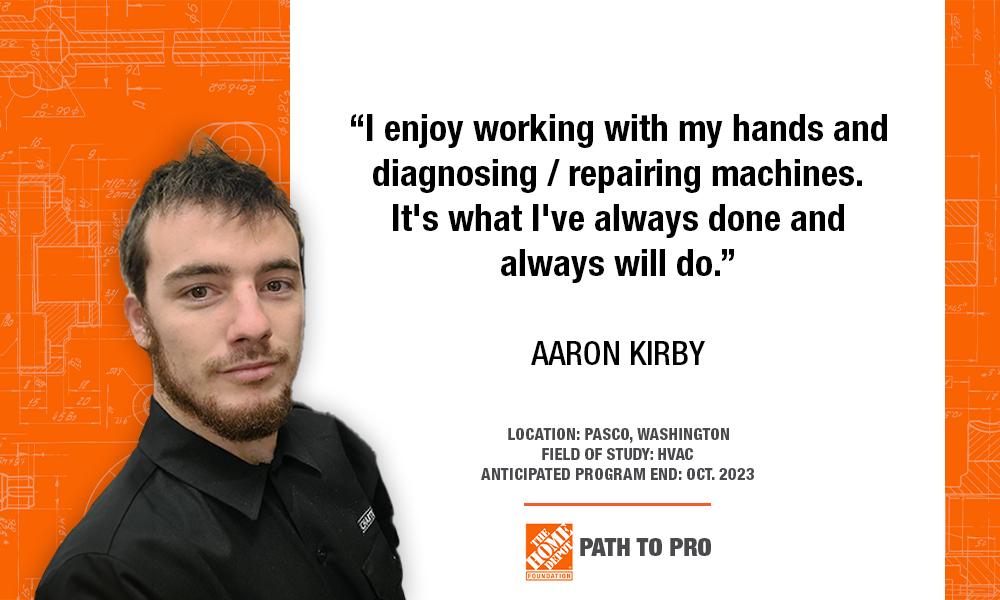 Meredith says her childhood was "filled with Legos and Lincoln logs." In grade school, she helped build technical theater sets and started helping with disaster response teams as an adult: "I have had a lifelong interest in building things hands-on." Now, she's studying woodworking and wants to start her own home renovation after graduation.
"I have a passion for sustainable housing and reusing resources as much as possible, and hope to bring that passion into my business, finding ways to repurpose materials from one project to another."

– MEREDITH METZ

LOCATION: ASHEVILLE, NC 
FIELD OF STUDY: CARPENTRY / WOODWORKING 
ANTICIPATED PROGRAM END: JUNE 2025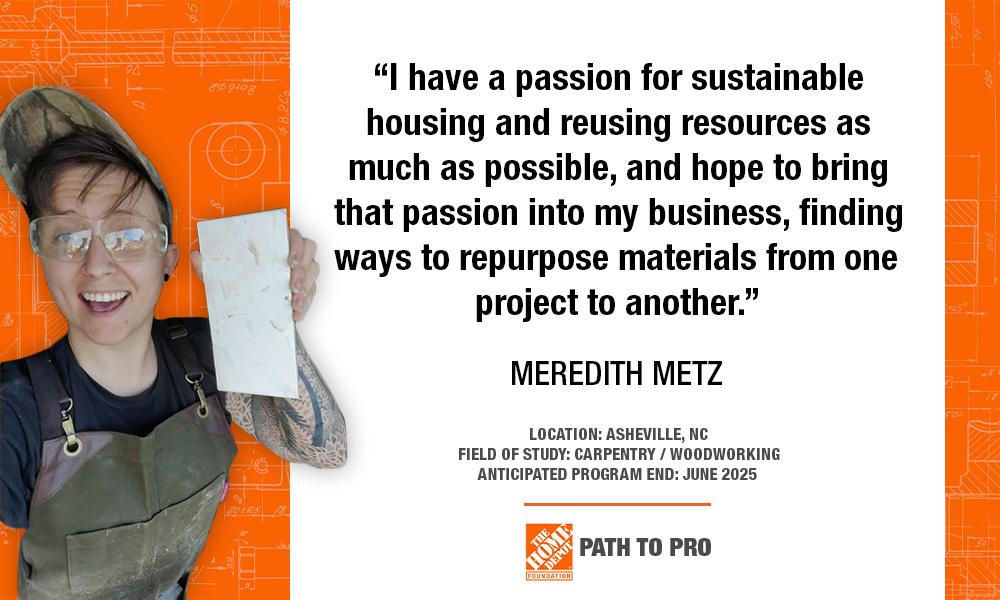 To learn more about The Home Depot Foundation's commitment to trades training visit our website or check out the 2023 ESG Report.
Keep up with all the latest Home Depot news! Subscribe to our bi-weekly news update and get the top Built from Scratch stories delivered straight to your inbox.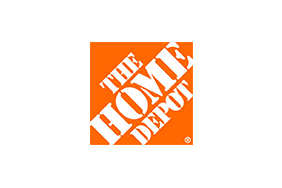 The Home Depot
The Home Depot
About The Home Depot
We are the world's largest home improvement specialty retailer with stores in all 50 states, the District of Columbia, Puerto Rico, U.S. Virgin Islands, 10 Canadian provinces, and Mexico.
More from The Home Depot