Published 08-25-23
Submitted by Walgreens Boots Alliance

Originally published by Walgreens Boots Alliance
In August of 2017, my whole life changed. I was hit by a car while walking in a crosswalk in Tel Aviv, Israel. For several days after, I was in the ICU at a local hospital, unconscious and suffering from internal bleeding; a broken pelvis, wrist and leg, and a knee LCL and ACL tear.
When waking me for the first time, the doctors realized something was wrong. I had suffered a stroke while unconscious. I ended up staying in the hospital for six weeks until I was cleared to fly back to the U.S. to continue my recovery. I moved to two hospitals before going to Shirley Ryan AbilityLab (SRA) in Chicago. SRA is where I learned to speak, write, use my left hand and walk again.
I deal with ongoing effects from the accident. I have nerve damage in my right leg that causes shooting pain and some loss of feeling. It has caused a permanent limp and I can't run. Climbing stairs is slow and hard, and I have occasional pelvis pain. I also have "left neglect," which refers to a deficit in awareness that occurs following an injury to the brain's right side. Because of the injury, my brain has difficulty with some left hemisphere functions like speech and comprehension. When I'm tired or stressed out, my words can get jumbled and it can be hard for me to communicate effectively.
Despite this, the greatest lesson I've taken from my accident is to be open and share. I was a very private person before, but now I've learned that sharing our stories can help others and bring us closer together. I've also learned to ask for help and tell people what you need.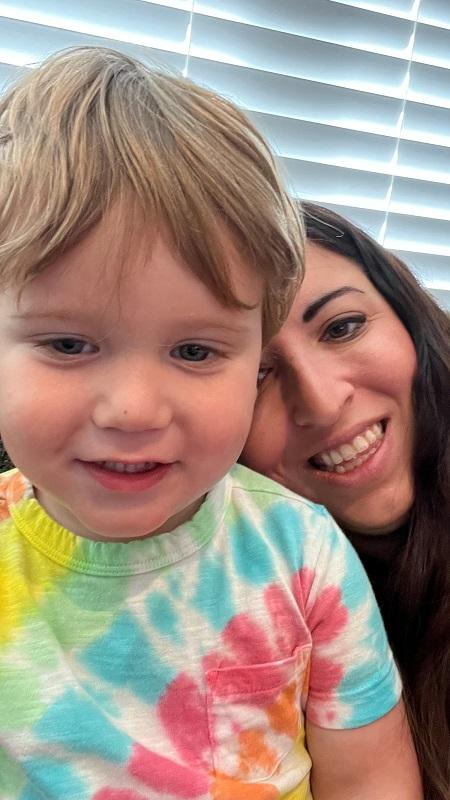 I have been with Walgreens for 16 years and am an art director on the pharmacy concept team in Marketing. I primarily focus on design for all things immunizations, but also work on Medicare, pharmacy services, VillageMD and U.S. Healthcare. I have been so lucky to work with some fantastic people in my career. When I was recovering from my accident, they sent videos and care packages, and were amazing support in my recovery. They were understanding and provided coverage while I underwent therapy at SRA until I could ramp up from part-time to full-time work again.
In a typical day, I wake up to the sounds of my 2-and-a-half-year-old son, Dylan, singing "Old McDonald" or "Wheels on the Bus" over the baby monitor. My husband and I get him off to daycare, I brew a Nespresso and settle in to my desk for a day of remote work, which I do most of the time.
I design store signage, flyers, digital ads, social posts and more. If you've seen any flu shot or COVID-19 vaccines artwork in the last few years, there's a good chance I designed it! The larger creative team at Walgreens is the best. Everyone is so smart, and I love how we work together to get everything done.
I am the communications lead for both Women of WBA and disAbility Alliance business resource groups (BRGs). BRGs are an invaluable resource here at Walgreens and make it possible to find close communities at a large company. The connections and friendships I've made through these groups are invaluable. The most impactful events I've helped plan are when team members get the chance to share their stories surrounding their personal conditions that inevitably affect their work lives; for example, fertility issues. I feel empowered that I'm helping to amplify people's stories and foster connections. Our diversity and differences strengthen the culture at WBA.
I'm also on the steering committee for the American Heart Association Heart Walk and I'm very passionate about raising money for research, especially as a stroke survivor.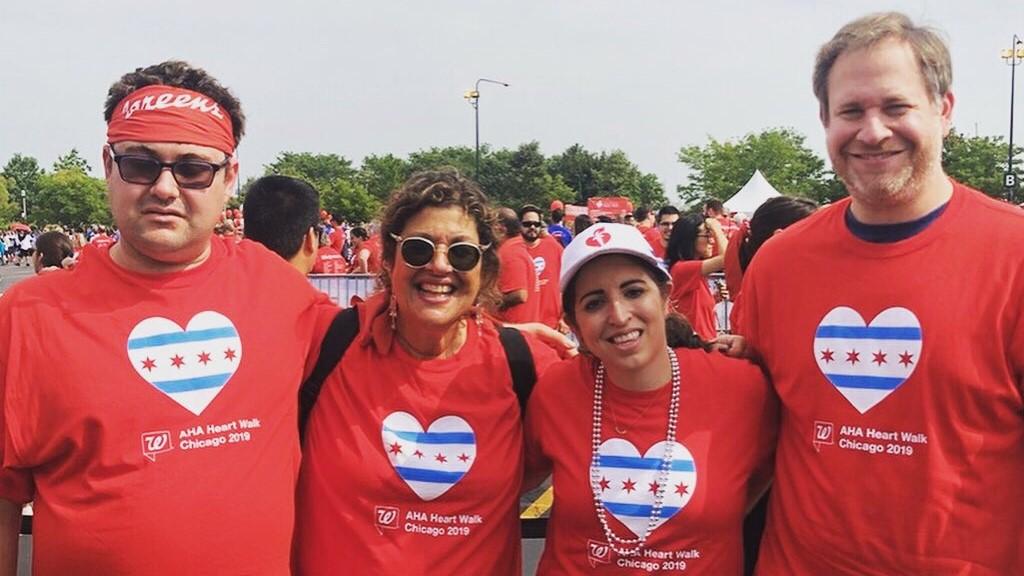 I live in the suburbs of Chicago, so if it's a nice day I'll try to sit outside on my patio. That said, sitting or standing for too long hurts my leg and pelvis, so I try to keep moving or go for a walk, or do a Peloton ride or Pilates class over my lunch hour. I also do acupuncture every other week to help with nerve pain. After my accident, we moved into a ranch house so I don't have to deal with stairs. It's very nice having the flexibility and support from my manager to work from home most days, so I don't have to deal with commuting, especially on what I call "bad leg days," when the pain is difficult to manage. I do love connecting in person for strategic sessions with the broader business and design team, but am grateful the majority of my work can be done remotely.
I try to wrap up any work by 5 p.m. so I can spend quality time with my son and husband. My son is my miracle; after my accident I didn't know if I could get pregnant or have a child. I'm so grateful for him every day.
When our son goes to bed around 8 p.m., my husband and I will either watch something together (we're huge sports and prestige TV fans) or we will go our separate ways (I can only take so much baseball, and he can't take my reality TV habit!).
I'm grateful that my role at Walgreens allows me to be creative and come up with new ideas. I was an art major in college, and design and aesthetics are my passions. I love that I get to "make pictures for a living," while helping our customers and patients get the valuable health information they need.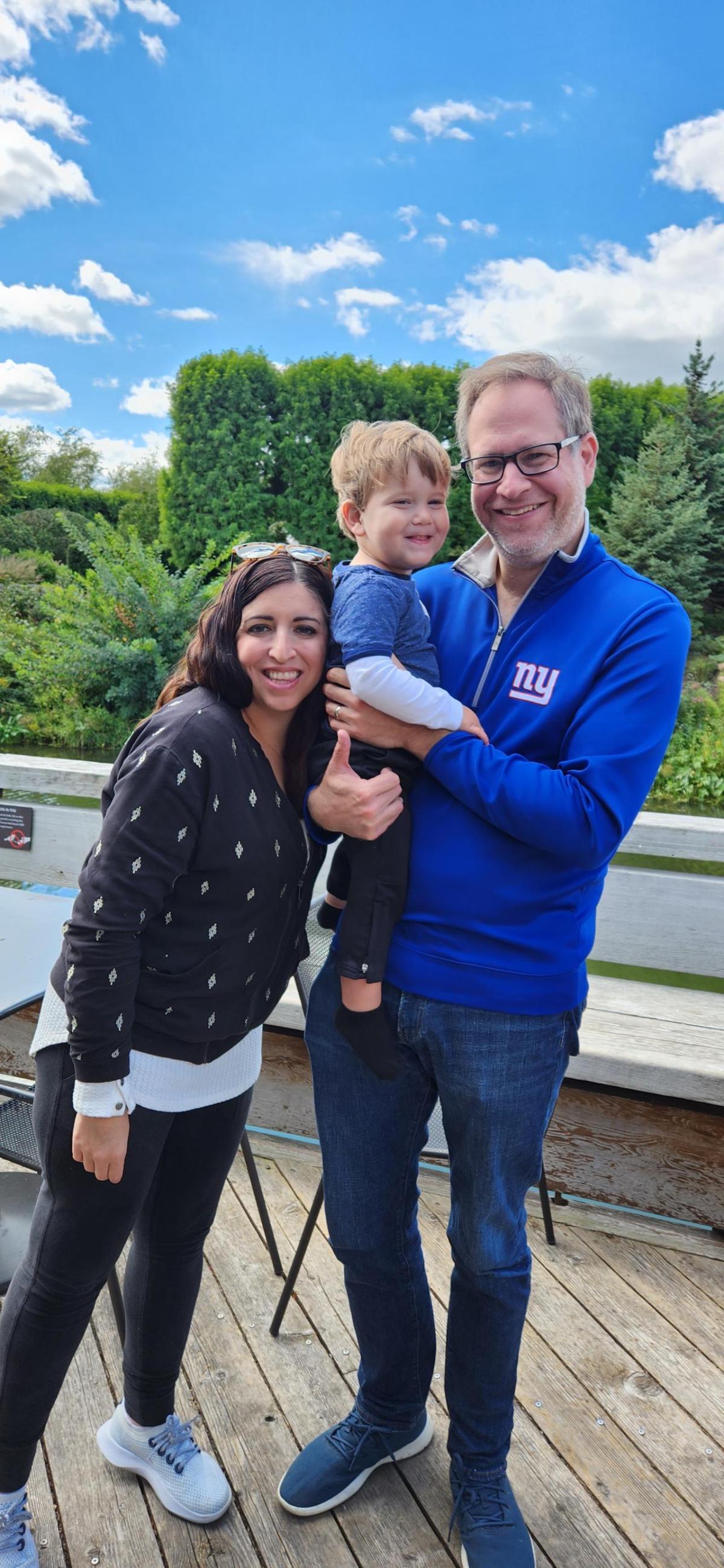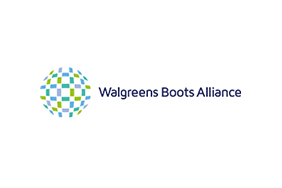 Walgreens Boots Alliance
Walgreens Boots Alliance
Walgreens Boots Alliance (Nasdaq: WBA) is an integrated healthcare, pharmacy and retail leader serving millions of customers and patients every day, with a 170-year heritage of caring for communities.
A trusted, global innovator in retail pharmacy with approximately 13,000 locations across the U.S., Europe and Latin America, WBA plays a critical role in the healthcare ecosystem. The company is reimagining local healthcare and well-being for all as part of its purpose – to create more joyful lives through better health. Through dispensing medicines, improving access to a wide range of health services, providing high quality health and beauty products and offering anytime, anywhere convenience across its digital platforms, WBA is shaping the future of healthcare.
WBA employs more than 325,000 people and has a presence in nine countries through its portfolio of consumer brands: Walgreens, Boots, Duane Reade, the No7 Beauty Company, Benavides in Mexico and Ahumada in Chile. Additionally, WBA has a portfolio of healthcare-focused investments located in several countries, including China and the U.S.
The company is proud of its contributions to healthy communities, a healthy planet, an inclusive workplace and a sustainable marketplace. WBA has been recognized for its commitment to operating sustainably: the company is an index component of the Dow Jones Sustainability Indices (DJSI) and was named to the 100 Best Corporate Citizens 2022.
More from Walgreens Boots Alliance