Published 08-25-23
Submitted by PotlatchDeltic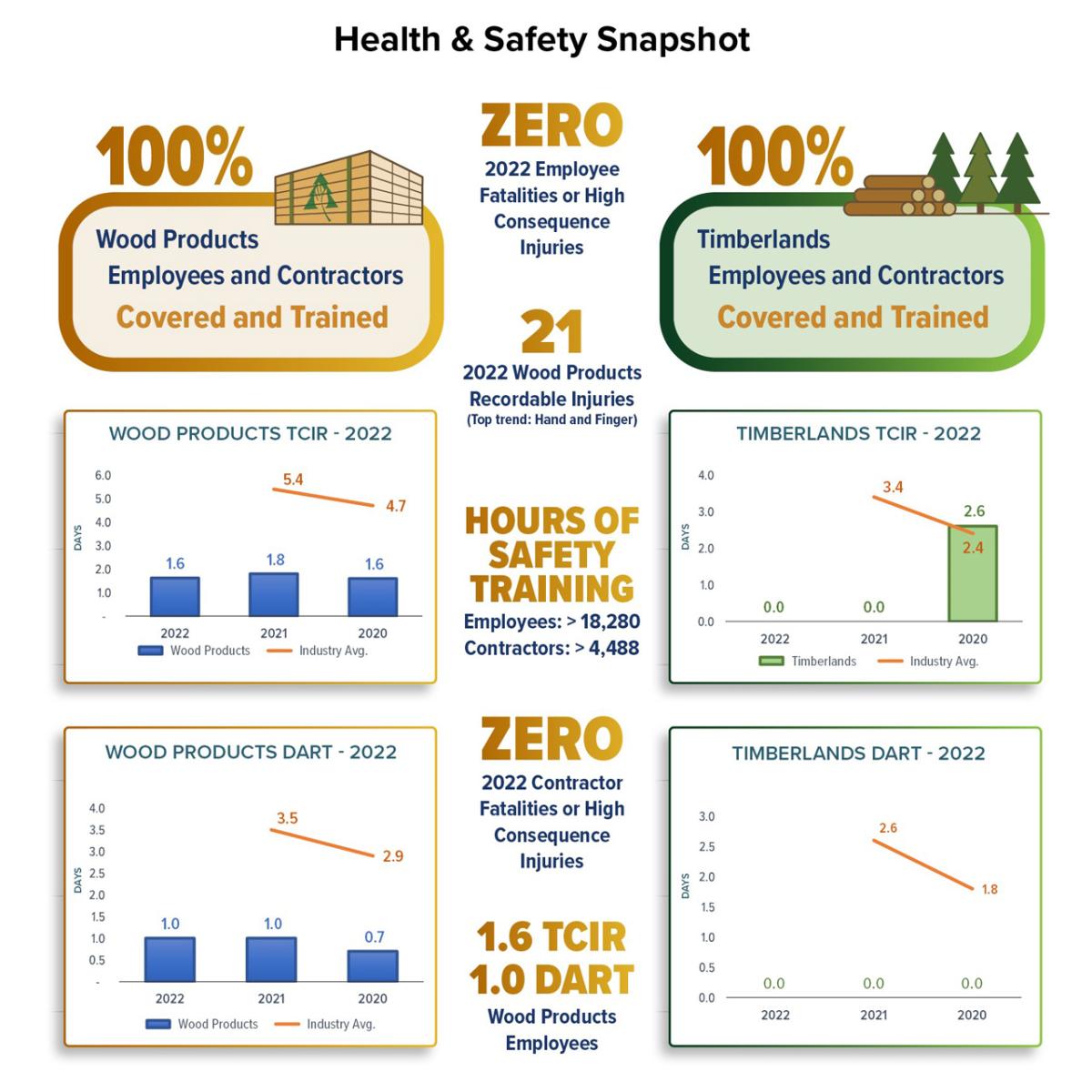 Safety is a core value at PotlatchDeltic. Our team members are our greatest asset, and we focus on their health and safety without compromise. Keeping team members and on-site contractors safe is critical to our success.
Our health and safety commitment is implemented through our Corporate Conduct and Ethics Code, Environmental Health & Safety Policy, Supplier Code of Conduct, and the systems, procedures, and best practices established for our businesses and locations. Our procedures and systems meet or exceed the requirements of the Occupational Safety and Health Administration (OSHA) and incorporate best practices with a focus on continuous improvement. We strive to continually improve our safety performance, with a goal of zero OSHA recordable injuries at all operations.
Each wood products facility has well-established, site-specific health and safety systems, procedures, and practices to drive full implementation of OSHA and other health and safety requirements and a culture of best practices and exceptional care for people. The safety climate is supported by several division-wide procedures and approaches, which are augmented each year through a focus on continuous improvement. Annual internal and periodic external audits are also used to identify and improve processes. Each facility has an established emergency response plan.
Our timberlands and rural real estate operations use a comprehensive health and safety management system to meet or exceed OSHA requirements, any state requirements, and industry best practices. Each location has emergency response plans for fire, weather, and other emergencies and has annual drills to prepare for these emergencies.
"Creating a safe work environment is not just a job; it's a commitment to the well-being of our Team Members. Every safety measure we take is an investment in their future and the future success of our Company."

Stanza Donald 
Manager, Wood Products Divisional Safety, 
PotlatchDeltic
This release contains certain forward-looking statements within the meaning of the federal securities laws. Words such as "commitment," "continually," "continuous," "goal," "strive," and similar expressions and references to achievement of objectives in the future are intended to identify such forward-looking statements. These statements reflect management's views of future events based on estimates and assumptions and are therefore subject to known and unknown risks, uncertainties, and other factors, and are not guarantees of future conduct, results, or policies. Please view the Cautionary Statement Regarding Forward-Looking Information on page 134 of PotlatchDeltic's 2022 ESG Report.

PotlatchDeltic
PotlatchDeltic
PotlatchDeltic (Nasdaq: PCH) is a leading Real Estate Investment Trust (REIT) that owns nearly 2.2 million acres of timberlands in Alabama, Arkansas, Georgia, Idaho, Louisiana, Mississippi, and South Carolina. Through its taxable REIT subsidiary, the company also operates six sawmills, an industrial-grade plywood mill, a residential and commercial real estate development business and a rural timberland sales program. PotlatchDeltic, a leader in sustainable forest management, is committed to environmental and social responsibility and to responsible governance. More information can be found at www.potlatchdeltic.com.
More from PotlatchDeltic