Published 08-24-23
Submitted by Yum! Brands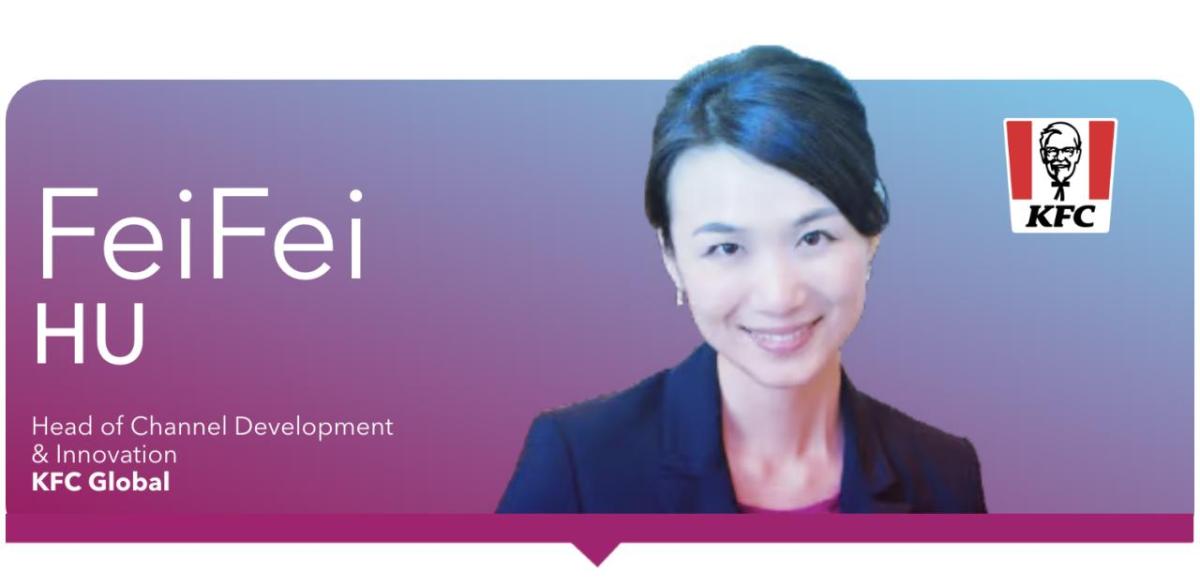 In the #HowIGotHere series, you'll read about the career paths of some of the world-renowned leaders at Yum! Brands. Learn more about FeiFei Hu, Head of Channel Development & Innovation of KFC Global in this installment.
Education
Shanghai High School Shanghai, China
Huron High School Ann Arbor, Michigan, United States (2000 – 2004)
University of Michigan BS, Industrial & Operations Engineering Ann Arbor, Michigan, United States (2004 – 2008)
Harvard Business School MBA Boston, Massachusetts (2011– 2013) United States
If we were to interview your teachers, what would they say about you?
Feifei was caring, creative and always willing to go the extra mile to help others or deliver above expectations.
What did you want to be when you grew up?
A scientist. I grew up around math and science because my father was a medical researcher. It was my dream to work in a lab in a white coat and publish articles in world-renowned journals.
WORK
First Job: I scooped ice cream at a local shop in high school. It was a great way for me to practice English and meet people when I first moved to the United States. More importantly, I got to enjoy free ice cream and fresh waffle cones all day long!
McKinsey & Company 2008-2011 – Business Analyst, Chicago, Illinois, United States
The Walt Disney Company 2013: Special Projects Lead at Shanghai Disneyland Resort, Shanghai, China | 2013-2014: Leadership Development Rotations at Disney Studios, Burbank, California, United States | 2014-2016: Senior Manager of Digital Products at Disney Studios, Burbank, California, United States | 2016-2018: Director of Business Development at Disney Consumer Products & Interactive Media, Glendale, California, United States
WarnerMedia 2018-2021: Vice President, Business Development, Burbank, California, United States
KFC Global 2021-Present: Head of Channel Development & Innovation, Los Angeles, California, United States
What moments, or who, in your life influenced the way you work?
My Dad: While medical research may be tedious and frustrating, with long testing periods and unexpected results, my dad was (and still is at age 68) passionate about this career because advancing healthcare for our society gave meaning and fulfillment to his life. He inspired me to find my own passion and make an impact on the world with my life. He also taught me the value of strong work ethnics, patience, and humility.
Moving to the United States: I had never been to a foreign country until I moved to the U.S. from China, so that journey taught me the importance of diversity and inclusivity. Being dropped into a new environment at the start of 11th grade, with only one year to get up to speed on the language, academics and extracurricular activities to be ready to apply to college was one of the biggest challenges I had encountered. It taught me that nothing is impossible as long as I have the courage to try.
Becoming a Parent: Although I always wanted to be a parent, the actual event still threw my world upside down. From my older son being diagnosed with autism to working from home with two preschoolers during the pandemic, parenthood has raised my adaptiveness and resilience to a new level. My husband and I are also hugely thankful for all the help and encouragement we received from our family and community to get through the toughest times. We've learned to be more open with our struggles and vulnerabilities, and ask for help when we need it.
Do you believe in work/life balance?
I believe in balance and integration of family, friends, work, hobbies, learning and passions. That has never meant 9-5 or a predetermined split of time. Balance is fluid based on all the roles you are playing and needs at any given time. I do believe that it is critical to be fully present and focused wherever you are at. Time is our most precious commodity, and I value it more today than I did years ago. I make it a point to maximize every moment with my family and friends.
What do people think you do versus what you actually do?
My kids think I'm the keeper of the Colonel's secret recipe, and my friends think I hang out with bigshots in gaming and entertainment every day, brokering deals over cocktails. In reality, I spend most of my time connecting with internal stakeholders at Yum! and with our franchisees to understand their evolving needs and visions, develop innovation opportunities that align with their agendas and coordinate efforts across markets to maximize impact.
What is the best piece of advice that you've been given?
Don't be in the business of playing it safe. Be in the business of creating possibilities of greatness.
How do you do it?
As the saying goes, you are the average of the five people you spend the most time with. I surround myself with great people who I get inspired by and learn from every day, including my family, friends, team and mentors. Once the right environment and momentum are in place, everything else will follow.
Another quality I'm fortunately blessed with is optimism. While every endeavor has its smooth sail days and rocky moments, I like to emphasize the good and feel energized by what I have learned/achieved and the potential to push for more. Life is too short to get weighed down by negative energy.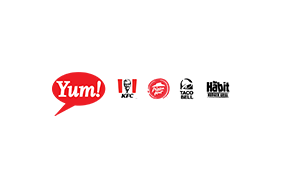 Yum! Brands
Yum! Brands
Yum! Brands, Inc., based in Louisville, Kentucky, has over 54,000 restaurants in more than 155 countries and territories, operating the Company's brands – KFC, Pizza Hut and Taco Bell – global leaders of the chicken, pizza and Mexican-style food categories. The Company's family of brands also includes The Habit Burger Grill, a fast-casual restaurant concept specializing in made-to-order chargrilled burgers, sandwiches and more. Yum! Brands was named to the 2021 Dow Jones Sustainability Index North America and was ranked on Newsweek's list of 2021 America's Most Responsible Companies. In 2022, Yum! Brands was named to 3BL Media's 100 Best Corporate Citizens.
More from Yum! Brands