Published 08-23-23
Submitted by Enbridge Inc.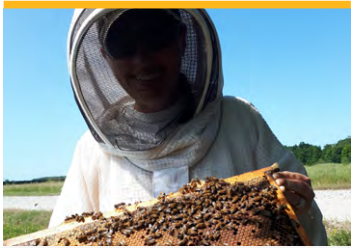 Originally published in Enbridge's 2022 Sustainability Report
Biodiversity, land and water use 
Enbridge works across many different landscapes—some densely populated, some remote—to create and operate the energy infrastructure that communities rely on. Every place we work is ecologically and culturally important. We also invest in programs that promote environmental stewardship and conservation, and work closely with local and Indigenous communities and other stakeholders to promote shared environmental values and priorities.
Each business unit must implement an integrated management system and an environmental protection program (EPP) that meet Enbridge's requirements and ensure regulatory and permit compliance. The goal of the EPP is to anticipate, prevent, manage and mitigate environmental risk and conditions that could adversely affect the environment.
Biodiversity and land use 
Biodiversity is the variety of life on earth, connecting us to nature through food, water and air. By safeguarding and respecting biodiversity, we help ecosystems essential to sustainable human development thrive and benefit us all. Our EPPs include wildlife management plans to support responsible project development and operations and to identify and monitor any potential adverse impacts.
Our engineering and technical services teams integrate biodiversity considerations into the design, construction, maintenance and operation of our assets in order to balance the protection of land, plant sensitivities and animal life with business requirements. For example, we use pre-existing rights-of-way where possible and carry out environmental and cultural assessments to identify sensitive areas.
Through Enbridge Fueling Futures, we make investments in conservation and research projects focused on biodiversity, such as the RGV Reef study, which was launched in 2022. We also provide funding and create opportunities for employees to support activities like tree planting and habitat restoration.
We work with landowners and local and Indigenous communities that may potentially be affected by our projects and operations to meaningfully address their environmental priorities and concerns. Enbridge respects designated protected areas located near or adjacent to our operations, and we operate in accordance with all associated conservation management requirements and objectives, forging strong relationships with landowners and engaging directly with them to support their land use objectives—from agriculture to conservation to commercial activity.
Overarching policies and compliance 
Our commitment to environmental protection is articulated in our Safety and Reliability Policy. Our EPPs are part of an Integrated Management System that encompasses safety, security and protection of the environment, and define environmental management accountabilities and responsibilities in our organization. We continually monitor our environmental performance and conduct regular internal audits of our EPPs to assess and enhance our environmental management practices.
Enbridge completes all necessary impact assessments for our projects—including environmental, species at risk, siting, noise and cultural—and we develop avoidance and/or mitigation measures that aim to protect and maintain wildlife and environmentally sensitive areas, and reduce land and habitat disturbances.
Biodiversity has been identified as a critical global risk, and Enbridge is closely monitoring the development of new frameworks and recommended disclosures, including the Global Biodiversity Framework (GBF) and the Taskforce on Nature-related Financial Disclosures (TNFD). We are currently working with the Wildlife Habitat Council to assess our biodiversity performance against these developing frameworks and plan to report the outcomes in our next Sustainability Report.
Combining renewable energy with landscape restoration 
We work to balance the protection of land, plant and animal life—all while respecting cultural priorities and community needs. One example of this multi-faceted approach is a large-scale land restoration project at Sarnia Solar, our longest-operating solar facility, purchased in 2008. A 200-acre area adjacent to the site's 1.3 million solar panels was unsuitable for other human uses because of the adjacent energy generating activity—so we worked with conservation nonprofit Return the Landscape to create the second largest grassland meadow in southern Ontario, a haven for bees, monarch butterflies, and many other species of wildlife.
Water 
Drawing water for safety operations 
Enbridge's main reason for drawing water is hydrostatic pressure testing, a practice critical to ensuring the integrity of our assets. Hydrostatic testing involves filling sections of pipe with water at high pressure and maintaining the pressure for a prescribed period to confirm the integrity of the pipeline. In order to carry out this testing across new and existing pipelines and related infrastructure, we require large volumes of water each year. The exact volume of water we use fluctuates from year to year depending on our testing needs, which vary according to the number of projects under construction and our overall integrity management requirements.
We use recycled water as much as possible to meet our hydrostatic testing needs sustainably. This water does not need to be "good quality freshwater" and can be delivered by a third-party water supplier, rented or reused from a previously tested section of pipeline. A negligible volume of water is consumed through hydrostatic testing; on average, more than 99% of the water used this way is returned to its natural environment—and our teams use detailed procedures to evaluate water quality prior to release or disposal. If the water can't be safely returned to the environment, we dispose of it using approved methods. We expect that recycled water will remain central to Enbridge's approach to meeting our hydrostatic testing needs related to our safety requirements.
Water risk assessments and mitigation 
Enbridge uses a combination of approaches to identify, assess and mitigate potential water risks across our operations. We take a lifecycle approach to managing the safety and design of our assets, and assess water risks as part of an established enterprise risk management framework. Water-related issues are addressed and managed through our policies and management systems for Safety and Operational Reliability. Our key priority is to achieve zero spills or leaks of any of the hydrocarbons we transport. We invest in preventing off-property spills and leaks—including in or near watercourses and environmentally sensitive areas—because such releases can impact the environment, damage property and threaten the safety of workers and the public.
During project planning and operations, our business segments use multiple regional government databases to conduct risk assessments. These databases help identify higher-risk environmental features such as municipal water intake locations and recharge areas for municipal drinking water supplies. They also offer insight into subsurface conditions, the depth of groundwater in various locations and the proximity of regulated areas (such as floodplains and fill line areas) to our project footprint—all important to determining permitting requirements and mitigating water risks.
We believe pipelines are the safest and most reliable way to transport the oil and natural gas that fuel our economy and enable modern society. However, potential risks to local water sources may arise from spills or releases of oil and gas. The Liquids Pipelines business unit uses several risk mapping tools—OilMap, OilMapLand, SiMAP and OilMap Deep—to assess the potential flow and downstream impact of a crude oil release. These tools enable us to model, for instance, the distance a plume of crude oil could travel over a 24-hour period and potential impacts to a water body from a submerged pipeline leak. To identify the potential impact of oil dispersion in open water—specifically with respect to drinking water intakes and shorelines—we assess where oil could be expected to travel based on factors such as water currents and wind direction.
All liquids lines in the U.S. are modeled annually in support of our High Consequence Area analysis and once every three years in Canada. We also use OilMap on an ad hoc basis to assess the impact of new pipeline projects and replacement projects and to assess specific risk scenarios. Enbridge worked with the former Canadian Energy Pipeline Association (CEPA), the Canadian Association of Petroleum Producers (CAPP) and the Canadian Gas Association (CGA) to develop the Pipeline Watercourse Management Recommended Practices for Operating Pipelines; this resource compiles and presents the latest industry practices relating to the management of hydrotechnical hazards at operating pipeline crossings and encroachments, namely watercourses.
Learn more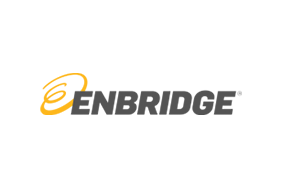 Enbridge Inc.
Enbridge Inc.
About Enbridge
At Enbridge, our name spells out our mission: a bridge to a sustainable energy future. That bridge safely connects millions of people around the world to the energy they rely on every day, fueling quality of life. Whether it's natural gas, oil or renewable power, the energy we deliver through networks spanning North America and our growing European offshore wind portfolio helps to heat homes, feed families, fuel vehicles and power industry. We're investing in modern energy infrastructure to sustain access to secure, affordable energy. We're also building on two decades of experience in renewable energy to advance new low-carbon energy technologies including hydrogen, renewable natural gas and carbon capture and storage. We're committed to reducing the carbon footprint of the energy we deliver, and to achieving net zero greenhouse gas emissions by 2050.
Headquartered in Calgary, Alberta, Enbridge's common shares trade under the symbol ENB on the Toronto (TSX) and New York (NYSE) stock exchanges. To learn more, visit us at Enbridge.com
More from Enbridge Inc.