Published 08-17-23
Submitted by Georgia-Pacific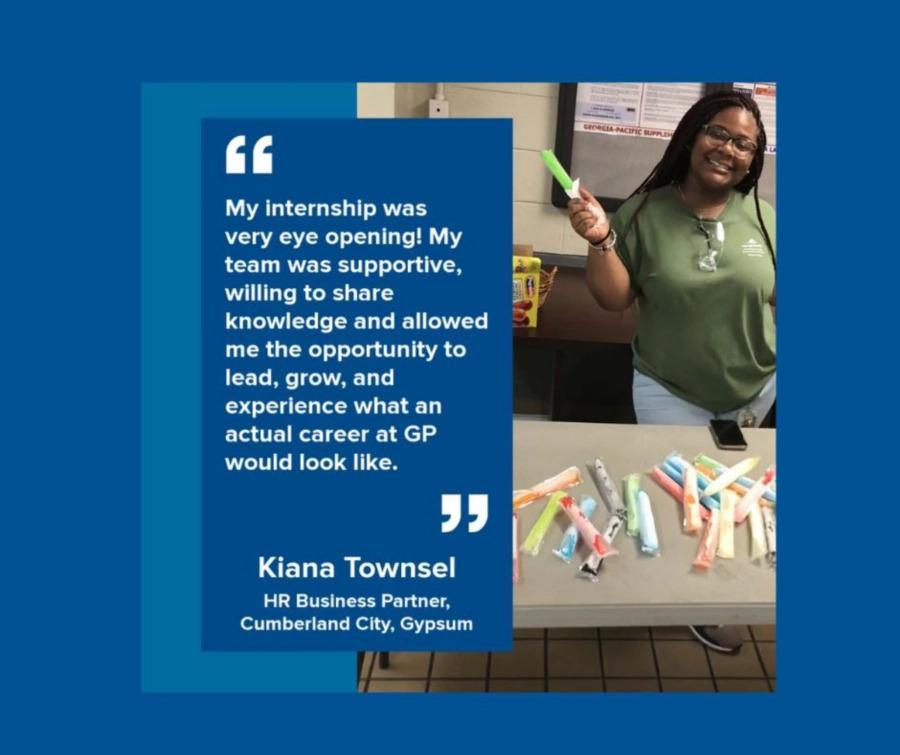 CUMBERLAND CITY, Tenn., August 17, 2023 /CSRwire/ - Meet Kiana Townsel, HR business partner at the Cumberland City, Tennessee, gypsum plant. Kiana has held several roles within Georgia-Pacific, where she started as an intern and worked her way through the organization. In this Q&A, learn more about Kiana's career path, her advice for anyone embarking on their professional career journey and how her supervisors played a pivotal role in her success at Georgia-Pacific.
How did you start your career at Georgia-Pacific?
During my sophomore year at the University of Tennessee in Knoxville, I attended a career fair with no expectations. I was a communication studies major and I was still figuring out my next step. I was fortunate enough to land an interview with Georgia-Pacific and they were willing to take a chance by giving me the opportunity to be an HR intern. I had no HR experience or prior knowledge of the field, but I had a very successful internship during the summer of 2017 at the Dixie facility in Lexington, Kentucky. Due to that going well and me being able to graduate a year early, I was offered a full-time role with the company and started as an HR associate at the Savannah River Mill located in Rincon, Georgia, in June 2018, and I have been with the company since.
What's your background and why did you decide to get started in HR?
At the time I received an offer for the internship, I did not have any HR experience, nor was my degree slated to be in HR. Being 100 percent honest, I didn't even know what HR was or what the role entailed, but I was very involved on campus during my collegiate years. I was president of our NAACP chapter, a resident assistant, campus tour guide, freshman recruiter and mentor, and based on my extracurricular activities in college, the interviewer thought I would be a great fit!
How would you describe your experience as an intern?
My internship was very eye opening! Not only was my team very supportive, willing to share knowledge and provide exposure to most HR processes, but they also allowed me the opportunity to lead, grow, and experience what an actual career in GP could look like. Although I had no idea what HR was before I started with GP, by the end of the summer, I felt very capable and knew exactly what I wanted to do when I graduated college.
Have you experienced mentors within GP that helped you along the way?
Every step of the way. I can't even count how many wonderful people have taken me under their wing and helped me be successful in my roles. The GP network is comprised of so many different personalities and experiences that you can find what you need in anyone. Five years later, I still regularly chat with each mentor that I have picked up along the way, but now my mentors have grown into friends because of the growth and genuine relationships I've cultivated.
How did your supervisors set you up for success and provide you with growth opportunities within GP?
Each growth opportunity I had wouldn't have been possible without my supervisor and mentor. I have been extremely lucky to have had an amazing supervisor in every role. Due to them truly exhibiting what the role of a supervisor should look like, they continuously asked questions, actively listened to my wants and needs, and sought opportunities that would help me continue to be fulfilled. Some growth opportunities I was 100 percent not ready for, but they still took chances with me and trusted my ability to perform in the role.
What does comparative advantage mean to you?
Comparative advantage is considering individual capabilities and the ability to best contribute to not only maximize the business' overall performance, but also help the individual grow and self-actualize.
What would you consider your comparative advantage?
My comparative advantage would be my ability to develop relationships and build rapport with my team members. I'm able to quickly understand the team's needs. I continuously try to find unique opportunities to do this, whether that is through handing out popsicles on hot days, regularly attending morning shift meetings, developing employee appreciation efforts, and even spending time on the floor to learn how my mixer operator does his quality checks. It's all valuable contributions of being sure our team members feel valued, appreciated and heard.
What advice would you give an intern who is searching for their comparative advantage?
Talk to your supervisor. Even when I didn't have a good understanding of what comparative advantage was, my supervisor helped me get there by listening and supporting me in efforts that helped me grasp the concept. Developing your RRE is the perfect opportunity to understand where you can contribute to make your team successful.
What do you enjoy most about your role?
Seeing my team smile. I understand that probably sounds cliché, but I have found that I continue to be fulfilled through building relationships and making a difference in other people's lives. Our business continuously values employee engagement and seeing that this is an area that I am increasingly self-actualized, I am always able to creatively implement new opportunities to do this. For example, through new initiatives such as annual and monthly employee appreciation events, we have been able to lower our turnover from 36 percent to 19 percent in 10 months.
Why do you think GP is a great place to work?
GP consistently models what good looks like by not only educating, but also consistently practicing Principle Based Management. I do not have professional experience with another company, as GP has always been home for me, but I can imagine how lucky I am to work for a company that values diversity, integrity, proactively sharing knowledge, and so much more.
What advice would you give to an intern or someone early in their career at GP?
Don't be afraid to ask questions, try new things and step into spaces that may seem unattainable. Each move was a stretch opportunity for me where I did not feel prepared to tackle the responsibilities, but because I had an open mind and was willing to try new things, I was placed in spaces and provided opportunities that I might not have had. If you constantly put in the time and effort to do so, your community will support you and help you reach your goals.
Anything else you want to add to your experiences?
Another piece of advice is to take advantage of the company's resources. Luckily, I have gotten this far without a formal HR education, but to further expand my capability, I am also in the process of studying for the HR Certification Exam. Through conversations with my supervisor and plant manager, I was able to do this through our Tuition Reimbursement Program. I have gained a lot of knowledge in the past five years, but I am excited to continue growing in both my professional and personal spaces.
View original content here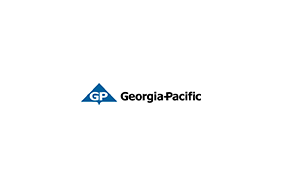 Georgia-Pacific
Georgia-Pacific
Based in Atlanta, Georgia-Pacific and its subsidiaries are among the world's leading manufacturers and marketers of bath tissue, paper towels and napkins, tableware, paper-based packaging, cellulose, specialty fibers, nonwoven fabrics, building products and related chemicals. Our familiar consumer brands include Quilted Northern®, Angel Soft®, Brawny®, Dixie®, enMotion®, Sparkle® and Vanity Fair®. Georgia-Pacific has long been a leading supplier of building products to lumber and building materials dealers and large do-it-yourself warehouse retailers. Its Georgia-Pacific Recycling subsidiary is among the world's largest traders of paper, metal and plastics. The company operates more than 150 facilities and employs more than 30,000 people directly and creates approximately 89,000 jobs indirectly. For more information, visit: gp.com/about-us . For news, visit: gp.com/news
More from Georgia-Pacific