Published 08-17-23
Submitted by Enbridge Inc.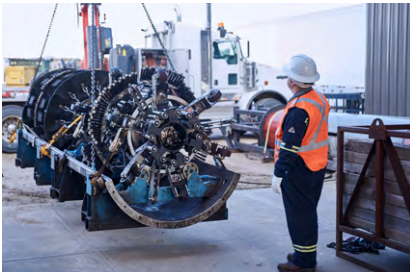 Originally published in Enbridge's 2022 Sustainability Report
Safeguarding asset integrity and reliability
Enbridge continues to uphold safety as a core value and topmost priority across our business. In our training, management and internal communications practices we aim to foster a culture of safety and reliability—recognizing that there's an inextricable link between the safety of our workers and communities, and the reliability and integrity of our assets.
Enbridge is a strong advocate of the value that high resolution inline inspection (ILI) tools can provide for the early identification of deterioration like corrosion and cracking. Enbridge has invested, and continues to invest heavily, in the research and development of higher-resolution ILI tools, assessment techniques and reliability models that define risk to the public or environment. Slope inspections, stream-monitoring and LiDAR-equipped aerial surveillance provide advanced warning of natural hazards along the pipeline path. Stringent reliability targets are applied to make sure that our maintenance programs reduce the likelihood of a rupture or major leak to a remote possibility. Enbridge applies this proactive assessment and maintenance approach to every segment of every transmission pipeline, far exceeding regulatory minimum standards. Lessons from near misses and incidents, including incidents experienced by other pipeline companies, are shared within the Company, reviewed on a recurring basis and fed into the ongoing improvement and quality controls for our procedures and practices.
The threat of extreme weather events can have catastrophic and far-reaching impacts on the reliability of our system. Enbridge provides gas transmission and distribution to millions of homes and businesses. In December 2022, GTM and GDS maintained service during a historic winter storm, which impacted customers and assets in Canada and the northeast United States. While Enbridge was able to keep the gas flowing to power plants and customers through its system flexibility, storage capacity and emergency response efforts, Enbridge examines these events and uses the lessons to drive targeted investments in winterization and equipment reliability.
We also continued our efforts to prevent excavation damage to buried pipelines by delivering extensive public and municipal education and outreach programs. Among other measures, we continued to maintain and promote a safe excavation online portal launched in 2021 that aims to raise awareness of the importance of safe digging and provides related resources. The Ontario government passed Bill 93 in 2022, which aims to modernize the locate industry with a focus on underground asset safety and improve the timely delivery of locates for excavations across the province. Enbridge, an industry leader, is working collaboratively with all key stakeholders to ensure legislation and associated regulations are adopted effectively to modernize damage prevention for utilities.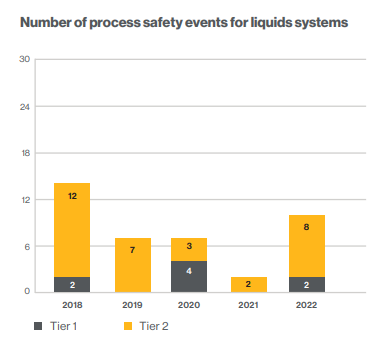 Emergency preparedness and response 
While we plan for safe, reliable, incident-free operations, potential threats to our business can come in many forms—from pandemics and natural disasters to emergencies involving workers or damage to facilities. As an operator of critical energy infrastructure, we must maintain a state of constant readiness for any of these possibilities.
Emergency preparedness requires a systematic approach to identify potential hazards and plan mitigation strategies to ensure that our response is rapid and protects the safety of responders, the community and the environment. Our emergency management programs are built on the "Plan-Do-Check-Act" cycle, designed to drive continuous improvement. The same approach applies to management reviews of our emergency management programs with senior business unit leaders.
Our training and qualifications—for both our employees and contractors—ensure that crews are prepared and equipped to provide a safe, rapid and effective response should an emergency arise. We purposefully include Indigenous partners and communities in major exercises and we plan to further advance this practice in the years ahead.
Each business unit maintains its own emergency management program. We also operate the Enbridge Enterprise Emergency Response Team (E3RT), a cross-business unit group trained to respond to large-scale events in Canada and the U.S. Depending on the nature and scale of an emergency, a range of responses may be required. We partner proactively with local first responders, emergency management groups, industry associations and provincial/state and federal agencies to ensure our preparations are sound and the coordination will be effective in the event of an incident.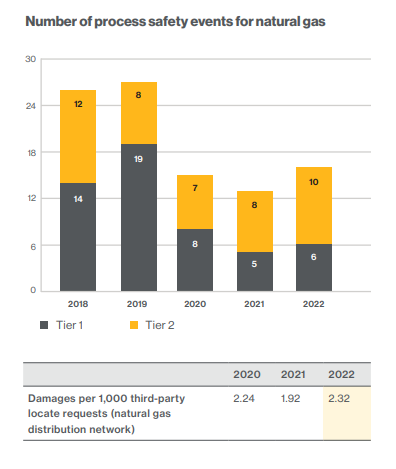 In 2022, we conducted 210 exercises and emergency response drills based on real-life scenarios to hone our skills and capabilities. In June 2022, we carried out an exercise to simulate a pipeline incident at a site in the North Saskatchewan River about 230 kilometers east of Edmonton, AB. About 100 Enbridge employees and contractors participated in the simulation, half at the command post and half on the river, where teams deployed oil containment booms on the river. (No contaminants were used in the simulation.)
The exercise served as an opportunity to engage and inform local communities. The day before the simulation, Enbridge hosted a luncheon and invited local Indigenous leaders, municipal officials and the public to gather at the site to learn about the exercise and the related equipment and ask questions. The Elk Point Fire Department and RCMP also participated in the equipment demonstrations—a sign of our strong working relationships with local first responders.
Enbridge continued to focus on community safety through Safe Community grants in support of first responders. The 2022 program included a $16,500 Enbridge Fueling Futures donation to the fire department in Shermans Dale, Pennsylvania, where funds supported the replacement of all the fire station's lights with safe, energy efficient LEDs. Among other benefits, the lighting upgrade will provide excellent visibility in the areas where fire fighters suit up before heading out to emergency calls. Two Enbridge employees volunteered to join the Shermans Dale fire fighters in completing the installation.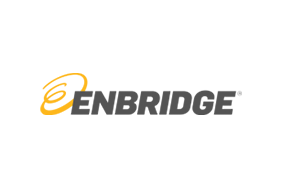 Enbridge Inc.
Enbridge Inc.
About Enbridge
At Enbridge, our name spells out our mission: a bridge to a sustainable energy future. That bridge safely connects millions of people around the world to the energy they rely on every day, fueling quality of life. Whether it's natural gas, oil or renewable power, the energy we deliver through networks spanning North America and our growing European offshore wind portfolio helps to heat homes, feed families, fuel vehicles and power industry. We're investing in modern energy infrastructure to sustain access to secure, affordable energy. We're also building on two decades of experience in renewable energy to advance new low-carbon energy technologies including hydrogen, renewable natural gas and carbon capture and storage. We're committed to reducing the carbon footprint of the energy we deliver, and to achieving net zero greenhouse gas emissions by 2050.
Headquartered in Calgary, Alberta, Enbridge's common shares trade under the symbol ENB on the Toronto (TSX) and New York (NYSE) stock exchanges. To learn more, visit us at Enbridge.com
More from Enbridge Inc.