Published 08-16-23
Submitted by T-Mobile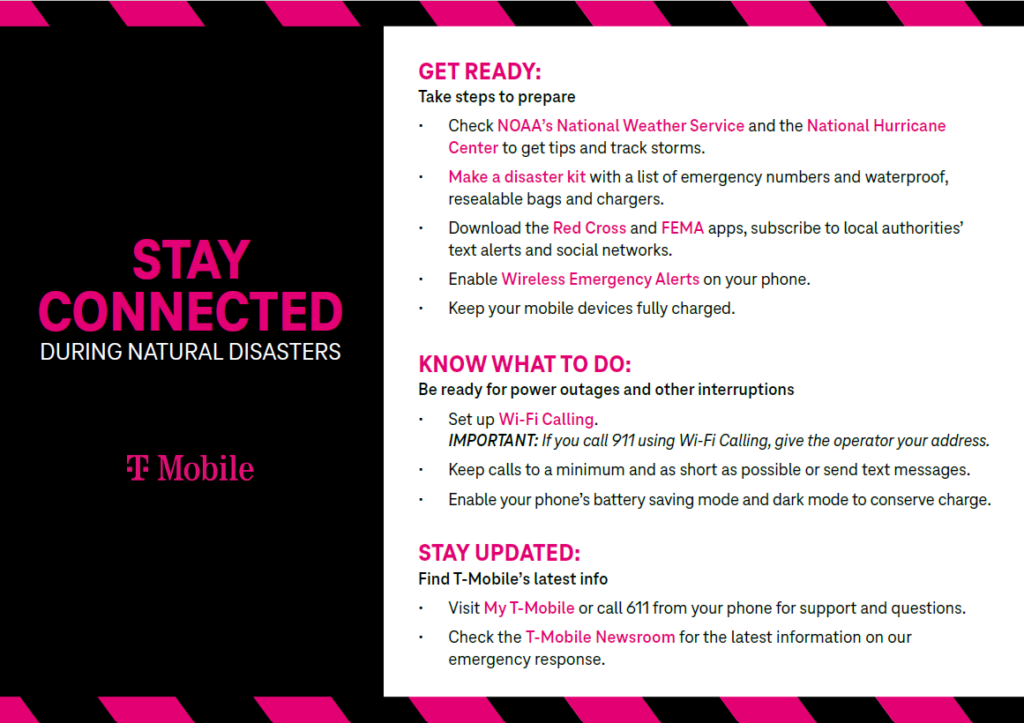 T-Mobile's emergency teams continue to restore connectivity in Maui and support first responders, agencies, officials, customers and communities. Over the weekend, they:
Restored sites in Kaanapali and Haleakalā, with teams continuing to evaluate impacted sites
Arrived at the Maui Emergency Operations Center to support first responders and agencies
Extended concessions to all Maui customers through August 21
Added additional organizations to the text-to-give campaigns
Provided evacuees and emergency personnel on Oahu with supplies; team traveling to Maui today
Network Update 
T-Mobile's Emergency Management team restored sites in Kaanapali and Haleakalā to provide critical connectivity in the area, including covering the FEMA center in Kaanapali. The team deployed generators and VSATs (Very Small Aperture Terminals) — portable satellite solutions — to restore connectivity where the fire damaged local fiber connections and commercial power outages are impacting permanent cell sites.
Additional microwave and satellite equipment is expected to arrive in Maui today, and the team is focused on providing connectivity to Maui's west coast.
First Responders Update 
Our Emergency Response Team is at the Emergency Operations Center (EOC) in Maui, working with the Maui Emergency Management Agency, police, firefighters, emergency medical services and search and rescue as well as FEMA and other federal agencies to identify network priorities that will provide critical communication for first responders and other frontline personnel.
Concessions Update 
We are extending concessions to all Maui customers who aren't already on unlimited plans — all T-Mobile, Metro by T-Mobile, Assurance Wireless and Magenta Prepaid customers with Maui addresses will get unlimited talk, text and data through August 21.
Text to Give Donations Update 
We've added additional organizations to the "text-to-give" options previously announced. T-Mobile customers can "text-to-give" $10 donations simply by texting the organization's keyword to the number below to have a one-time $10 donation added to their T-Mobile bill. T-Mobile will also 2:1 match donations from employees to the American Red Cross through August 31.
American Red Cross: Text HAWAII to 90999
Hawaii Community Foundation: Text WILDFIRES to 501501
The Salvation Army National Corporation: Text WILDFIRES to 52000
Information Technology Disaster Resource Center: Text CONNECT to 20222
Community Support Update 
T-Mobile's Community Support team is in Oahu to support evacuees and emergency response personnel in Maui with essential supplies including device charging, portable battery packs and charging cables. The team will be in Maui today.
Update: August 11, 2023
We continue to send our heartfelt condolences to those impacted by the devastating wildfires that swept through the west side of Maui. This is a challenging and dynamic situation, and our teams are working rapidly to respond in support of this community.
"It has been heartbreaking to see the wildfires sweep through the island and across historic Lahaina, especially now that we know the immense damage and devastation this tragedy has left behind," said Mike Sievert, CEO of T-Mobile. "As with other natural disasters, in situations like this, connectivity is critical. That's why we have teams ready to respond when disaster strikes, as was the case here. Homes and businesses have been destroyed as people, including our own employees, have been displaced. But I know we're all grateful to have teams focused 24/7 on doing everything they can to show up for this amazing community."
Network Update 
Fires destroyed local fiber and took out commercial power in many areas, which has impacted our service. While access to our sites is extremely limited and conditions are exceedingly challenging, we continue to closely monitor the situation and partner with local authorities on our plans to provide shorter-term temporary measures and longer-term restoration of critical communication just as soon as conditions safely allow.
We have Emergency Management teams and engineers getting critical temporary wireless equipment set up as quickly as possible.
We have emergency teams, heavy-duty trucks and generators on the ground in Maui ready to deploy equipment and set up and refuel generators at sites without commercial power as safety allows.
Portable cell equipment (a COW or "cells on wheels") has arrived in Maui from Hawaii. We are working with local emergency agencies to determine the best location for placement. And we've redirected one of our wireless sites on Lanai to provide coverage for calling and texting in the hardest hit area on Maui.
VSATs (Very Small Aperture Terminals) and fastback equipment, portable and agile solutions that provide wireless service, are on their way and should arrive this weekend.
We'll also have additional microwave and satellite solutions arriving over the weekend along with long-range microwave assets arriving next week.
First Responders 
Our Emergency Response Team is in regular direct communication with officials in Maui to support emergency personnel and the community, and to restore wireless service as quickly as possible. We'll continue to work with FEMA, the State of Hawaii and other critical agencies.
Community Support Update 
T-Mobile's Community Support team is headed to the Hawaii Convention Center on Oahu, which is serving as an assistance center to help Maui residents and visitors. The team will work closely with the American Red Cross to offer evacuees and personnel critical supplies including device charging, portable battery packs and charging cables. They will be moving to Maui as soon as it is safe to do so.
Concessions Update 
T-Mobile's prepaid customers — including Metro by T-Mobile, Assurance Wireless and Magenta Prepaid — in Maui will have unlimited talk, text and data through August 14.
Text to Give 
Emergency organizations in Maui need help, and T-Mobile customers can support their relief efforts with a simple "text-to-give" to donate $10 to the American Red Cross. Simply text "HAWAII" to 90999 and a one-time donation will be added to your T-Mobile bill. All funds will go directly toward critical and needed services including opening shelters and providing evacuees with food, safe lodging and emotional support. And we've extended 2:1 matching for employee donations to the American Red Cross.
Employees 
We are partnering with our teams to understand any direct impacts on our local employees. Our focus will be to ensure we provide support to employees during this very difficult time, particularly those who have been displaced from their homes. We are also ensuring we have measures in place to provide compensation coverage for our retail teams.
August 9, 2023
We are saddened by the devastating wildfires currently burning across the island of Maui in the Lahaina, Kihei and Kula areas. We are holding those who have been impacted in our thoughts and working rapidly to show up for the customers, communities and first responders in these communities.
Network Update 
Our Emergency Management Team is closely monitoring the fire and will be prepared to deploy portable satellite and microwave solutions to restore service in impacted areas when it is safe to do so. Travel in and around the island and impacted areas is restricted at this time, but we're ready to respond as quickly as possible.
At this time, our cell sites are holding up well during the fires. However, commercial power outages may be impacting service for some customers. As soon as conditions allow, our priority is to deploy teams with portable generators that will bring temporary power back to our sites.
As an alternative, customers who still have a home Wi-Fi connection may be able to use Wi-Fi calling.
Helping First Responders 
T-Mobile's Emergency Response Team is working with FEMA and the state of Hawaii to support firefighters and other first responders, organizations and communities. We'll continue to engage with state and local officials and others and offer support. Agencies needing communications assistance can reach out to our 24-hour emergency hotline at 888-639-0020 or email ERTRequests@T-Mobile.com.
Customer Concessions 
While the majority of our customers are on plans with unlimited talk, text and data, for those who aren't we are offering unlimited talk, text and data starting August 10 through August 14 in the following zip codes:
96708
96753
96761
96767
96768
96790
Retail Stores 
Our T-Mobile retail store in Lahaina is currently closed. Please check if your local store is open here.
More Information 
As the fires spread, evacuations may continue. Please follow any orders that may be issued by local authorities to stay safe. Above are a few more things you can do.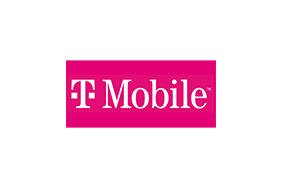 T-Mobile
T-Mobile
T-Mobile US Inc. (NASDAQ: TMUS) is America's supercharged Un-carrier, delivering an advanced 4G LTE and transformative nationwide 5G network that will offer reliable connectivity for all. T-Mobile's customers benefit from its unmatched combination of value and quality, unwavering obsession with offering them the best possible service experience and undisputable drive for disruption that creates competition and innovation in wireless and beyond. Based in Bellevue, Wash., T-Mobile provides services through its subsidiaries and operates its flagship brands, T-Mobile, Metro by T-Mobile and Sprint. For more information please visit: https://www.t-mobile.com/news.
More from T-Mobile