Published 08-15-23
Submitted by Enbridge Inc.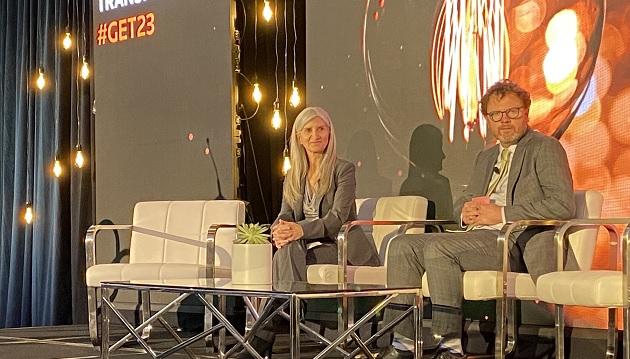 Unleashing LNG.
It's the reason the Partnership to Address Global Emissions (PAGE) coalition was formed in October 2022, and it was the topic of discussion at the recent PAGE-sponsored Reuters Global Energy Transition 2023 conference in New York City.
PAGE's mandate is to support an increase in production and support of clean North American natural gas—to replace coal in power generation, to help countries meet emissions reduction targets, to improve global energy security and stability.
Enbridge is a member of PAGE alongside responsible energy companies such as EQT Corporation, TC Energy and Williams, as well as allied NGOs and climate advocates—and Enbridge's Cynthia Hansen was a speaker at GET2023 on June 8.
"We have a great opportunity to get energy from where it is to where it is needed most," said Ms. Hansen, an Executive Vice President at Enbridge and President of our gas transmission and midstream business.
"We know that India and China are the largest users of coal—about 70% of the world's usage comes from those two countries," she said. "And we also know that 2022 was the highest usage on record. So we have to move fast."
Demand for coal reached an all-time high in 2022. Amid geopolitical tension, a volatile supply chain and the urgent need for rapid cuts in global emissions, the world's energy transition needs natural gas—itself an energy source whose emissions can be reduced.
"We have this critical role to play. We have the right people, the right technology, the understanding of how to get these businesses built off the ground," said Ms. Hansen. "We are positioned to do this. It's our responsibility to do this."
In the U.S., our cross-continent natural gas transmission pipeline network of nearly 20,000 miles is unparalleled in scale, scope and connectivity—and serves 15% of LNG export capacity on the Gulf Coast.
Our operations supply natural gas to four operating LNG facilities in the Gulf Coast, and are poised to serve at least three more based on executed precedent agreements. With predictions that Gulf Coast LNG exports will double in the next decade, we expect by 2030 to be responsible for 30% of those exports through projects such as the Gator Express Meter Project, the Venice Extension Project and the Rio Bravo Project.
North of the 49th parallel, we're well-positioned to fuel Canada's opportunity to serve growing economic markets in Asia.
In mid-2022, we announced our involvement in the development and operation of the Woodfibre LNG Project, alongside Pacific Energy Corporation Limited.
We've begun expansion of our BC Pipeline transmission system through the Aspen Point Program and the Sunrise Expansion Program—and this, alongside our recent acquisition of Aitken Creek natural gas storage facilities, will enhance our capability to serve West Coast LNG exports.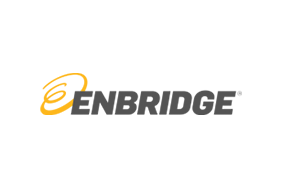 Enbridge Inc.
Enbridge Inc.
About Enbridge
At Enbridge, our name spells out our mission: a bridge to a sustainable energy future. That bridge safely connects millions of people around the world to the energy they rely on every day, fueling quality of life. Whether it's natural gas, oil or renewable power, the energy we deliver through networks spanning North America and our growing European offshore wind portfolio helps to heat homes, feed families, fuel vehicles and power industry. We're investing in modern energy infrastructure to sustain access to secure, affordable energy. We're also building on two decades of experience in renewable energy to advance new low-carbon energy technologies including hydrogen, renewable natural gas and carbon capture and storage. We're committed to reducing the carbon footprint of the energy we deliver, and to achieving net zero greenhouse gas emissions by 2050.
Headquartered in Calgary, Alberta, Enbridge's common shares trade under the symbol ENB on the Toronto (TSX) and New York (NYSE) stock exchanges. To learn more, visit us at Enbridge.com
More from Enbridge Inc.