Published 08-14-23
Submitted by GoDaddy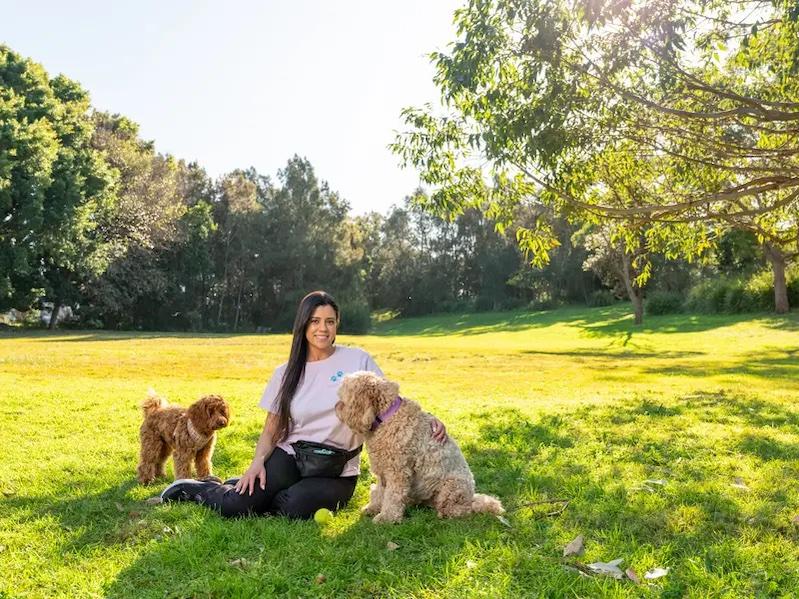 As originally published by GoDaddy's Venture Forward research initiative
Based on business start date, the number of Generation Z and millennial microbusiness owners increased more rapidly pre 2020 compared to Generation X and baby boomers. This is especially true for those based in Pittsburgh, where microbusiness owners under the age of 40 more than doubled (21% to 47%) since 2019. Venture Forward, a GoDaddy one-of-a-kind research initiative established in 2018 to quantify the impact of online microbusinesses on their local economies, defines microbusinesses as businesses with fewer than 10 employees, a unique domain, and an active website.
The big fact: There's a generational shift happening between the long-term desires of Gen Z and millennial and baby boomer microbusiness owners. Less than half (47%) of baby boomers hope to turn their business into their primary source of income, while a whopping 77% of Gen Z and millennials want to turn their business into their primary source of income.
The research: GoDaddy's Venture Forward research initiative provides a unique view into the attitudes, demographics, and needs of microbusiness entrepreneurs. The initiative's U.S. national survey started in 2019 and occurs twice a year, typically capturing responses from over 3,500 entrepreneurs per instance to identify and explore trends, as well as deliver insights to advocates of microbusiness entrepreneurs.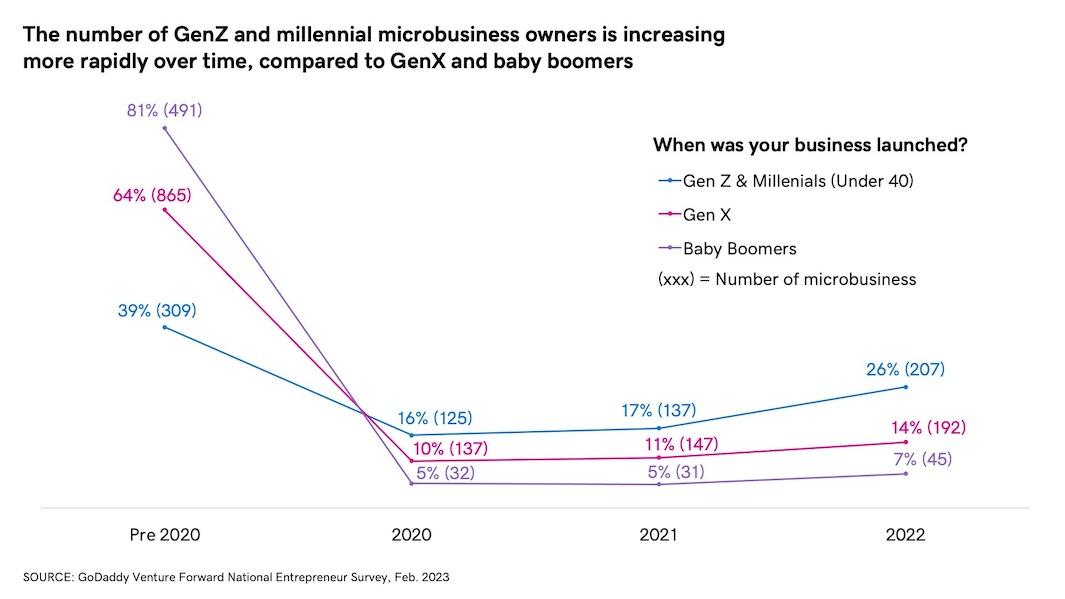 GoDaddy analyzes more than 20 million online microbusinesses in the U.S. with a unique domain and active website. They are often too small or too new to show up in government statistics. While these microbusinesses may be small, their impact on the U.S. economy is outsized. For example, for every one online microbusiness entrepreneur an additional 6.7 jobs are created at the county level. 
Entrepreneurial spirit: Younger generations may be more entrepreneurial than most. 31% of Gen Z and millennials always dreamed of starting their own businesses, versus the 22% of Gen X and 14% of baby boomers.
According to ZenBusiness, the Class of 2023 is expected to become the most entrepreneurial generation in U.S. history. And this should come as no surprise, considering the rise of globalization, technological advancements, and the gig economy.
Financial stability: Despite the desire to turn their microbusiness into their primary source of income, Gen Z and millennials find themselves in a more difficult position to turn that dream into a reality. 9% of Gen Z and millennial microbusiness owners experience stress from environmental challenges, compared to 4% of baby boomers. And 46% of Gen Z and millennials have less than one month of cash on hand for their business, while 50% of Gen X and 64% of baby boomers have more than one month of cash on hand to support their business.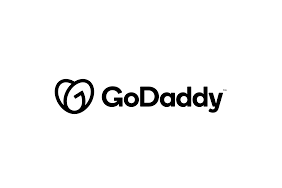 GoDaddy
GoDaddy
GoDaddy is empowering everyday entrepreneurs around the world by providing all of the help and tools to succeed online. GoDaddy is the place people come to name their idea, build a professional website, attract customers, sell their products and services, and manage their work. Our mission is to give our customers the tools, insights and the people to transform their ideas and personal initiative into success. To learn more about the company, visit www.GoDaddy.com.
GoDaddy focuses on making opportunity more inclusive for all in the communities where we work, live and play across the globe. We rally behind inclusive entrepreneurship and other critical local needs that empower people to succeed through philanthropic and in-kind donations, volunteerism, strategic partnerships and advocacy.
Empower by GoDaddy is GoDaddy's global community and philanthropic program equipping entrepreneurs in underserved communities with training, tools and peer networks to accelerate their journeys. GoDaddy rallies behind entrepreneurs in underserved communities by building their confidence and skills to strengthen their small business' digital presence.  Entrepreneurs engage in customized learning experiences, work 1-1 with GoDaddy volunteer coaches and local mentors, and gain access to wrap-around services, in-kind products and networks boosting their small businesses success.
More from GoDaddy